In­cyte's good week con­tin­ues with an en­cour­ag­ing up­date on IDO1 star epaca­do­stat
In­cyte's com­plete re­sponse rate for a mid-stage com­bo of its IDO1 drug epaca­do­stat with check­point leg­end Keytru­da took a hit in the lat­est da­ta up­date, but the grow­ing biotech came away with a thumbs-up from an­a­lysts who have been track­ing this tri­al care­ful­ly.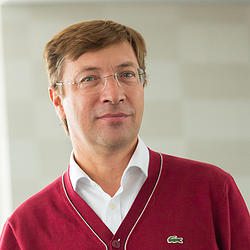 Hervé Hop­penot, In­cyte
In­cyte $IN­CY is steadi­ly beef­ing up the num­bers on their big drug. Go­ing in­to ES­MO next week — where they will add a few more re­sults — re­searchers re­port­ed on 54 pa­tients evalu­able for ef­fi­ca­cy.
Leerink's Michael Schmidt took a close look, and was com­fort­ed over­all to see some con­sis­ten­cy and con­tin­ued promise. His bot­tom line:
Ef­fi­ca­cy and safe­ty da­ta high­light­ed in the ab­stract in this larg­er (n=54) melanoma co­hort look very con­sis­tent rel­a­tive to ear­li­er dose-es­ca­la­tion re­sults pre­sent­ed pre­vi­ous­ly in n=19 pa­tients. Im­por­tant­ly, da­ta con­tin­ue to com­pare fa­vor­ably not on­ly to his­toric Keytru­da or Op­di­vo monother­a­py re­sults, but al­so com­pared to the com­bi­na­tion of Op­di­vo with Yer­voy in treat­ment-naïve metasta­t­ic melanoma pa­tients, which we think bodes well for the prob­a­bil­i­ty-of­suc­cess of the on­go­ing ECHO-301 Phase III tri­al, which is ex­pect­ed to read out in ear­ly 1H18.
That's based on these re­sults, which in­clud­ed a drop in com­plete re­spons­es from 26% to 13%:
1. In all 54 ef­fi­ca­cy evalu­able pa­tients, re­ports Leerink, an ORR of 56% was achieved (8 com­plete re­spons­es [CRs] and 22 par­tial re­spons­es [PRs], n=54 pa­tients). In treat­ment-naïve pa­tients, an ORR of 56% was achieved (6 CRs and 19 PRs, n=45 pa­tients). In treat­ment-naïve pa­tients re­ceiv­ing the Phase III epaca­do­stat dose (100mg BID) an ORR of 60% was achieved (2 CRs and 16 PRs, n=30 pa­tients). This com­pares to the ORR of 58% in n=19 treat­ment-naïve pa­tients pre­sent­ed pre­vi­ous­ly at ES­MO 2016.

2. In all 54 evalu­able pa­tients, a me­di­an pro­gres­sion-free sur­vival [PFS] of 12.4 months was achieved with PFS rates at 6, 12, and 18 months of 70%, 54%, and 50%, re­spec­tive­ly. In treat­ment naïve pa­tients, me­di­an PFS had not been reached with PFS rates at 6, 12, and 18 months of 68%, 52%, and 52%, re­spec­tive­ly.
So far, so good. We'll keep up­dat­ing these small num­bers from ECHO-202 while the piv­otal tri­al pro­gress­es to a near-term read­out.
It's been a good week for In­cyte, which an­nounced with Eli Lil­ly yes­ter­day that the FDA is let­ting the part­ners re­sub­mit their rheuma­toid arthri­tis drug baric­i­tinib with­out the new late-stage tri­al that was in­sist­ed on ear­li­er this year. If in fact the FDA changed its mind, af­ter the ar­rival of Scott Got­tlieb as com­mis­sion­er, then the agency has shift­ed course on safe­ty. That's a big deal for every­one.
In the mean­time, In­cyte is al­so pur­su­ing its own PD-1 pro­gram with a part­ner, look­ing to line up an in-house com­bo that could even­tu­al­ly sup­plant ag­nos­tic col­lab­o­ra­tions with Mer­ck and Bris­tol-My­ers Squibb.