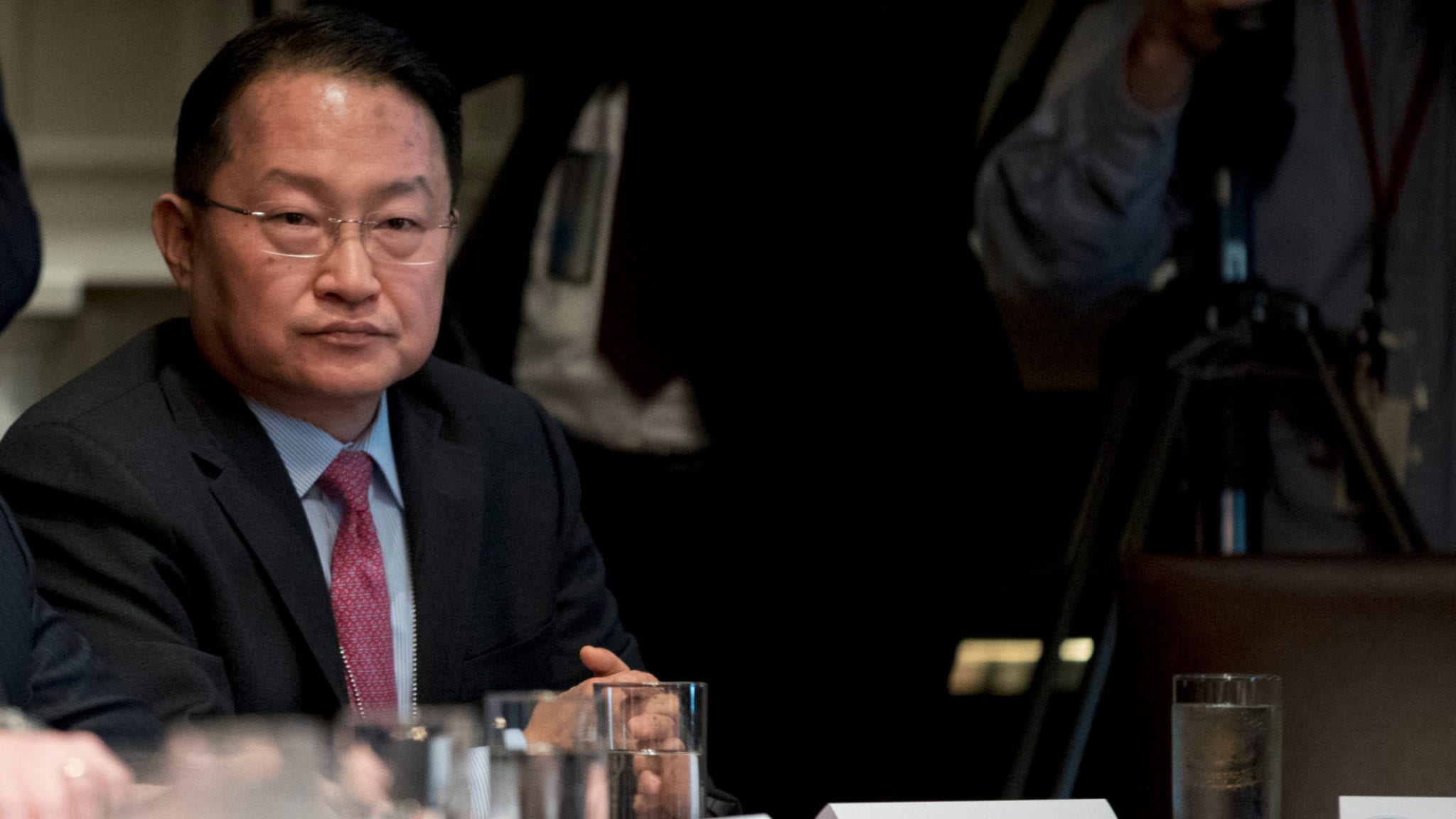 Joseph Kim, Inovio CEO (Andrew Harnik, AP Images)
In­ovio's Covid-19 vac­cine stud­ies just hit a brick wall at the Pen­ta­gon. Are oth­er hope­fuls in trou­ble?
In­ovio re­ceived some harsh news from the Pen­ta­gon on Fri­day re­gard­ing its Covid-19 vac­cine pro­gram, and it could prove fore­bod­ing to oth­er mid-stage play­ers in the space.
The US De­part­ment of De­fense has scut­tled fund­ing for In­ovio's Phase III Covid-19 vac­cine tri­al, In­ovio said in a press re­lease, but will con­tin­ue to fund the study's Phase II seg­ment. Fri­day's move comes as a re­sult of a grow­ing avail­abil­i­ty of au­tho­rized vac­cines in the US, In­ovio said the de­part­ment com­mu­ni­cat­ed to them. End­points News has reached out to DoD for com­ment.
"The de­ci­sion re­sults from the chang­ing en­vi­ron­ment of COVID-19 with the rapid de­ploy­ment of vac­cines," DoD said, per In­ovio. "This de­ci­sion is not a re­flec­tion of the awardee or prod­uct, rather a fast-mov­ing en­vi­ron­ment as­so­ci­at­ed with the for­mer Op­er­a­tion Warp Speed on de­ci­sions re­lat­ed to fu­ture prod­ucts."
In­ovio hus­tled to re­as­sure in­vestors that the fund­ing with­draw­al did not stem from their vac­cine can­di­date it­self, dubbed INO-4800, say­ing in its state­ment that the de­ci­sion was un­re­lat­ed to the pro­gram's da­ta or par­tial clin­i­cal hold that's been in place since last Sep­tem­ber. Fur­ther­more, the com­pa­ny's re­lease led with the seem­ing­ly in­nocu­ous note on how they're plan­ning for a Phase III tri­al to take place pre­dom­i­nant­ly out­side the US.
But most didn't seem to be as­suaged, as In­ovio $INO shares were crushed ear­ly Fri­day. The stock was down more than 30% at points in pre-mar­ket trad­ing, and opened down 25%.
In­ovio's sup­port had come from the de­part­ment's Joint Pro­gram Ex­ec­u­tive Of­fice for Chem­i­cal, Bi­o­log­i­cal, Ra­di­o­log­i­cal and Nu­clear De­fense. The of­fice's point over vac­cine avail­abil­i­ty could prove as a warn­ing sign for oth­er gov­ern­ment-backed Covid-19 projects that haven't yet hit the mar­ket. Ac­cord­ing to the lat­est CDC num­bers, more than 135 mil­lion Amer­i­cans have re­ceived at least one vac­cine dose, ac­count­ing for 52% of the pop­u­la­tion over 18.
Those fig­ures come large­ly as a re­sult of the Pfiz­er/BioN­Tech and Mod­er­na vac­cines, which were the first two to re­ceive EUAs in the US af­ter their Phase III da­ta read out last No­vem­ber. Of the near­ly 219 mil­lion dos­es ad­min­is­tered so far, about 114 mil­lion have come from Pfiz­er/BioN­Tech and 95 mil­lion from Mod­er­na.
An ad­di­tion­al 8 mil­lion dos­es of the one-shot J&J vac­cine have al­so been giv­en, and that shot's roll­out hold is ex­pect­ed to be lift­ed as ear­ly as Fri­day. And No­vavax has pre­vi­ous­ly said it ex­pects its own EUA to come as soon as next month, fur­ther com­pli­cat­ing mat­ters for In­ovio and oth­er Covid-19 shots from small play­ers in late-stage de­vel­op­ment.
INO-4800 is a DNA-based vac­cine can­di­date com­posed of an op­ti­mized DNA plas­mid, In­ovio says. The ap­proach dif­fers from the ma­jor vac­cine play­ers' strat­e­gy of us­ing mR­NA (Pfiz­er and Mod­er­na), ade­n­ovirus­es (J&J and As­traZeneca) and pro­tein-based de­liv­ery (No­vavax). In­ovio had re­leased some ear­ly-stage da­ta on their can­di­date just last week, say­ing T cell re­spons­es were "ful­ly main­tained" against the coro­n­avirus vari­ants that emerged in the UK, South Africa and Brazil when com­pared to re­spons­es to the orig­i­nal Wuhan, Chi­na strain. They not­ed that the sam­ples were col­lect­ed from vary­ing time­points from when their Phase I tri­al par­tic­i­pants were im­mu­nized.
It's been a trou­bled few months for In­ovio, which has seen its Covid-19 vac­cine pro­gram stuck in neu­tral ever since the FDA slapped a par­tial hold on its Phase III tri­al in late Sep­tem­ber. Reg­u­la­tors had raised ques­tions over the pro­gram's de­vice used to in­ject the vac­cine in­to the skin, and In­ovio said in March that it is plan­ning to re­spond to the agency next month.
In a 10-K fil­ing at the time, In­ovio ad­mit­ted its vac­cine ef­forts may end up be­ing fruit­less, writ­ing, "We do not know whether our planned Phase 3 clin­i­cal tri­al will be­gin on time or be com­plet­ed on sched­ule, if at all."