In­ter­cept 'low­ers the bar' on its piv­otal PhI­II OCA study for NASH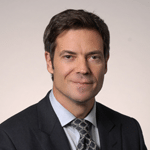 In­ter­cept CEO Mark Pruzan­s­ki
In­ter­cept CEO Mark Pruzan­s­ki has re­drawn the rules on their piv­otal Phase III study of obeti­cholic acid (OCA).
Af­ter talks with the FDA, Pruzan­s­ki said to­day that in­ves­ti­ga­tors can re­duce their tar­get on the num­ber of pa­tients need­ed for an in­ter­im analy­sis of the FXR ag­o­nist in 2019, drop­ping the tar­get from 1,400 to 750. And the agency has signed off on chang­ing the end­point from fi­bro­sis and NASH res­o­lu­tion to ei­ther fi­bro­sis or NASH while ac­cept­ing an ob­jec­tive de­f­i­n­i­tion of NASH res­o­lu­tion to clar­i­fy suc­cess.
"We now on­ly need to achieve one end­point for the tri­al to be con­sid­ered suc­cess­ful," the CEO said on a call with an­a­lysts Fri­day morn­ing, say­ing that the bar has been low­ered on suc­cess, in­creas­ing their odds of suc­cess. And if the drug hits both end­points, he added, In­ter­cept $ICPT will be able to "clear­ly dif­fer­en­ti­ate this drug from oth­ers."
"We be­lieve we now have the best case sce­nario," he ad­ed, gain­ing a low­er hur­dle while keep­ing their sights set on both end­points.
"We con­tin­ue to be con­fi­dent in both end­points," said Pruzan­s­ki. And the in­ter­im read­out on the close­ly watched study is ex­pect­ed in 2019 re­mains the same. "We've suc­cess­ful­ly de­risked the study" with­out risk­ing the in­tegri­ty of the tri­al, he said. Ri­vals in the field, he added, have field­ed da­ta on one or the oth­er end­point.
The switch at In­ter­cept could have big im­pli­ca­tions for Al­ler­gan, notes Ever­core ISI's Umer Raf­fat, which is plan­ning its own Phase III af­ter buy­ing To­bi­ra. And it ap­pears con­sis­tent with Gilead's plan for the "Ph 3 for selon­sert­ib (where pri­ma­ry end­point will be fi­bro­sis.)"
It's clear that the change-up is oc­cur­ring af­ter In­ter­cept's time­line on re­cruit­ing the pa­tients need­ed for an in­ter­im analy­sis fell well be­hind sched­ule. Ear­li­er, In­ter­cept had said that it could en­roll all 1,400 pa­tients in the first half of this year. Now it's say­ing that the new goal of 750 will be com­plet­ed in mid-2017, mean­ing that the switch will help keep them on sched­ule in­stead of los­ing the edge they have with ri­vals.
In­ter­cept set up the call on the fly this morn­ing, with­out any ex­plain­er in a press re­lease. That move drove its stock in­to the red ahead of the an­nounce­ment, but shares snapped back in­to the green once the news be­came clear.