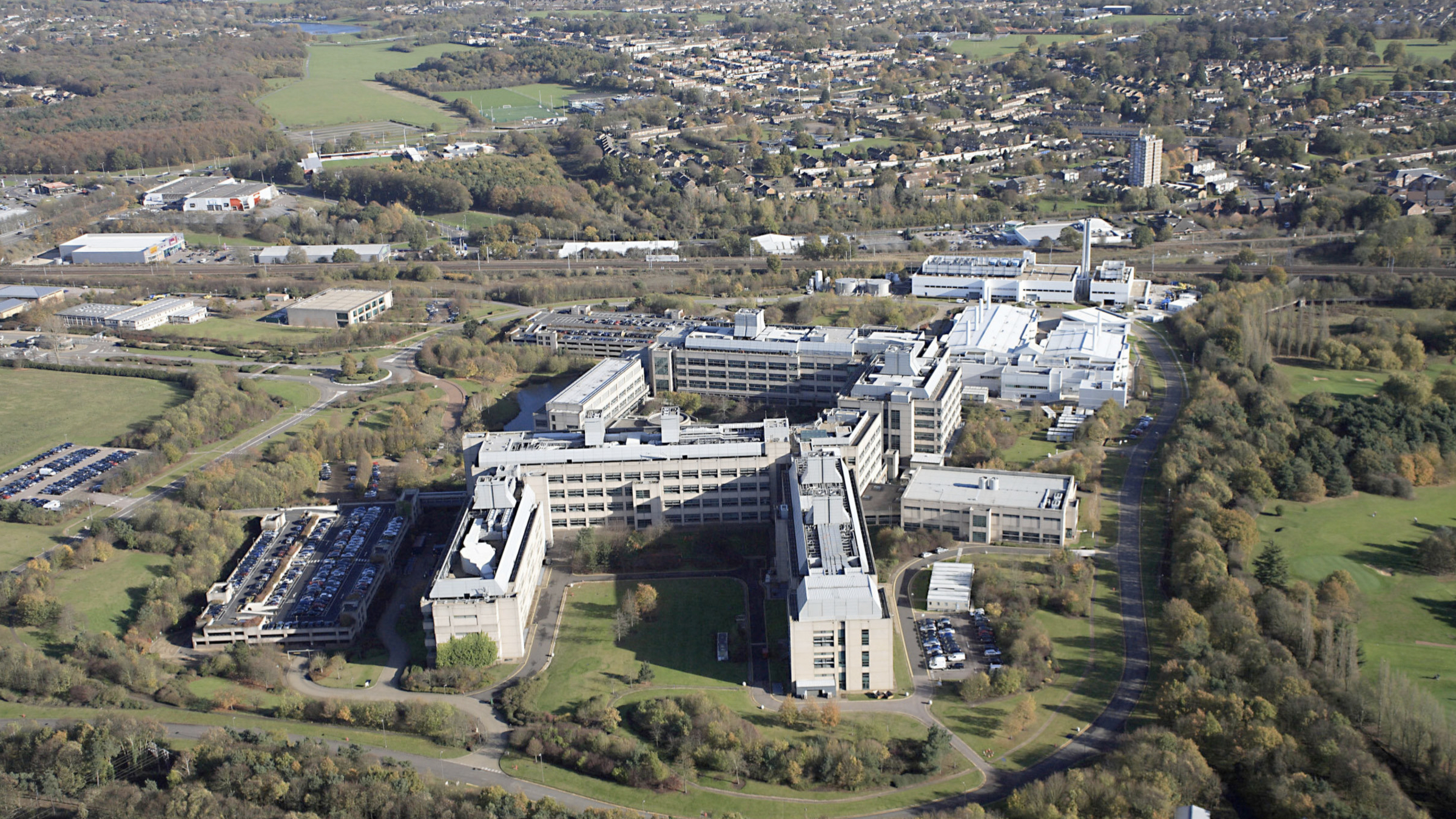 GSK's R&D site in Stevenage, Hertfordshire, England
In­vestors to tap GSK's re­search site for new bil­lion-dol­lar life sci­ences cam­pus — re­port
Two in­vestors, armed with sub­stan­tial fi­nan­cial back­ing, are tak­ing ad­van­tage of 33 acres of land at a Big Phar­ma R&D hub to build a new life sci­ences cam­pus.
A re­port in The Times and retweet­ed by GSK came out ear­ly Mon­day, say­ing that in­vest­ment firm UBS As­set Man­age­ment — a sub­sidiary of Swiss pri­vate mega­bank UBS — has part­nered with prop­er­ty in­vestor Reef Group to in­vest up to £900 mil­lion, or $1.08 bil­lion, to buy up 33 acres of land at one of GSK's R&D sites, lo­cat­ed in Steve­nage, UK.
An­oth­er re­port from Lon­don busi­ness news­pa­per City AM not­ed that the in­vestors want to make the site the sec­ond-largest "sec­tor clus­ter" af­ter Cam­bridge Uni­ver­si­ty. Con­struc­tion be­gins in 2023, with UBS es­ti­mat­ing the de­vel­op­ment will be worth close to $1.8 bil­lion once done.
A GSK spokesper­son told End­points News that the pair of in­vestors was se­lect­ed to work on the new de­vel­op­ment. Dubbed the Steve­nage Cam­pus, it will pro­vide com­mer­cial and lab space for dif­fer­ent life sci­ences com­pa­nies, and sub­ject to lo­gis­tics, some yet-un­spec­i­fied "el­e­ments" of the cam­pus will be open by 2025.
This de­vel­op­ment has been in the works for a while, with the phar­ma an­nounc­ing al­most a year ago that it would put 33 acres up for sale. At the time, GSK said all it would take is some­one to in­vest more than £400 mil­lion, or $552 mil­lion. GSK al­so said that the land could be de­vel­oped in­to about 100,000 square me­ters of floor space.
GSK's ex­ist­ing fa­cil­i­ty, which now sits on 59 acres and down from 92, was to re­main un­af­fect­ed by the de­vel­op­ment plans, aside from widen­ing a pub­lic road to im­prove ac­cess to the site.
This is the newest de­vel­op­ment for GSK when it comes to its head­quar­ters and fa­cil­i­ties. The phar­ma prac­ti­cal­ly aban­doned its icon­ic digs in Re­search Tri­an­gle Park and Philadel­phia last Oc­to­ber af­ter be­ing spurred by the over­all re­duced need for of­fice space, a trend felt across mul­ti­ple in­dus­tries.
"Our new of­fices will em­pha­size team con­nec­tion, dy­nam­ic work­flows and rec­og­nize a pref­er­ence for greater flex­i­bil­i­ty to work from home," a GSK spokesper­son told End­points at the time.
And speak­ing of oth­er up­com­ing big changes at GSK, its con­sumer health­care unit is set to spin out and of­fi­cial­ly form Ha­le­on in just un­der two weeks, as the phar­ma con­venes a gen­er­al meet­ing at Lon­don's Heathrow Air­port to­mor­row.