I/O en­thu­si­ast Servi­er signs up for an $807M, sec­ond wave PD-1 de­vel­op­ment deal with Sor­ren­to
Sor­ren­to Ther­a­peu­tics, which is close­ly aligned with Patrick Soon-Sh­iong's net­work of biotech com­pa­nies, has struck a deal to part­ner with France's Servi­er on its PD-1 check­point pro­gram for STI-A1110.
Servi­er is hand­ing over a $27.5 mil­lion up­front to Sor­ren­to $SRNE in the deal while putting $780 mil­lion on the ta­ble for a full slate of mile­stones.
For Servi­er, it's a chance to start work on its own in-house com­bi­na­tion drugs for blood can­cers as well as sol­id tu­mors. Servi­er has al­so been work­ing on CAR-T, adapt­ing T-cells in­to can­cer ther­a­pies. And while it's well be­hind the pi­o­neers in both check­point in­hibitors – with three ap­proved for use – and CAR-T, the com­pa­ny still sees a sig­nif­i­cant niche fu­ture for it­self in im­muno-on­col­o­gy.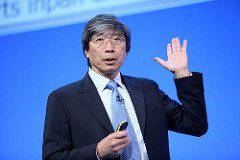 Dr. Patrick Soon-Sh­iong, cour­tesy of NHS Con­fed­er­a­tion.
The bil­lion­aire biotech en­tre­pre­neur Patrick Soon-Sh­iong, who's been known to paint a pret­ty pic­ture of the mar­ket po­ten­tial for new drugs, has tak­en a large mi­nor­i­ty stake in San Diego-based Sor­ren­to.
There are a num­ber of PD-1s and PD-L1s still go­ing in­to the clin­ic. As­traZeneca has the fourth pro­gram lin­ing up for an OK, and Pfiz­er is work­ing with Mer­ck KGaA on a pos­si­ble fifth. Servi­er, mean­while, al­so has a part­ner­ship with Cel­lec­tis, al­so based in Paris, on its off-the-shelf ap­proach to CAR-T drugs.
Sor­ren­to's shares inched up a few cents this morn­ing in ear­ly trad­ing.
"We have test­ed STI-A1110 in pre­clin­i­cal stud­ies con­duct­ed at Servi­er and we be­lieve that, used in com­bi­na­tion with sev­er­al prod­ucts from our port­fo­lio, it will lead to the de­vel­op­ment of new treat­ments for hema­to­log­i­cal as well as sol­id tu­mor can­cers," said Dr. Jean-Pierre Abas­ta­do, di­rec­tor of the On­col­o­gy In­no­va­tion Ther­a­peu­tic Pole for Servi­er.