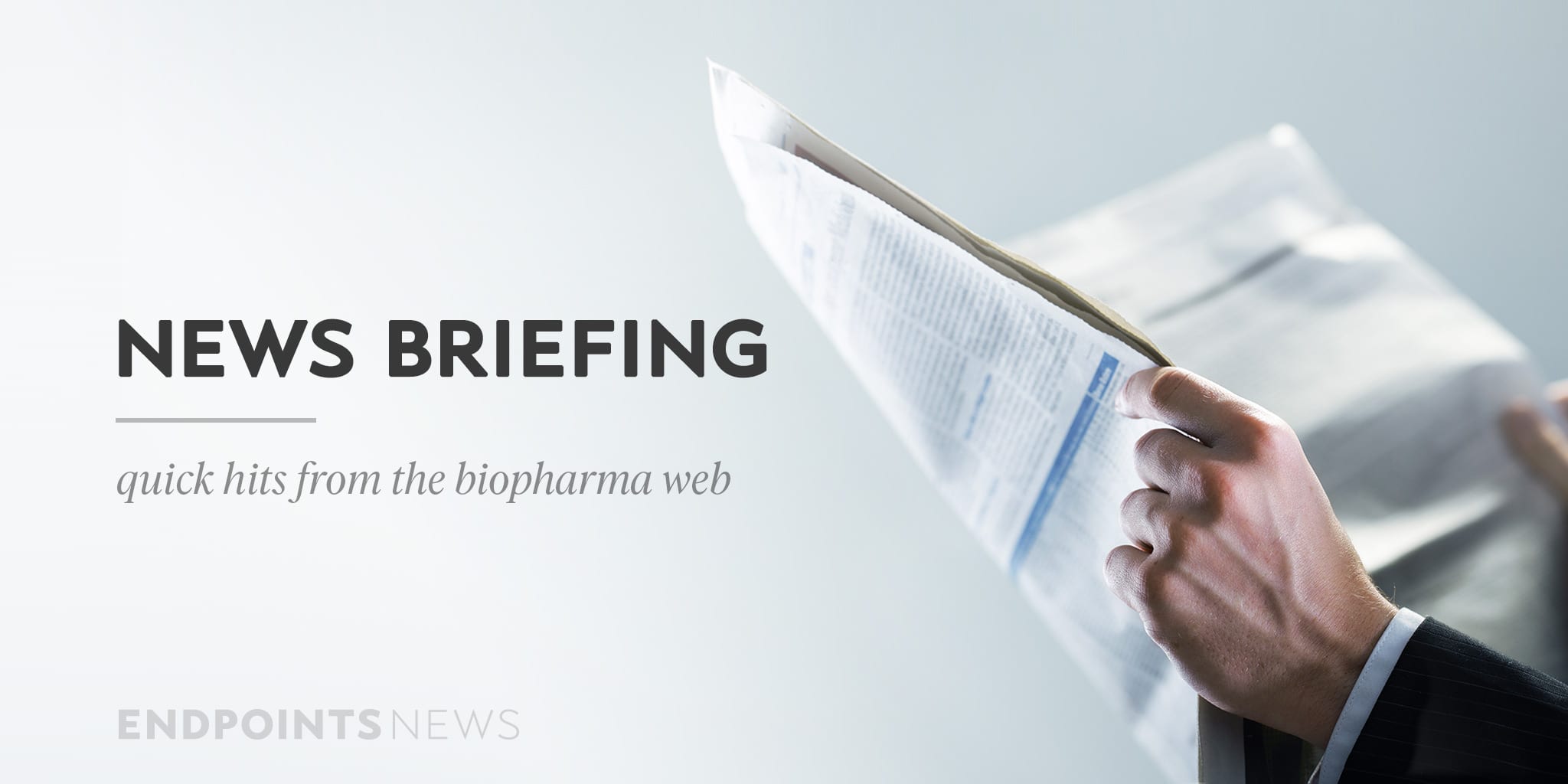 Io­n­is, As­traZeneca go­ing to FDA with PhI­II da­ta in hand; Glaukos touts dou­ble PhI­II win in eye im­plant
Io­n­is and As­traZeneca are hop­ing its lat­est re­sults net an FDA ap­proval.
The two com­pa­nies pre­sent­ed their lat­est Phase III re­sults from a 35-week analy­sis of the Phase III tri­al, dubbed NEU­RO-TTRans­form, of As­traZeneca's eplon­ter­sen in pa­tients with the rare dis­ease known as hered­i­tary transthyretin-me­di­at­ed amy­loid polyneu­ropa­thy (AT­TRv-PN).
Ac­cord­ing to Io­n­is on Wednes­day, Phase III had a pos­i­tive out­look as eplon­ter­sen achieved an 81.2% re­duc­tion of serum transthyretin (TTR) con­cen­tra­tion in pa­tients com­pared to base­line, demon­strat­ing re­duced TTR pro­tein pro­duc­tion. This hit the co-pri­ma­ry end­point of the tri­al and earned a p-val­ue of p=<0.0001.
Eplon­ter­sen al­so showed a treat­ment ef­fect on the oth­er pri­ma­ry end­point, net­ting a mod­i­fied Neu­ropa­thy Im­pair­ment Score of +7 (mNIS+7). This is used to de­ter­mine neu­ro­path­ic dis­ease pro­gres­sion. This co-pri­ma­ry end­point al­so re­ceived a p-val­ue of p=<0.0001.
Ac­cord­ing to Io­n­is, the study al­so hit the sec­ondary end­point, which was a change from base­line in the Nor­folk Qual­i­ty of Life Ques­tion­naire-Di­a­bet­ic Neu­ropa­thy.
"The promis­ing re­sults from NEU­RO-TTRans­form show that eplon­ter­sen had a pos­i­tive im­pact on dis­ease pro­gres­sion and im­proved qual­i­ty of life in a sub­stan­tial num­ber of pa­tients," Io­n­is chief clin­i­cal de­vel­op­ment of­fi­cer Eu­gene Schnei­der said in a state­ment.
As a re­sult of the da­ta, Io­n­is and As­traZeneca will look to get reg­u­la­to­ry ap­proval for eplon­ter­sen to treat AT­TRv-PN and are plan­ning to file an NDA lat­er this year.
The drug is be­ing joint­ly de­vel­oped and com­mer­cial­ized by both com­pa­nies in the US and will be de­vel­oped and com­mer­cial­ized in the rest of the world by As­traZeneca.
That agree­ment, which kicked off last year, saw Io­n­is get a $200 mil­lion up­front pay­ment, along with re­ceiv­ing up to $485 mil­lion in de­vel­op­ment and ap­proval mile­stones, as well as up to $2.9 bil­lion in sales-re­lat­ed mile­stone pay­ments. — Tyler Patchen
Glaukos churns out pos­i­tive Phase III da­ta in eye tri­als
Eye dis­ease biotech Glaukos is tout­ing new Phase III da­ta — and with two tri­als meet­ing pri­ma­ry end­points, the biotech is want­i­ng to go get the FDA to sign off on its prod­uct.
The com­pa­ny re­vealed Phase III da­ta Wednes­day morn­ing from two piv­otal tri­als, test­ing iDose TR, an im­plant with a for­mu­la­tion of travo­prost, a med­ica­tion used to treat oc­u­lar pres­sure. The da­ta, in short, showed that mul­ti­ple ver­sions of iDose TR reached the pri­ma­ry end­point of non-in­fe­ri­or­i­ty to the com­para­tor arm at three months in.
In terms of re­duc­tions in in­traoc­u­lar pres­sure (al­so called IOP), the re­duc­tion from base­line over the first three months was 6.6-8.5 mmHg (mil­lime­ters of mer­cury, a type of pres­sure mea­sure­ment) in the slow-re­lease arm in one tri­al, ver­sus 6.6-7.7 mmHg in the con­trol arm. In an­oth­er tri­al, IOP re­duc­tions from base­line over the first three months were 6.7-8.4 mmHg in the slow-re­lease arm, ver­sus 6.8-7.2 mmHg in con­trol.
Shares of $GKOS shot up 15% in ear­ly morn­ing trad­ing.
With 98% of pa­tients con­tin­u­ing at 12 months, plus no ad­verse events of corneal en­dothe­lial cell loss, no se­ri­ous corneal ad­verse events and no ad­verse events of pe­ri­or­bital fat at­ro­phy, the biotech plans to sub­mit an NDA — and ex­pects an FDA re­view and de­ci­sion by the end of 2023. — Paul Schloess­er
Carmell says it's filed for an IPO
Pitts­burgh-based Carmell Ther­a­peu­tics said it con­fi­den­tial­ly filed its draft pa­pers with the SEC en route to a pub­lic list­ing.
The SEC first has to com­plete the re­view process be­fore a list­ing can take place.
The biotech, which claims to be on the re­gen­er­a­tive med­i­cine track, is work­ing on so-called growth fac­tors in "al­lo­gene­ic platelet-en­riched plas­ma" to heal bone, skin and oth­er tis­sues. The goal is to ramp up the re­growth of hair and spark col­la­gen pro­duc­tion af­ter an in­jury, dis­ease or the much-talked-about ag­ing.
Carmell eyes Phase II stud­ies in tib­ia frac­ture heal­ing, for which it has fast track des­ig­na­tion from the FDA, in the sec­ond half of 2023, at which time the biotech al­so hopes to be­gin a mid-stage tri­al in foot/an­kle fu­sion. Pre­clin­i­cal work is be­ing con­duct­ed in spinal fu­sion, den­tal bone graft sub­sti­tute, an­dro­ge­net­ic alope­cia and chron­ic wound heal­ing, ac­cord­ing to Carmell's pipeline page. The com­pa­ny's first clin­i­cal tri­al — HEAL I — was con­duct­ed in South Africa.
Found­ed in 2008 by sci­en­tists at Carnegie Mel­lon Uni­ver­si­ty, with the help of Pitts­burgh Life Sci­ences Green­house, Carmell is led by for­mer med­ical de­vice lead­ers from John­son & John­son and its sub­sidiaries. — Kyle LaHu­cik