Is bio­phar­ma's Mi­das man Vivek Ra­maswamy build­ing a new IPO ve­hi­cle with Der­ma­vant deal?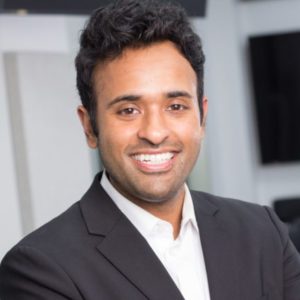 Vivek Ra­maswamy
One of Vivek Ra­maswamy's fledg­ling, pre-IPO "vant" com­pa­nies has swung an­oth­er in-li­cens­ing deal to beef up its pipeline.
Der­ma­vant Sci­ences, a sub­sidiary of Roivant, turned to a strug­gling Por­to­la $PT­LA to bag the top­i­cal rights to a Syk/JAK in­hibitor dubbed cer­du­la­tinib, which is cur­rent­ly in a Phase IIa tri­al for treat­ment-re­sis­tant cas­es of B-cell ma­lig­nan­cies.
Der­ma­vant is tak­ing the ther­a­py in a dif­fer­ent, dis­tinct­ly non-can­cer di­rec­tion, us­ing it to tamp down on in­flam­ma­to­ry skin con­di­tions. Der­ma­vant is al­ready at work on atopic der­mati­tis, ad­vanc­ing a PDE4 in­hibitor Roivant in-li­censed from Ei­sai last No­vem­ber.
All these deals fit right in­to Ra­maswamy's sweet spot: Drugs that have been test­ed in the clin­ic but were ei­ther cast away or no longer a fo­cus of the com­pa­ny that owned the orig­i­nal rights. Like many of these new deals at Roivant com­pa­nies, no terms were an­nounced. Ra­maswamy typ­i­cal­ly gets these drugs for lit­tle more than an eq­ui­ty stake and a few mil­lion dol­lars at most.
But rather than present it­self as a bot­tom feed­er look­ing for cheap ways to fat­ten up a pipeline, Ra­maswamy has pre­sent­ed the strat­e­gy as an Uber-lev­el dis­rup­tion in bio­phar­ma, slash­ing de­vel­op­ment costs and speed­ing time­lines for ma­jor new drugs that he had tapped for their par­a­digm-bust­ing po­ten­tial. And while he hasn't ac­tu­al­ly pro­duced any mar­ketable drugs yet, in­vestors have bought in­to two of his com­pa­nies — Ax­o­vant and My­ovant — in a pair of IPOs that raised more than half a bil­lion dol­lars.
Part of that process has called for a hand­ful of top staffers, and Der­ma­vant just added a CMO to its group. Could an­oth­er IPO be far be­hind?
"The ad­di­tion of cer­du­la­tinib to our pipeline ren­ders Der­ma­vant an emerg­ing leader in med­ical der­ma­tol­ogy," said Jim Lee, MD, PhD, the new­ly-ap­point­ed Chief Med­ical Of­fi­cer of Der­ma­vant. "Giv­en the an­ti-in­flam­ma­to­ry prop­er­ties as­so­ci­at­ed with both JAK and Syk in­hi­bi­tion we look for­ward to ad­vanc­ing the clin­i­cal de­vel­op­ment of cer­du­la­tinib as a po­ten­tial ther­a­py for a num­ber of der­ma­to­log­ic con­di­tions with sig­nif­i­cant un­met need."