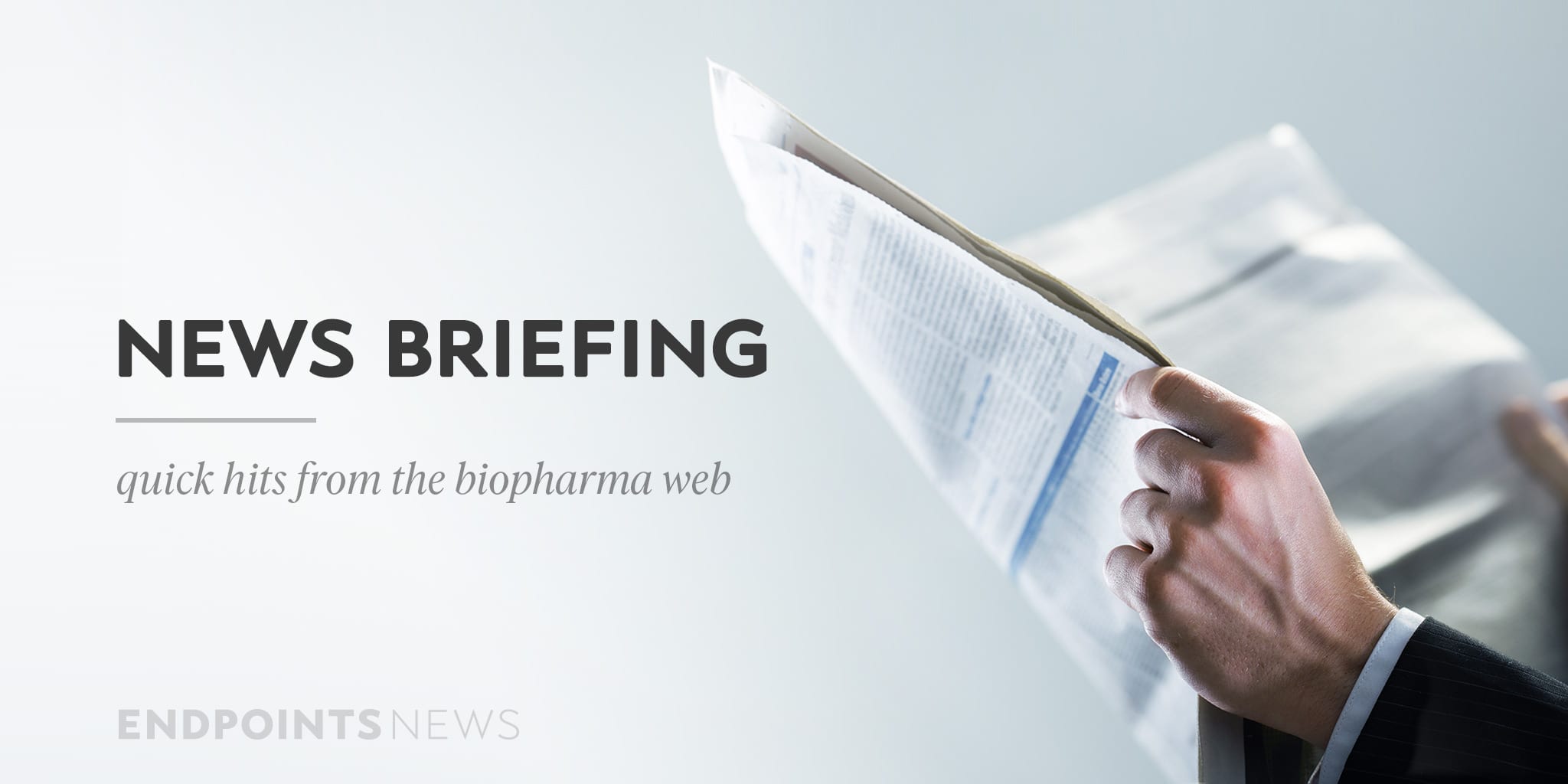 Ger­man ra­dio­phar­ma forms an­oth­er Chi­na joint ven­ture; Urovan­t's Gemte­sa pass­es blood pres­sure study
Ger­man biotech ITM is form­ing a joint ven­ture with Chi­nese ra­dio­phar­ma play­er Cheng­du Gao­tong Iso­tope.
This ven­ture fol­lows a strate­gic part­ner­ship be­tween ITM and the Chi­na Iso­tope and Ra­di­a­tion Cor­po­ra­tion (CIRC) which was ini­tial­ly formed in 2010 and fur­ther ex­tend­ed in No­vem­ber 2019.
The new­ly formed com­pa­ny is sched­uled to start op­er­a­tions by the end of the year and will be lo­cat­ed in Cheng­du, Chi­na. This will be ITM's sec­ond lo­ca­tion in Chi­na af­ter open­ing its first sub­sidiary in Shang­hai ear­li­er this year.
"We are com­mit­ted to fur­ther ex­pand­ing our suc­cess­ful, long-term part­ner­ship with CIRC and are look­ing for­ward to in­creas­ing our glob­al foot­print in Chi­na," said ITM CEO Stef­fen Schus­ter.
Fur­ther de­tails of the agree­ment were not dis­closed. — Paul Schloess­er
Urovant's over­ac­tive blad­der drug Gemte­sa pass­es safe­ty test
Cal­i­for­nia biotech Urovant's Gemte­sa has no clin­i­cal­ly rel­e­vant ef­fect on blood pres­sure and heart rate, ac­cord­ing to the biotech.
Urovant showed da­ta from an out­pa­tient study at the year­ly meet­ing of the Amer­i­can Uro­log­i­cal As­so­ci­a­tion show­ing blood pres­sure and heart rate be­ing sim­i­lar be­tween two groups of pa­tients: one with a place­bo for 28 days, and the oth­er on dai­ly Gemte­sa.
"We are de­light­ed to present these im­por­tant ad­di­tion­al da­ta con­firm­ing the ef­fi­ca­cy and safe­ty pro­file of Gemte­sa," said Urovant CMO Cor­nelia Haag-Molken­teller in a state­ment.
Ac­cord­ing to the study, sys­tolic blood pres­sure, di­as­tolic blood pres­sure, and heart rate were gen­er­al­ly sim­i­lar be­tween the two groups. There were no sta­tis­ti­cal­ly sig­nif­i­cant or clin­i­cal­ly rel­e­vant dif­fer­ences in mean day­time or mean 24-hour am­bu­la­to­ry sys­tolic blood pres­sure, di­as­tolic blood pres­sure, or heart rate af­ter 28 days of treat­ment with Gemte­sa com­pared with place­bo.
Part of Vivek Ra­maswamy's fam­i­ly of com­pa­nies, the biotech's over­ac­tive blad­der drug Gemte­sa hit the mar­ket late last year as Urovant's first ap­proved prod­uct. — Paul Schloess­er
MiMedx shows mixed re­sults in md­HACM clin­i­cal stud­ies
Geor­gia re­gen­er­a­tive med­i­cine biotech MiMedx has re­sults from two late-stage clin­i­cal tri­als on its treat­ment (mi­cronized de­hy­drat­ed Hu­man Am­nion Chori­on Mem­brane, or md­HACM) for knee os­teoarthri­tis and plan­tar fasci­itis.
The tri­als, in Phas­es IIb and III, re­spec­tive­ly, did not hit the pri­ma­ry end­points in ei­ther study. The os­teoarthri­tis study did re­veal var­ied ef­fi­ca­cy sig­nals be­tween pa­tients eval­u­at­ed pre- and post-study, which will lead MiMedx to at­tempt con­fir­ma­to­ry stud­ies. As for the study on plan­tar fasci­itis, MiMedx will not pur­sue a BLA with the FDA.
"We look for­ward to fur­ther dis­cus­sions with the FDA un­der the Re­gen­er­a­tive Med­i­cine Ad­vanced Ther­a­py process, and re­view­ing our next steps for con­tin­ued clin­i­cal study of Pu­ri­on processed md­HACM as a plat­form for re­gen­er­a­tive med­i­cine," said MiMedx CEO Tim­o­thy Wright in a state­ment.
MiMedx was in hot wa­ter late last year af­ter the CEO and the COO at the time were re­spec­tive­ly con­vict­ed of se­cu­ri­ties fraud and con­spir­a­cy. This hap­pened af­ter the FBI al­leged that the com­pa­ny was fraud­u­lent­ly boost­ing its sales. — Paul Schloess­er
Adap­ti­m­mune sees 36% re­sponse rate in Phase I #ES­MO21 tease
Fresh off a $3 bil­lion deal with Roche to de­vel­op off-the-shelf T cell ther­a­pies, Adap­ti­m­mune is cap­i­tal­iz­ing on the mo­men­tum with a new da­ta re­lease it ex­pects to present at #ES­MO21 this week­end.
In a Phase I study look­ing at 22 evalu­able pa­tients with MAGE-A4+ tu­mors "in the con­text of HLA-A*02," Adap­ti­m­mune saw sev­en par­tial re­spons­es and one com­plete re­sponse, good for an over­all re­sponse rate of 36.4%. The re­spons­es spanned five dif­fer­ent in­di­ca­tions in­clud­ing ovar­i­an, head and neck, esoph­a­gogas­tric junc­tion and blad­der can­cers, as well as syn­ovial sar­co­ma.
"It is no longer a ques­tion of whether our SPEAR T-cells are ef­fec­tive against a range of MAGE-A4 ex­press­ing tu­mors — they un­doubt­ed­ly are," CEO Adri­an Raw­cliffe said in a state­ment. "Now, our fo­cus is on turn­ing them in­to ap­proved ther­a­pies."
An­oth­er 11 pa­tients saw their dis­ease sta­bi­lized on the ther­a­py, while three saw dis­ease pro­gres­sion. Adap­ti­m­mune re­port­ed that the da­ta cut­off was Au­gust 2, say­ing 25 to­tal pa­tients had re­ceived the ther­a­py at that point while 22 of the 25 made up Mon­day's da­ta read­out.
The biotech al­so not­ed it was en­cour­aged by the ini­tial dura­bil­i­ty re­sults. Of the eight re­spon­ders, five re­main pro­gres­sion-free af­ter a min­i­mum of 24 weeks. — Max Gel­man