It's not just Charles Lieber: NI­H's on­go­ing in­ves­ti­ga­tion has swept up 54 sci­en­tists who vi­o­lat­ed rules about for­eign ties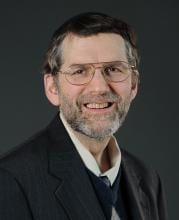 Michael Lauer NIH
The NIH's work­ing group for for­eign in­flu­ences on re­search in­tegri­ty has opened cas­es against 189 sci­en­tists sus­pect­ed of vi­o­la­tions re­lat­ed to over­seas ties since launch­ing an on­go­ing, sweep­ing in­ves­ti­ga­tion al­most two years ago, new­ly avail­able sta­tis­tics showed, lead­ing to the ter­mi­na­tions and res­ig­na­tions of 54 sci­en­tists.
Of those who have been in­ves­ti­gat­ed, 41% have al­so been re­moved from the NIH sys­tem, barred from seek­ing fur­ther grants. Michael Lauer, NIH's head of ex­tra­mur­al re­search, pre­sent­ed a com­pre­hen­sive set of these and oth­er num­bers in a vir­tu­al up­date on Fri­day, just a day af­ter Charles Lieber — the for­mer head of Har­vard's chem­istry de­part­ment — was in­dict­ed in fed­er­al court for ly­ing about his Chi­nese con­nec­tions.
While high-pro­file cas­es like Lieber's, as well as those at MD An­der­son, Emory Uni­ver­si­ty and Mof­fitt be­fore him, have gripped the bio­med­ical field, they mere­ly rep­re­sent in­di­vid­ual snap­shots of when in­sti­tu­tions re­spond to the NIH's warn­ings about hid­den for­eign ties. The of­fi­cial da­ta shine light on the broad­er pic­ture.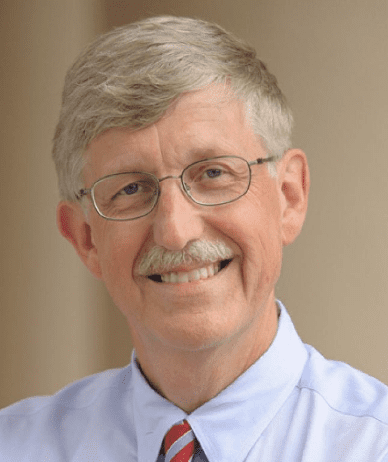 Fran­cis Collins NIH
For one, more could be com­ing. The NIH has iden­ti­fied 399 sci­en­tists of pos­si­ble con­cern in to­tal, 251 of whom screened "pos­i­tive," with an­oth­er 72 "pend­ing."
Agency di­rec­tor Fran­cis Collins called that pic­ture "sober­ing," ac­cord­ing to Sci­ence, which first re­port­ed on Lauer's re­marks.
At the heart of the is­sue, Lauer high­light­ed, isn't that US re­searchers are col­lab­o­rat­ing with in­ves­ti­ga­tors in for­eign coun­tries. Rather, it's of­ten about NIH-backed sci­en­tists' fail­ure to dis­close sig­nif­i­cant re­sources from al­ter­na­tive sources, con­flicts of in­ter­est or patents. In cer­tain cas­es, there were even peer re­view vi­o­la­tions.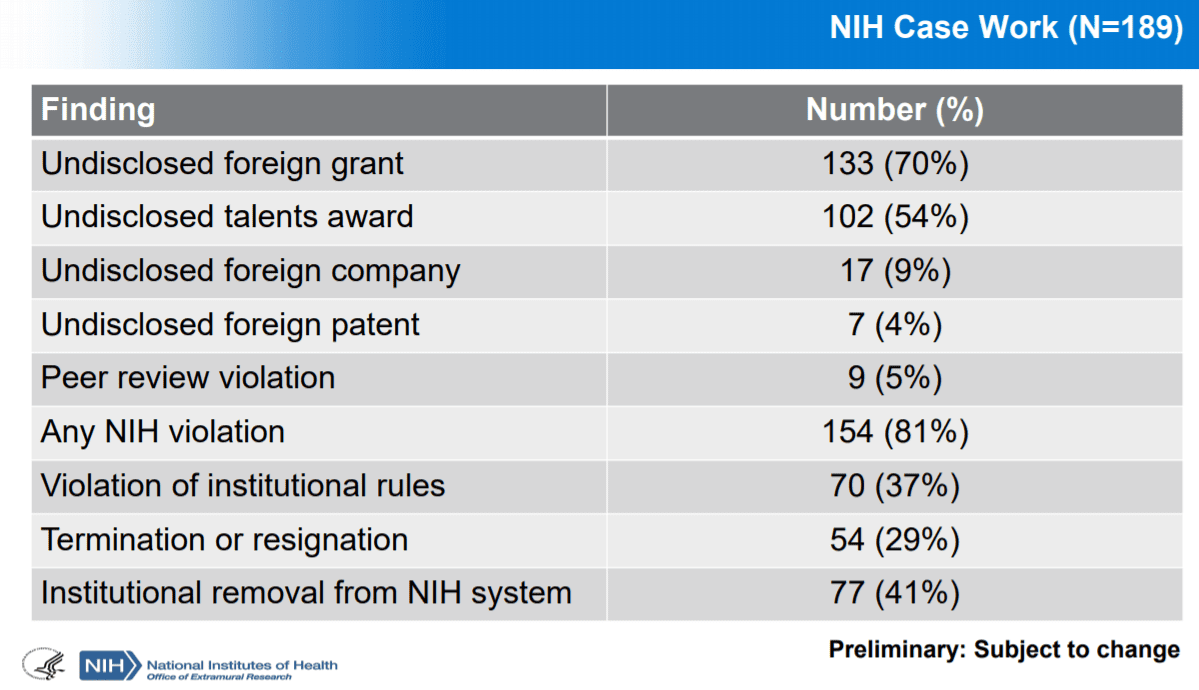 Over­all, Chi­na stood out as the top coun­try pro­vid­ing for­eign sup­port to sci­en­tists, ei­ther re­flect­ing or con­firm­ing the long­stand­ing rhetoric on aca­d­e­m­ic es­pi­onage. Pre­sum­ably through the Thou­sand Tal­ents Pro­gram, Chi­nese fund­ing was in­volved in 93% of the cas­es.
It may thus be un­sur­pris­ing that the vast ma­jor­i­ty of cas­es in­volve an Asian man in his 50s, al­though 14% of the in­ves­ti­ga­tions cen­tered around whites. On av­er­age, the NIH has is­sued $678,000 in grant sup­port to each of these sci­en­tists, who are spread across 27 states and 59 cities.
But there is hope that in­sti­tu­tions are grow­ing more aware of the prob­lems — which might not have pre­vi­ous­ly been con­sid­ered se­ri­ous un­til the FBI and the NIH cracked down on them — and tak­ing ac­tions against non-com­pli­ance. As part of their ef­forts, the NIH has con­tact­ed 87 uni­ver­si­ties or re­search cen­ters; slight­ly more than half men­tioned they are im­ple­ment­ing new mea­sures.
In a nod to con­cerns that the height­ened sen­ti­ments are stok­ing fears among sci­en­tists of Asian her­itage who fear they may be tar­get­ed, Lauer made sure to tuck this re­as­sur­ance to the end of his slides:
We re­it­er­ate the im­por­tance of the con­tri­bu­tion of for­eign sci­en­tists to bio­med­ical re­search; we must not cre­ate a cli­mate that is un­wel­com­ing to them.