It's of­fi­cial: EMA to move in­to per­ma­nent Am­s­ter­dam premis­es in No­vem­ber '19 amid con­tin­ued protests from Italy
Al­most four months af­ter the fate­ful "coin toss" that de­cid­ed the EMA's re­lo­ca­tion to Am­s­ter­dam, the (cur­rent­ly) Lon­don-based reg­u­la­to­ry agency has for­mal­ly ham­mered out a tran­si­tion plan with the Dutch gov­ern­ment.
At a meet­ing Wednes­day, the EMA's man­age­ment board no­ti­fied the EU Bud­getary Au­thor­i­ty of its in­ten­tion to move in­to new per­ma­nent premis­es in the busi­ness dis­trict of Zuidas, af­ter vot­ing on the re­vised pro­pos­al by the Dutch. The date of com­ple­tion is No­vem­ber 15, 2019, mean­ing that the EMA will be work­ing out of a tem­po­rary of­fice for eight months post-Brex­it, which is set for March 2019.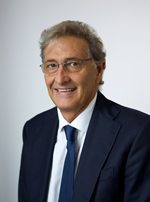 Gui­do Rasi
The tem­po­rary digs are lo­cat­ed at the Spark build­ing in Slo­ter­dijk, a dis­trict to the north­west of the Am­s­ter­dam city cen­tre. As pre­vi­ous­ly an­nounced, this of­fice will on­ly have half the floor space of the EMA's old one in Lon­don. In a Jan­u­ary press con­fer­ence, ex­ec­u­tive di­rec­tor Gui­do Rasi ad­mit­ted the premis­es are "not ide­al," but em­pha­sized the tem­po­rary build­ing will still be able to host all core busi­ness­es.
Last week, mem­bers of the Eu­ro­pean par­lia­ment toured the fa­cil­i­ty, along with the site of the EMA's fu­ture home, the Zuidas — which en­com­pass­es the city's World Trade Cen­ter com­plex.
Mean­while, bit­ter over los­ing the bid, the Ital­ian gov­ern­ment is still protest­ing against the re­lo­ca­tion and urg­ing the EMA to re­con­sid­er mov­ing to Mi­lan.
"The tem­po­rary lo­ca­tion is a good build­ing, but the re­al prob­lem is the risk of the de­lay of the new build­ing con­struc­tion, which means a huge amount of work," Gio­van­ni La Via, an Ital­ian mem­ber of the Eu­ro­pean Par­lia­ment, told re­porters at a press con­fer­ence fol­low­ing the Am­s­ter­dam tour.
Italy has even asked the Eu­ro­pean Court to an­nul the de­ci­sion to re­lo­cate to Am­s­ter­dam, though some in the Eu­ro­pean Com­mis­sion have dis­missed the le­gal ac­tion as a po­lit­i­cal ploy to please Ital­ian vot­ers.
Aside from the of­fice, Am­s­ter­dam has al­so been work­ing with the EMA to fig­ure out ac­com­mo­da­tions for its 900 staffers, job prospects for their part­ners as well as school­ing for the 500-plus chil­dren mov­ing with them.
---
Im­age: The Zuidas, Am­s­ter­dam. Shut­ter­stock