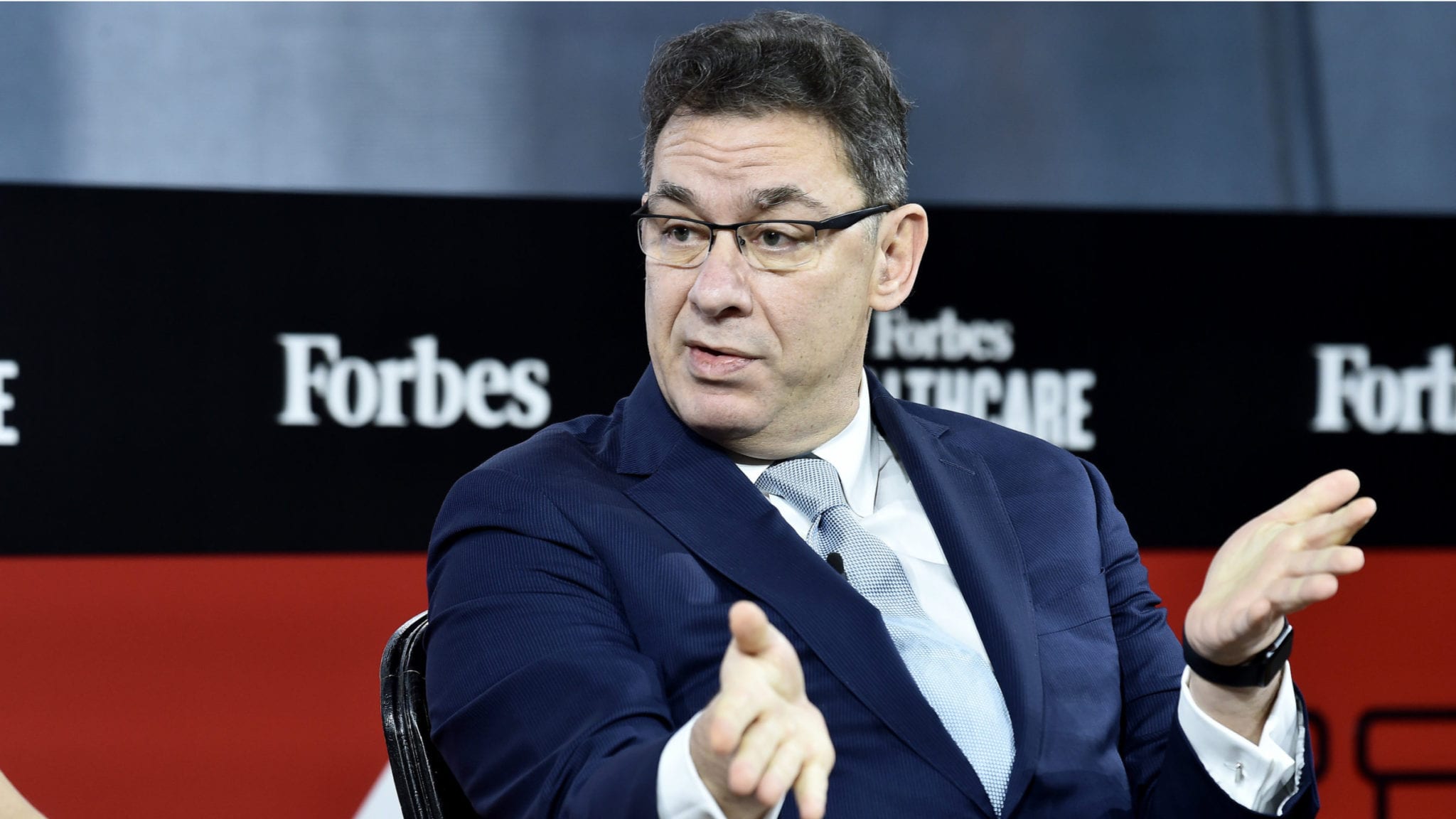 Albert Bourla, Pfizer CEO (Steven Ferdman/Getty Images)
It's of­fi­cial: Pfiz­er and BioN­Tech have sub­mit­ted their Covid-19 vac­cine to the FDA — and the agency cir­cled a date for the ad­comm
Pfiz­er and BioN­Tech's re­quest for emer­gency au­tho­riza­tion of its Covid-19 vac­cine is now in the FDA's hands. Reg­u­la­tors caught the ap­pli­ca­tion Fri­day af­ter­noon in an open field dash to the goal line.
The agency im­me­di­ate­ly marked Dec 10 on the cal­en­dar for an ad­vi­so­ry com­mit­tee meet­ing to dis­cuss the re­quest. Pfiz­er and BioN­Tech first an­nounced the sub­mis­sion was com­ing on Fri­day morn­ing, and Pfiz­er CEO Al­bert Bourla con­firmed the fil­ing in a video state­ment lat­er that af­ter­noon. The "his­toric day," as Bourla called it, came just 248 days af­ter the phar­ma first an­nounced plans to de­vel­op the can­di­date with BioN­Tech — a process which typ­i­cal­ly takes years.
Now it's up to reg­u­la­tors, who will ex­am­ine the mass of da­ta that the com­pa­nies have gen­er­at­ed since win­ter and so­lic­it rec­om­men­da­tions from out­side ad­vi­sors be­fore mak­ing a de­ci­sion. Pe­ter Marks, head of the agency's vac­cine and bi­o­log­ics di­vi­sion, told Busi­ness In­sid­er this week that the EUA process will like­ly take "weeks."
"The FDA has been prepar­ing for the re­view of EUAs for COVID-19 vac­cines for sev­er­al months and stands ready to do so as soon as an EUA re­quest is sub­mit­ted," FDA com­mis­sion­er Stephen Hahn said in a state­ment, adding that he can't pre­dict how long the re­view will take. Hahn, who was ac­cused of bend­ing to Pres­i­dent Don­ald Trump's po­lit­i­cal agen­da af­ter mak­ing mis­state­ments about the ben­e­fits of con­va­les­cent plas­ma, promised the FDA would re­view vac­cines in a "thor­ough and sci­ence-based man­ner."
In ad­di­tion to the FDA sub­mis­sion, Bourla said Pfiz­er and BioN­Tech have ini­ti­at­ed rolling sub­mis­sions in Aus­tralia, Cana­da, Eu­rope, Japan and the UK, and plan to sub­mit "im­me­di­ate­ly" to oth­er reg­u­la­to­ry au­thor­i­ties around the world.
Mod­er­na isn't far be­hind. The Mass­a­chu­setts-based biotech read out in­ter­im re­sults ear­li­er this week, and is ex­pect­ed to an­nounce fi­nal Phase III re­sults and head to the FDA soon. Both Mod­er­na CEO Stéphane Ban­cel and Op­er­a­tion Warp Speed sci­en­tif­ic chief Mon­cef Slaoui have said the FDA may con­vene ad­vi­so­ry hear­ings to re­view both Pfiz­er and Mod­er­na's vac­cine at once. Re­view­ers were re­port­ed­ly told to pen­cil in vac­cine hear­ings from Dec. 8 through Dec. 10., when the agency is sched­uled to dis­cuss Pfiz­er and BioN­Tech's can­di­date.
So how do the can­di­dates stack up? Pfiz­er and BioN­Tech say their can­di­date is 95% ef­fec­tive at pre­vent­ing symp­to­matic Covid-19, ac­cord­ing to fi­nal re­sults. Out of 10 se­vere cas­es, 9 were in the place­bo group and 1 was in the vac­cine group, ac­cord­ing to the com­pa­nies. Mean­while, Mod­er­na says its can­di­date ap­peared to be 94.5% ef­fec­tive, based on an in­ter­im look. Of 11 se­vere cas­es, all were in the place­bo group, they said. Side ef­fects for both were min­i­mal and mod­er­ate, the most com­mon ones be­ing mus­cle ache, headache, and fa­tigue.
"To­day, we were able to sub­mit a very ro­bust da­ta set that we be­lieve meets and, in many cas­es, ex­ceeds the FDA's high stan­dards," Bourla said.
The CEO said Pfiz­er and BioN­Tech are prep­ping to be­gin ship­ping the vac­cine "im­me­di­ate­ly" af­ter they get the FDA green light. This week, Pfiz­er launched a pi­lot de­liv­ery pro­gram in Rhode Is­land, Texas, New Mex­i­co and Ten­nessee to test the wa­ters, al­though those states won't get dos­es any ear­li­er than oth­er states or have spe­cial con­sid­er­a­tion, the phar­ma said. De­liv­ery of the vac­cine pos­es a ma­jor chal­lenge, as dos­es must be shipped in -70 de­grees Cel­sius (-94 de­grees Fahren­heit) tem­per­a­tures — cold­er than Antarc­ti­ca — to re­main sta­ble.
On Fri­day, Bourla said the com­pa­nies ex­pect to pump out 50 mil­lion dos­es glob­al­ly in 2020, and 1.3 bil­lion by the end of 2021.
"I want to thank every­one. Every­one who vol­un­teered to par­tic­i­pate in the clin­i­cal tri­al, our aca­d­e­m­ic col­lab­o­ra­tors and in­ves­ti­ga­tors at the study sites, and our col­leagues and col­lab­o­ra­tors around the world, who have been work­ing day and night to help en­sure that sci­ence will win," Bourla said in the video.
For a look at all End­points News coro­n­avirus sto­ries, check out our spe­cial news chan­nel.