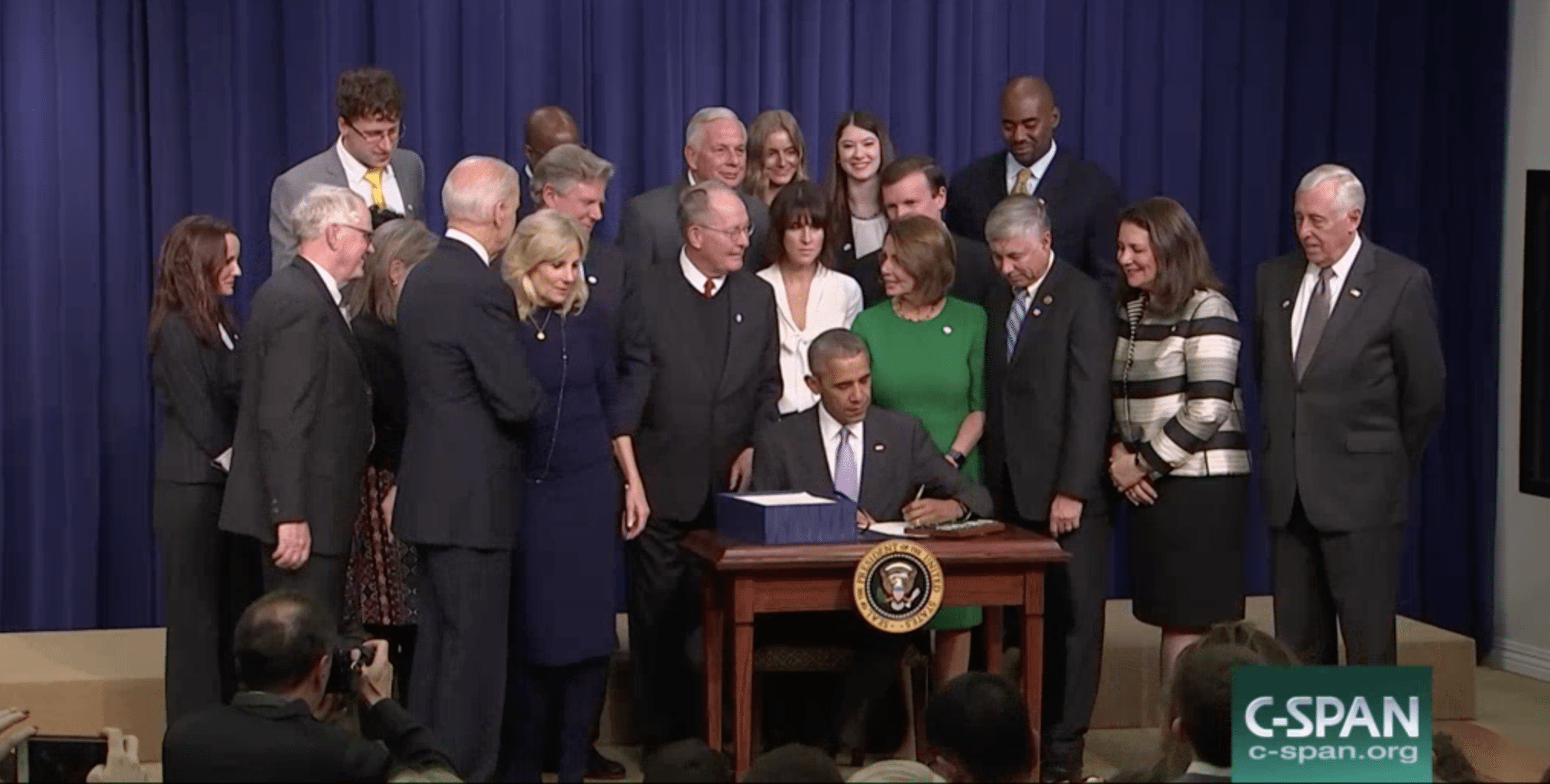 It's the law: Oba­ma signs wide­ly pop­u­lar 21st Cen­tu­ry Cures Act
In the end, the 21st Cen­tu­ry Cures Act looked like an old-time bill, laden with ex­tras for can­cer re­search, an­tibi­otics, the opi­oid epi­dem­ic and even Alzheimer's, which has man­aged to re­sist just about every­thing thrown at it so far. It even had the kind of bi­par­ti­san sup­port that you don't see much these days in Wash­ing­ton D.C.
Vice Pres­i­dent Joe Biden was there to sa­vor the mo­ment as Pres­i­dent Oba­ma inked the near­ly 1,000-page ini­tia­tive, which helps cap­ture more mon­ey for can­cer drug re­search — his last big ini­tia­tive. And the bio­phar­ma in­dus­try reps, along with some 1,300 lob­by­ists, were hap­py to see promis­es of short­er, swifter drug ap­provals with new FDA fund­ing.
On­ly Eliz­a­beth War­ren and Bernie Sanders, joined by three fel­low Sen­a­tors, were will­ing to cast their votes against the law. Don't be sur­prised to see el­e­ments of that op­po­si­tion wo­ven in­to the 2020 cam­paign.
For BIO, this is the biggest sin­gle piece of new leg­is­la­tion to pass since the ACA in­clud­ed longterm safe­guards against bi­o­log­ics com­pe­ti­tion. Now it will have to make sure that no one tam­pers with those pro­vi­sions as the new Trump ad­min­is­tra­tion goes back and starts to un­do that com­plex piece of leg­is­la­tion.
But there are plen­ty of lit­tle pro­vi­sions in the bill that could af­fect a wide va­ri­ety of re­searchers and biotechs. Case in point: Bio­phar­ma com­pa­nies will need to promi­nent­ly post their pol­i­cy on com­pas­sion­ate use, which is a rar­i­ty these days.
The NIH di­rec­tor is al­so in a po­si­tion to re­quire re­searchers to share da­ta from NIH fund­ed stud­ies, writes Fran­cis Collins in an ar­ti­cle for the NE­JM. And there will be a new of­fice at the NIH charged with find­ing new op­por­tu­ni­ties for young re­searchers.
A lot of hap­py faces @sign­ing of #Cures­Now-we be­lieve in pow­er of re­search 2 of­fer hope 4 pa­tients @ACT­forNIH @Can­cer­Res­rch @faster­cures pic.twit­ter.com/Ol6awnjf­pP

— Mar­garet An­der­son (@Mar­gare­tAinDC) De­cem­ber 13, 2016