J&J de­clares a his­toric suc­cess as In­vokana comes through in PhI­II chron­ic kid­ney dis­ease tri­al
J&J has scored pos­i­tive da­ta from its Phase III chron­ic kid­ney dis­ease study of the SGLT2 di­a­betes drug In­vokana, pos­si­bly open­ing the door to a come­back af­ter watch­ing sales rev­enue dwin­dle in the face of a safe­ty alert.
Re­searchers said af­ter the mar­ket close $JNJ to­day that they had the snap­shot of promis­ing re­sults they need­ed to call CRE­DENCE a suc­cess and end it ear­ly, "as the tri­al had achieved pre-spec­i­fied cri­te­ria for the pri­ma­ry com­pos­ite end­point of end-stage kid­ney dis­ease (time to dial­y­sis or kid­ney trans­plan­ta­tion), dou­bling of serum cre­a­ti­nine, and re­nal or car­dio­vas­cu­lar (CV) death, when used in ad­di­tion to stan­dard of care."
The ac­tu­al da­ta is be­ing kept for sci­en­tif­ic con­fer­ence.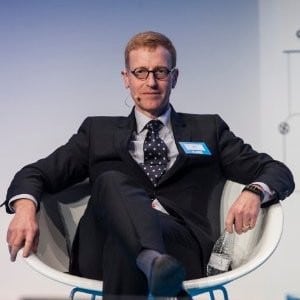 James List
"We are ex­cit­ed about the pos­si­bil­i­ty of bring­ing forth In­vokana (canagliflozin) as the first ther­a­py to treat pa­tients with chron­ic kid­ney dis­ease and type 2 di­a­betes in more than 15 years," says James List, J&J's head of the Car­dio­vas­cu­lar & Me­tab­o­lism unit in a pre­pared state­ment.
J&J need­ed some good news on this front.
In­vokana has car­ried a black box warn­ing on it from last year flag­ging an in­creased risk of am­pu­ta­tions. That set the stage for a se­ries of an­a­lyst re­ports sug­gest­ing ri­val drugs at Eli Lil­ly/Boehringer and As­traZeneca would make gains on mar­ket share. But just weeks ago, J&J pushed back with new tri­al da­ta demon­strat­ing that the drug could cut the rate of heart fail­ure hos­pi­tal­iza­tions with­out rais­ing risks to pa­tients.
J&J's at­tempt to get risk re­duc­tions writ­ten in­to the la­bel hit a set­back ear­li­er to­day, when the FDA de­layed its de­ci­sion. A 3-month ex­ten­sion push­es the PDU­FA back to Oc­to­ber.
In the mean­time, sales have been shrink­ing as J&J's com­pe­ti­tion ramps up. In­vokana brought in $1.1 bil­lion last year, down from $1.4 bil­lion in 2016.
"Near­ly half of all peo­ple with Type 2 di­a­betes will de­vel­op chron­ic kid­ney dis­ease, caus­ing a high risk of kid­ney fail­ure and car­dio­vas­cu­lar dis­ease, and im­pact­ing their qual­i­ty and length of life, even with the cur­rent best avail­able care. This huge un­met need is why it was so im­por­tant for us to ini­ti­ate the land­mark CRE­DENCE re­nal out­comes tri­al over four years ago," said in­ves­ti­ga­tor Vla­do Perkovic.