J&J nabs ac­cel­er­at­ed FDA OK for one of their top late-stage drugs
Score one new po­ten­tial block­buster OK for J&J.
The FDA of­fered a quick stamp of ap­proval for their sol­id tu­mor drug erdafi­tinib Fri­day af­ter­noon, al­low­ing the phar­ma gi­ant to put a check­mark by one of their top pipeline projects. Ex­ecs high­light­ed this drug close to 2 years ago as one of the top 11 ther­a­pies they were steer­ing through late-stage tri­als. And it's a key part of an R&D plan aimed at re­viv­ing sales growth.
The FDA blessed this ther­a­py with its break­through des­ig­na­tion a lit­tle more than a year ago, help­ing to speed it through the re­view process.
The drug — an FGFR in­hibitor for a set of ge­net­i­cal­ly mu­tat­ed cas­es of blad­der can­cer — will now head to the mar­ket to be sold as Balver­sa. We don't have the cost yet, but I've queried the com­pa­ny.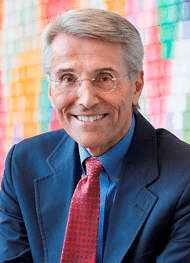 Richard Paz­dur
"To­day's ap­proval rep­re­sents the first per­son­al­ized treat­ment tar­get­ing sus­cep­ti­ble FGFR ge­net­ic al­ter­na­tions for pa­tients with metasta­t­ic blad­der can­cer," said Richard Paz­dur, di­rec­tor of the FDA's On­col­o­gy Cen­ter of Ex­cel­lence and act­ing di­rec­tor of the Of­fice of Hema­tol­ogy and On­col­o­gy Prod­ucts in the FDA's Cen­ter for Drug Eval­u­a­tion and Re­search. "FGFRs reg­u­late im­por­tant bi­o­log­i­cal process­es in­clud­ing cell growth and di­vi­sion dur­ing de­vel­op­ment and tis­sue re­pair. This drug works by tar­get­ing ge­net­ic al­ter­ations in FGFRs."
The FDA sum­ma­rized the da­ta like this:
The over­all re­sponse rate in these pa­tients was 32.2%, with 2.3% hav­ing a com­plete re­sponse and al­most 30% hav­ing a par­tial re­sponse. The re­sponse last­ed for an av­er­age of ap­prox­i­mate­ly five-and-a-half months. About a quar­ter of pa­tients in the study were pre­vi­ous­ly treat­ed with an­ti PD-L1/PD-1 ther­a­py, which is a stan­dard treat­ment for pa­tients with lo­cal­ly ad­vanced or metasta­t­ic blad­der can­cer. Re­spons­es to Balver­sa were seen in pa­tients who had pre­vi­ous­ly not re­spond­ed to an­ti PD-L1/PD-1 ther­a­py.
---
Im­age: Shut­ter­stock