J&J sews up an ex­pand­ed vac­cine pact with Bavar­i­an Nordic, pay­ing $43M for HIV, hep B projects
Just a few days ago re­searchers at J&J re­viewed the lat­est da­ta from an ear­ly-stage study of its HIV vac­cine, tout­ing ev­i­dence that the mo­sa­ic im­muno­gen project it was work­ing on suc­cess­ful­ly spurred an­ti­bod­ies against the lethal virus in all of the hun­dreds of pa­tients treat­ed in a Phase I/II tri­al. To­day, the com­pa­ny added some new vac­cine tech from Bavar­i­an Nordic that it plans to in­clude in its HIV pro­gram, as well as its hep B work.
The deal starts off mod­est­ly, with a $10 mil­lion up­front and $33 mil­lion for an eq­ui­ty stake in Copen­hagen-based Bavar­i­an Nordic. Ex­pand­ing on a col­lab­o­ra­tion that's al­ready in place, J&J gets the biotech's MVA-BN tech. And if every­thing works out per­fect­ly, there's an­oth­er $836 mil­lion in mile­stones on the ta­ble, plus roy­al­ties.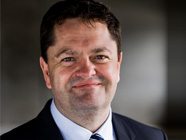 Paul Chap­lin, Bavar­i­an Nordic
MVA-BN is cen­tral to Bavar­i­an Nordic's vac­cine plat­form, us­ing an at­ten­u­at­ed ver­sion of the Mod­i­fied Vac­cinia Ankara virus to safe­ly trig­ger an im­mune re­ac­tion.
J&J knows the tech well, hav­ing lined it up for an Ebo­la vac­cine back in 2014.
Right now J&J is prep­ping for a Phase IIb tri­al for an HIV vac­cine — com­bin­ing Ad26 mo­sa­ic can­di­date and the Clade C gp140 sol­u­ble pro­tein — now sched­uled to get un­der­way in south­ern African coun­tries ei­ther lat­er this year or ear­ly next.
An HIV vac­cine has been a Holy Grail in the R&D field for decades, but has proven to be an in­cred­i­bly com­plex chal­lenge. Ear­li­er dis­ap­point­ments in the field un­der­scored just how hard this is.
"We are very ex­cit­ed about this ad­di­tion­al col­lab­o­ra­tion with Janssen, and proud to de­ploy our MVA-plat­form in the fight against two dis­eases with such an enor­mous im­pact on glob­al health," said Paul Chap­lin, CEO of Bavar­i­an Nordic. "This agree­ment builds up­on the sci­ence and da­ta we have seen to date, which has shown the po­ten­tial that a com­bi­na­tion of our two plat­forms could serve many pa­tients in a wide range of dis­ease ar­eas. We wel­come this ex­pan­sion of what has al­ready been a fan­tas­tic re­la­tion­ship be­tween our two com­pa­nies."