J&J takes an­oth­er big step for­ward with next-gen prostate can­cer block­buster apa­lu­tamide
J&J needs a big win from its phar­ma R&D group. And now it's tak­ing its shot.
Over the last year, J&J and Pfiz­er have been bat­tling it out to ex­pand the mar­ket for their ri­val prostate can­cer drugs Zyti­ga and Xtan­di, of­fer­ing da­ta that could ex­pand their reach in­to new pa­tient groups. But J&J has now tak­en an even big­ger move: fil­ing for an ap­proval of apa­lu­tamide with the FDA for non-metasta­t­ic, cas­tra­tion-re­sis­tant prostate can­cer.
Any­one fol­low­ing the field close­ly will re­call that J&J spent $650 mil­lion in cash and of­fered an­oth­er $350 mil­lion in mile­stones to bag Rich Hey­man's Aragon in 2013, just so it could have this drug. Af­ter large­ly stay­ing qui­et for a few years as they di­rect­ed the ther­a­py in­to their Phase III SPAR­TAN study, J&J has re­cent­ly be­gun talk­ing this drug up as a near-term block­buster-to-be. And if they win an ap­proval, J&J be­lieves it has an­oth­er big earn­er it can add to its can­cer port­fo­lio at a time the phar­ma gi­ant has been strug­gling to prove it can gen­er­ate more phar­ma cash.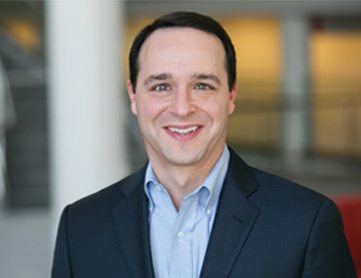 Pe­ter Lebowitz
Apa­lu­tamide (ARN-509) fin­ished the Phase III SPAR­TAN study in June, but we don't know the da­ta for this next-gen oral ther­a­py that blocks an­dro­gen from bind­ing to the an­dro­gen re­cep­tor — pre­vent­ing testos­terone from fu­el­ing the dis­ease. In a state­ment on Wednes­day, J&J said that it plans to re­lease the re­sults at an up­com­ing sci­en­tif­ic con­fer­ence. But what­ev­er it was, the da­ta must have been good enough to pitch to reg­u­la­tors.
An ap­proval here would po­si­tion J&J to go in­to prostate can­cer pa­tients at an ear­li­er stage, a key to ex­pand­ing its fran­chise rev­enue.
Zyti­ga and Xtan­di have been game-chang­ers in treat­ing ad­vanced prostate can­cer, chang­ing the stan­dard of care for pa­tients. And now J&J be­lieves it can take an­oth­er big step in the same di­rec­tion — with bil­lions on the line.
"We have demon­strat­ed that treat­ing pa­tients be­fore the dis­ease has metas­ta­sized im­proves out­comes," said J&J on­col­o­gy chief Pe­ter Lebowitz in a state­ment. "We are thrilled to have com­plet­ed our sub­mis­sion of the SPAR­TAN da­ta to the FDA and we look for­ward to a promis­ing treat­ment that can pro­vide new hope and ex­pec­ta­tions for men fac­ing this dis­ease."