J&J's big block­buster hope­ful es­ke­t­a­mine scores high for ma­jor de­pres­sion — but side ef­fects haunt re­sults
Can a horse tran­quil­iz­er and no­to­ri­ous par­ty drug be rein­vent­ed as a safe and ef­fec­tive break­through ther­a­py to swift­ly treat ma­jor de­pres­sion and sui­ci­dal think­ing?
J&J $JNJ has been work­ing on that task for years and is now ham­mer­ing away at a piv­otal late-stage pro­gram. This week they're rolling out some de­tailed Phase II re­sults that un­der­score the po­ten­tial, as well as the prob­lems, that seem in­ex­tri­ca­bly linked to this drug.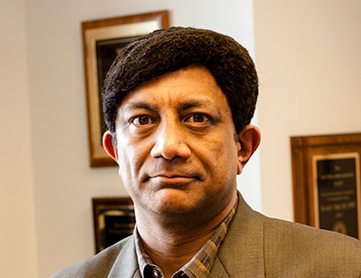 Hus­sei­ni Man­ji
J&J's team took ke­t­a­mine — Spe­cial K as it's called in cer­tain so­cial cir­cles — and cre­at­ed an in­tranasal ver­sion dubbed es­ke­t­a­mine. The phar­ma gi­ant picked up its first break­through des­ig­na­tion for this drug more than four years ago. And the phar­ma gi­ant be­lieves it's a block­buster to be, one of the biggest po­ten­tial earn­ers in its late-stage pipeline.
Re­searchers took three dos­es of es­ke­t­a­mine in­to a Phase II study with 126 pa­tients, sep­a­rat­ing them in­to three dose groups. And the drug per­formed as they had ex­pect­ed, of­fer­ing a quick up­take over a two-week study with a dose-de­pen­dent re­ac­tion that of­fered fast re­lief for ma­jor de­pres­sive dis­or­der, as tracked in a com­mon­ly used tri­al as­sess­ment tool.
The good news: By day 8 there was a ma­jor im­prove­ment in the MADRS score for the high dose, more than twice what was reg­is­tered in the low-dose group — which was al­so still clin­i­cal­ly sig­nif­i­cant. Over a two-month fol­lowup, the re­sponse ap­peared to im­prove.
The bad news: Among the side ef­fects was "per­cep­tu­al changes/dis­so­cia­tive symp­toms," which ran at more than twice the rate seen in the place­bo arm. One in four of the pa­tients tak­ing the drug ex­pe­ri­enced dis­so­cia­tive symp­toms. Se­da­tion was an­oth­er com­mon symp­tom. The dis­so­cia­tive symp­toms oc­curred short­ly af­ter dos­ing and gen­er­al­ly re­solved af­ter a cou­ple of hours. In oth­er words, the Phase II ver­sion of this drug still car­ries risks linked to Spe­cial K.
Aca­d­e­m­ic groups have been re­search­ing straight ke­t­a­mine in hu­mans for years, and their re­sults gen­er­al­ly match, with a rapid lift­ing of de­pres­sion, even among the pa­tients who ap­pear re­sis­tant to any­thing else avail­able. It is an amaz­ing­ly ef­fec­tive treat­ment, and would be an un­am­bigu­ous boon with­out the side ef­fects. It's al­so tran­sient, with a dose ef­fect that wears off rel­a­tive­ly quick­ly, re­quir­ing re­peat­ed dos­ing to re­main ef­fec­tive.
That re­peat­ed dos­ing, and the longterm im­pact of a ver­sion of a drug that's been used to in­duce schiz­o­phrenic symp­toms in healthy vol­un­teers, hasn't been stud­ied so close­ly.
Cur­rent­ly, as any­one with de­pres­sion will tell you, the crop of de­pres­sion drugs avail­able is wild­ly in­con­sis­tent and of­ten tran­sient in na­ture. Ke­t­a­mine works on NM­DA re­cep­tors, and that in turn has led to a surge of new drug de­vel­op­ment pro­grams, in­clud­ing a late-stage ef­fort at Al­ler­gan af­ter that com­pa­ny ac­quired Nau­rex for $560 mil­lion up­front. Sage has al­so at­tract­ed wide­spread in­ter­est in its own ap­proach for de­pres­sion.
Who­ev­er wins this race, if it is won, will have ac­cess to an enor­mous mar­ket, even if its side ef­fects lim­it the drug to a group of the most se­vere­ly af­flict­ed pa­tients.
"If ap­proved by the FDA," says J&J's Hus­sei­ni Man­ji, "es­ke­t­a­mine would be one of the first new ap­proach­es to treat re­frac­to­ry ma­jor de­pres­sive dis­or­der avail­able to pa­tients in the last 50 years."
But the very size of the mar­ket al­so rais­es the bar on safe­ty and ef­fi­ca­cy. And that ju­ry will re­main out un­til Phase III da­ta are com­plete.