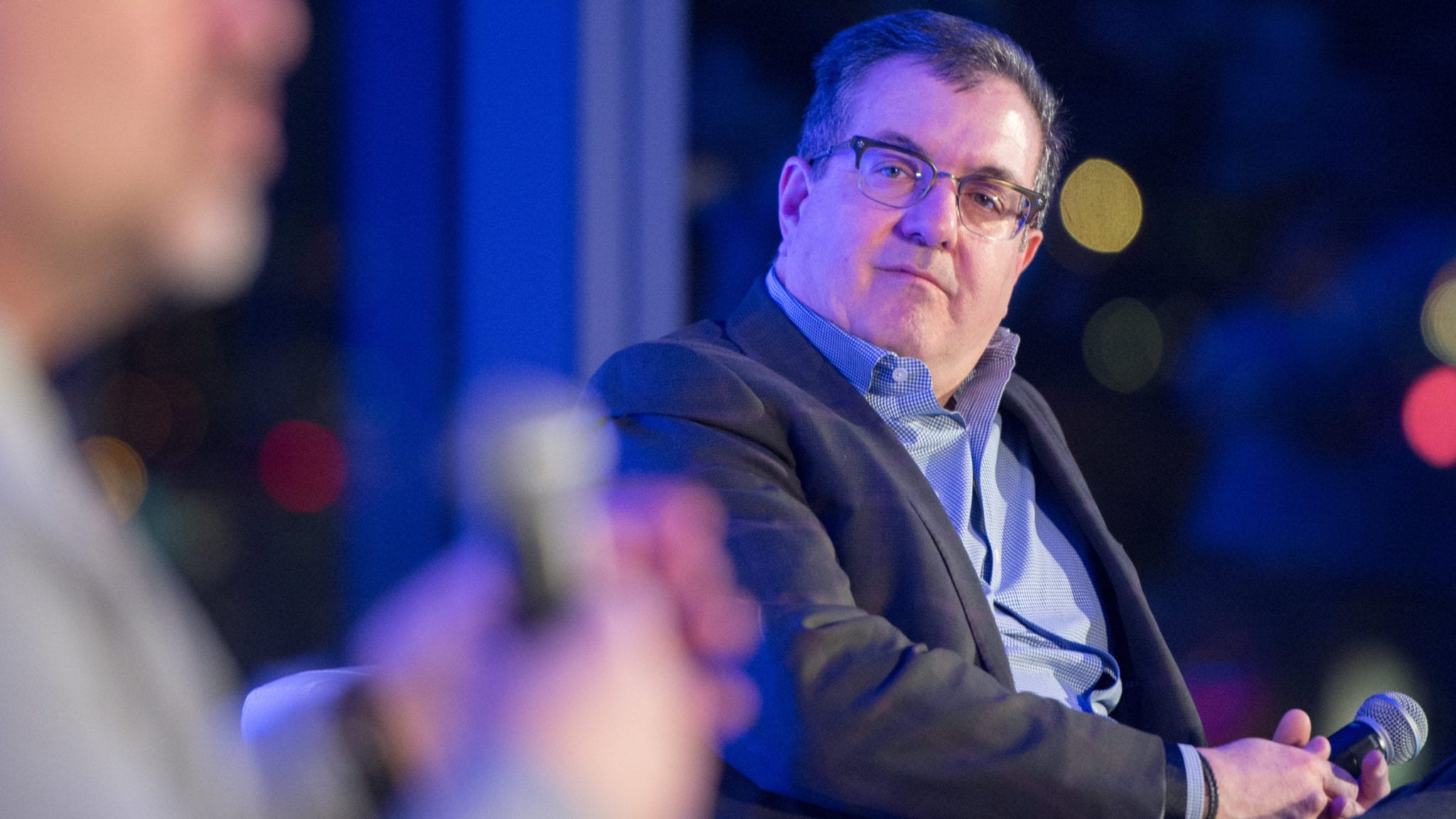 John Maraganore, Alnylam CEO (Ryan Emberley/Getty Images for Klick Inc.)
John Maraganore makes a bold promise ahead of #JPM21 — aim­ing to take Al­ny­lam in­to the ranks of biotech's best
Al­ny­lam CEO John Maraganore is a big fan of five-year plans, and with JPM21 kick­ing off this week, he re­vealed his com­pa­ny's newest am­bi­tious goal — be­come a "top 5 biotech" by 2025.
The ob­jec­tive is one of many Maraganore out­lined in his strat­e­gy for the next five years, which the Cam­bridge, MA-based com­pa­ny an­nounced Sun­day. Among the oth­er goals, of which not-so-co­in­ci­den­tal­ly there are five, he hopes to:
Have more than 500,000 pa­tients tak­ing RNAi ther­a­peu­tics glob­al­ly
Mar­ket six or more prod­ucts in rare and preva­lent dis­eases
Ex­pand Al­ny­lam's pipeline to more than 20 clin­i­cal pro­grams, with 10 or more in late stages and 4 or more INDs per year
Achieve a com­pound an­nu­al growth rate greater than 40%
Achieve "sus­tain­able non-GAAP prof­itabil­i­ty" some­time with­in that time frame
"We've had this decade-long her­itage of mak­ing these five-year goals, and this is the third in­stall­ment," Maraganore told End­points News. "Each one has al­ways seemed like a tall moun­tain to climb every time we put them for­ward, but we end up climb­ing the moun­tain and then some, as we have in the past two, and we're cer­tain­ly aim­ing to do that here."
Maraganore is mea­sur­ing Al­ny­lam by mar­ket cap and is shoot­ing to be­come the size of com­pa­nies like Re­gen­eron and Ver­tex — some­where be­tween $50 bil­lion and $100 bil­lion — rather than the big phar­ma gi­ants such as Pfiz­er and Mer­ck, a spokesper­son told End­points News. Cur­rent­ly, Al­ny­lam's mar­ket cap sits at $17 bil­lion, rank­ing it 12th-largest among el­i­gi­ble "biotech" com­pa­nies, ac­cord­ing to Ya­hoo! Fi­nance.
No­vo Nordisk tops the list as of Mon­day morn­ing with a whop­ping $162.3 bil­lion mar­ket cap, near­ly three times the size of Ver­tex, which comes in sec­ond at $61.6 bil­lion. Re­gen­eron, Mod­er­na and Alex­ion round out the top five, with the lat­ter clear­ing $34.4 bil­lion.
Get­ting there would mean Al­ny­lam will need to at least dou­ble its mar­ket cap in the next half-decade, as­sum­ing no growth for any of the 11 com­pa­nies ahead. Such size could al­so put Al­ny­lam on the lev­el of a com­pa­ny like Gilead ($79.3 bil­lion mar­ket cap), which was cit­ed by the spokesper­son but does not ap­pear on Ya­hoo's list. But Maraganore is con­fi­dent in get­ting near that lev­el giv­en Al­ny­lam says it "ex­ceed­ed" all met­rics of its last five-year plan that ran from 2016 to 2020.
With three drugs al­ready on the mar­ket in the US and a fourth in Eu­rope, Al­ny­lam is aim­ing to add at least two drugs to its port­fo­lio over the next five years, and is off to a fast start al­ready. Just last week, its open-la­bel Phase III re­sults for vutrisir­an came back pos­i­tive, show­ing re­duced symp­toms of polyneu­ropa­thy tied to transthyretin-me­di­at­ed amy­loi­do­sis.
Al­ny­lam is prep­ping for an ear­ly 2021 NDA with a po­ten­tial launch slat­ed for ear­ly 2022 should the FDA give it the thumbs up. It's al­so ready to fol­low a US fil­ing with ap­pli­ca­tions in oth­er coun­tries, in­clud­ing Brazil and Japan, and then in the EU af­ter ob­tain­ing re­sults of the Phase III study's 18-month fol­low-up.
Things have been mov­ing quick­ly for Al­ny­lam in re­cent months. The vutrisir­an da­ta came less than two months af­ter the com­pa­ny got its third ap­proval for Oxlu­mo (lumasir­an) in pri­ma­ry hy­per­ox­aluria type 1, com­ing in both the US and EU. Maraganore pegged a peak sales es­ti­mate of $500 mil­lion and said he thinks Al­ny­lam is 18 to 24 months ahead of its ri­vals at Dicer­na.
If Al­ny­lam does man­age to ac­com­plish this lofty goal, Maraganore says it like­ly won't be through in-li­cens­ing pro­grams. The com­pa­ny's "or­gan­ic" pipeline af­fords them the lux­u­ry of get­ting to that point all on its own, he says.
"There's no deal we need to do, ei­ther to grow mar­ket cap or from the stand­point of build­ing our busi­ness," Maraganore said. "We're one of these rare beasts out there in the in­dus­try I would say. Not a lot of us out there, maybe Re­gen­eron as an­oth­er ex­am­ple, that have an abil­i­ty of gen­er­at­ing sus­tain­able in­no­va­tion, and as a re­sult, we feel we can grow in­to that type of pro­file."
This ar­ti­cle was up­dat­ed to in­clude com­ments from John Maraganore.