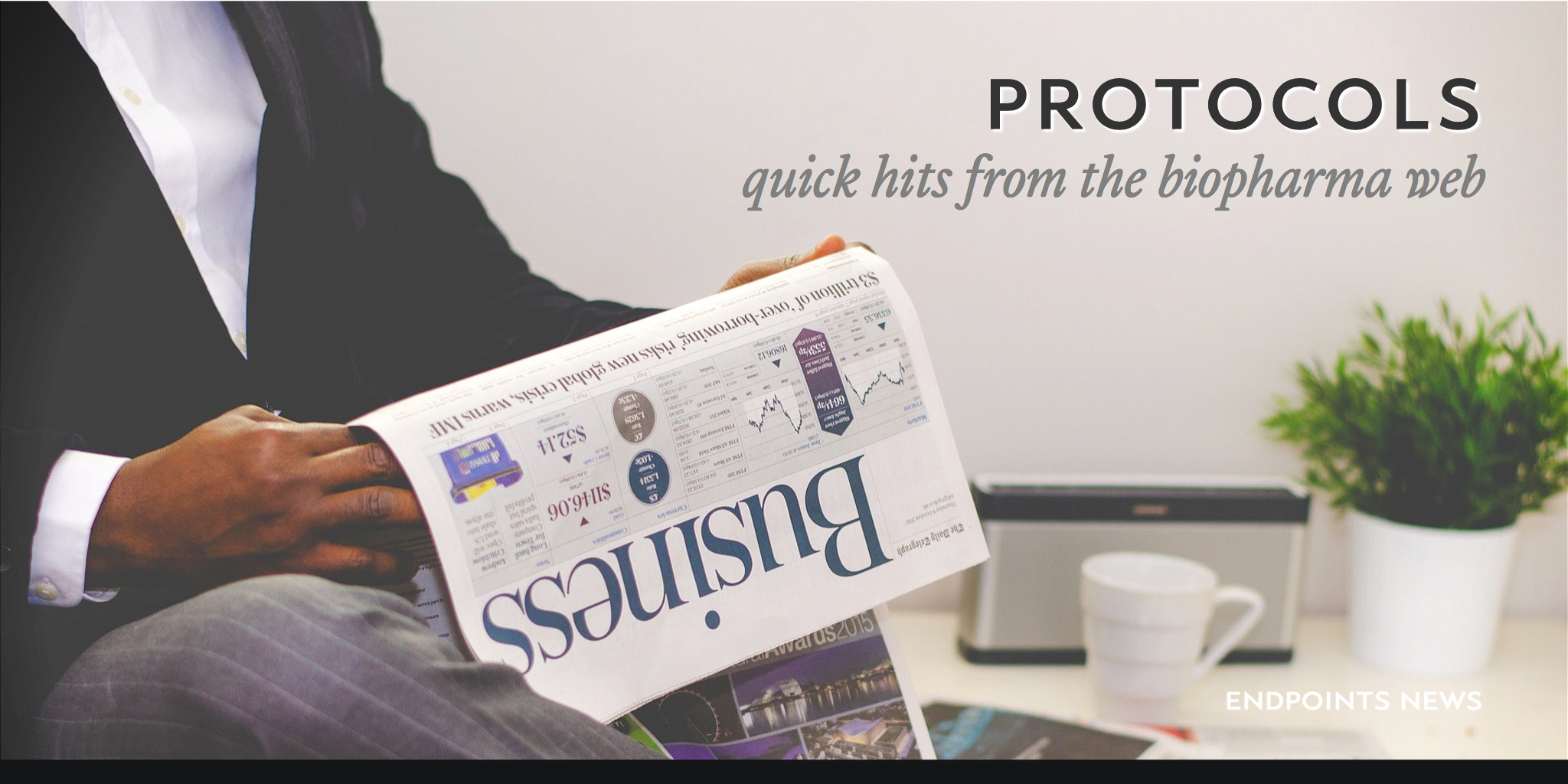 Karuna and In­cyte scrap pro­grams; More cash for the SPACs
Karuna Ther­a­peu­tics has built it­self in­to a $2 bil­lion com­pa­ny off the da­ta of an old Eli Lil­ly drug, when com­bined with tro­spi­um chlo­ride, showed in schiz­o­phre­nia. For a while, the com­pa­ny hoped that it might al­so prove ef­fec­tive as a non-opi­oid treat­ment for pain.
Now, how­ev­er, Karuna is aban­don­ing that ef­fort. Af­ter a Phase Ib tri­al of 24 healthy vol­un­teers did "not pro­vide con­clu­sive ev­i­dence of an anal­gesic ben­e­fit of KarXT," the com­pa­ny said it would stop de­vel­op­ing it for that in­di­ca­tion. Karuna will con­tin­ue work­ing on the drug, an M1 and M4 ag­o­nist, for schiz­o­phre­nia. Pa­tients who re­ceived it in a Phase II tri­al last year showed a 24-point im­prove­ment on a com­mon clin­i­cal score.
A Phase III tri­al is sched­uled to be­gin lat­er this year, CEO Steve Paul said in a state­ment.
"Look­ing ahead, we re­main fo­cused on de­vel­op­ing KarXT for the treat­ment of se­vere neu­ropsy­chi­atric dis­or­ders, in­clud­ing schiz­o­phre­nia and de­men­tia-re­lat­ed psy­chosis, where ro­bust ev­i­dence from pre­vi­ous clin­i­cal tri­als sup­ports the po­ten­tial of KarXT to pro­vide a new, unique and mech­a­nis­ti­cal­ly dif­fer­en­ti­at­ed ther­a­peu­tic for the treat­ment of these dis­or­ders," Paul said.
More cash for the SPACs
A week af­ter Tony Coles' Cerev­el Ther­a­peu­tics nabbed $445 mil­lion as part of a merg­er with a Per­cep­tive Ad­vis­ers SPAC — a record for a life sci­ences "blank check" trans­ac­tion — an­oth­er firm has an­nounced a new life sci­ences SPAC, while RTW has priced their lat­est one.
The new SPAC, from High­Cape Cap­i­tal, has pen­ciled in $100 mil­lion in the ini­tial of­fer­ing, though it re­mains to be seen how much it will ul­ti­mate­ly try to fetch. The new RTW of­fer­ing, called RTW Health Sci­ences Ac­qui­si­tions 2, raised $139 mil­lion, sell­ing 13.9 mil­lion shares at $10 a piece.
SPACs have risen dra­mat­i­cal­ly in promi­nence in re­cent years, go­ing from 3% of the IPO mar­ket in 2014 to 35% to­day, ac­cord­ing to NAS­DAQ's Jay Heller. In­vestors who pur­chase stock are es­sen­tial­ly bet­ting that the SPAC's man­agers are savvy enough to, with­in 2 years, pick a good com­pa­ny to merge with. For com­pa­nies and in­vestors, it can al­so pro­vide a smoother path to pub­lic mar­kets than an IPO, help­ing skip over the lengthy and volatile process of set­ting a price. In ad­di­tion to Cerev­el, biotechs that have gone pub­lic via this route in the past year in­clude Im­muno­vant and Im­mat­ics.
G1 Ther­a­peu­tics gets up to $170M in Chi­na deal
Two weeks af­ter get­ting up to $310 mil­lion for a CDk4/6 drug from EQRx, G1 has sold com­mer­cial rights to an­oth­er one of its drugs.
G1 sold rights to tri­laci­clib, an ex­per­i­men­tal drug meant to mit­i­gate the side ef­fects of chemother­a­py, in Chi­na, Hong Kong, Macau and Tai­wan to Sim­cere Phar­ma­ceu­ti­cal Group for $14 mil­lion up­front and $156 mil­lion in mile­stones, plus roy­al­ties. The drug has re­ceived break­through sta­tus in the US and was re­cent­ly sub­mit­ted for ap­proval in small cell lung can­cer.
The drug works by pre­serv­ing bone mar­row func­tion that would oth­er­wise be se­vere­ly un­der­mined by chemother­a­py. It is now be­ing test­ed in oth­er can­cers. Sim­cere will be re­spon­si­ble for clin­i­cal de­vel­op­ment in Chi­na.
In­cyte aban­dons an ear­ly can­di­date
In­cyte an­nounced in its sec­ond quar­ter earn­ings that it re­tired one can­di­date from ear­ly de­vel­op­ment.
The ex­per­i­men­tal mol­e­cule, known as IN­CB59872, is an LSD-1 in­hibitor that was be­ing test­ed in ear­ly tri­als in sick­le cell dis­ease, sar­co­ma, and oth­er ma­lig­nan­cies. The sick­le cell dis­ease tri­al was ter­mi­nat­ed last year, ac­cord­ing to clin­i­cal­tri­als.gov. The can­cer tri­als were ter­mi­nat­ed in June, with In­cyte cit­ing a "strate­gic busi­ness de­ci­sion" for the can­cel­la­tion.
Once one of the more lu­cra­tive R&D en­gines in the in­dus­try — de­vel­op­ing the mol­e­cules that be­come the can­cer drug Tabrec­ta and the JAK in­hibitors Jakafi and Olu­mi­ant — the 29-year-old biotech has strug­gled in re­cent years to keep up the pace of de­vel­op­ment.