Tuyen Ong, Flagship CEO-partner and Ring Therapeutics CEO (Flagship)
Keep­ing an 'im­mi­grant mind­set,' Flag­ship taps a self-pro­fessed no­mad as CEO for their next-gen vi­ral vec­tor up­start
Tuyen Ong con­sid­ers him­self a bit of a no­mad.
Ear­ly in his life, he came to the UK as a refugee from Viet­nam, and ob­tained his MD at Uni­ver­si­ty Col­lege Lon­don. Then he went to NYU for an MBA and be­gan his ca­reer in bio­phar­ma at Pfiz­er, mak­ing fur­ther stops across the coun­try at Bausch + Lomb, PTC Ther­a­peu­tics and most re­cent­ly Bio­gen.
Now, he's ready for his next gig: CEO-part­ner at Flag­ship Pi­o­neer­ing and CEO of Ring Ther­a­peu­tics, a gene ther­a­py out­fit where he'll be run­ning the show. When Ong looks back at his ca­reer, he says he can see how all the dots con­nect­ed to lead him to this point.
"Noubar [Afeyan] is our founder and he's an im­mi­grant, and that im­mi­grant mind­set is some­what in our DNA at Flag­ship," Ong told End­points News. "The abil­i­ty to be able to solve prob­lems, be able to be cre­ative, be able to have that pi­o­neer­ing spir­it to over­come is­sues and find op­por­tu­ni­ty, I think that is a com­mon thread that's tied through my life, and that's the phi­los­o­phy I've been able to in­ject in­to dif­fer­ent ar­eas of my ca­reer."
Ring it­self was of­fi­cial­ly launched by Flag­ship in 2017 and fo­cus­es its re­search around a new class of vi­ral shells called anellovirus­es. The com­pa­ny hopes it can be an al­ter­na­tive to ade­n­ovirus-as­so­ci­at­ed virus­es, or AAV, and pro­vide safer gene ther­a­py treat­ments.
Ong said he was drawn to the po­si­tion not on­ly be­cause of his in­ter­est in the gene ther­a­py space — he pre­vi­ous­ly worked at Night­star, which, af­ter be­ing ac­quired by Bio­gen, was how he end­ed up there in the first place — but the abil­i­ty to cre­ate such a plat­form in a more "nat­ur­al" way. That's be­cause the anellovirus fam­i­ly re­sides in var­i­ous tis­sues in the hu­man body with­out caus­ing any harm.
"These virus­es have ba­si­cal­ly co­hab­it­ed, co-evolved with­in the hu­man sys­tem," Ong said. "They are be­nign and they've some­what evad­ed the im­mune sys­tem. The gene ther­a­py field is thriv­ing but it has hit a few road­blocks, and a lot of what's dri­ving that is the im­muno­genic­i­ty piece."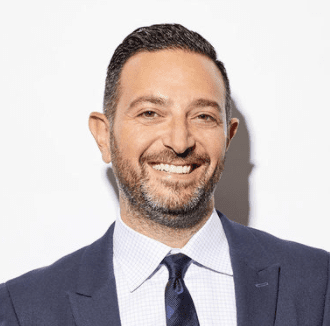 Avak Kahve­jian
Where­as AAV-re­lat­ed gene ther­a­pies can cause a range of ill­ness­es and some pa­tients may al­ready have de­vel­oped an­ti­bod­ies to the treat­ments, anellovirus­es don't come with as many side ef­fects and can still be used to treat a wide range of dis­eases, found­ing Ring CEO Avak Kahve­jian said. The com­pa­ny orig­i­nal­ly start­ed out with just a hand­ful of anellovirus­es but over the last few years has un­cov­ered "thou­sands" that could po­ten­tial­ly prove use­ful.
Kahve­jian and Ong aren't quite ready to say in which fields they're first look­ing to ap­ply the plat­form, but not­ed that the spot­light will be across mul­ti­ple modal­i­ties as well as a swath of dis­eases. And be­cause the sci­ence is still so new, Ring is still work­ing on the best plan of at­tack go­ing for­ward.
"Ring is ex­plor­ing all as­pects of this vi­ral fam­i­ly. Dis­cov­er­ing them, en­gi­neer­ing them, mak­ing them and ap­ply­ing them," Kahve­jian said. "The fo­cus has been on get­ting do­min­ion over this new, ex­cit­ing area from all as­pects."
As Ring con­tin­ues ad­vanc­ing this re­search, Kahve­jian says Flag­ship has found some­one who can get pas­sion­ate about their vi­sion in Ong. In their search for the CEO-part­ner, Kahve­jian didn't just look for some­one with a great track record, but al­so some­one with such "in­tan­gi­bles."
The com­pa­ny al­ready banked $50 mil­lion back in late 2019, in­di­cat­ing Flag­ship has al­ready liked what they've seen. But Ong is con­fi­dent that the best is yet to come.
"I tru­ly see this as a trans­for­ma­tive ther­a­py that can hit up­on so many dif­fer­ent dis­eases," Ong said. "It's al­most an ode to Moth­er Na­ture: We owe it to re­al­ly take up the gift that we've been giv­en here, the pow­er of anellovirus­es to be able to be de­ployed to treat so many dif­fer­ent ge­net­ic dis­eases."