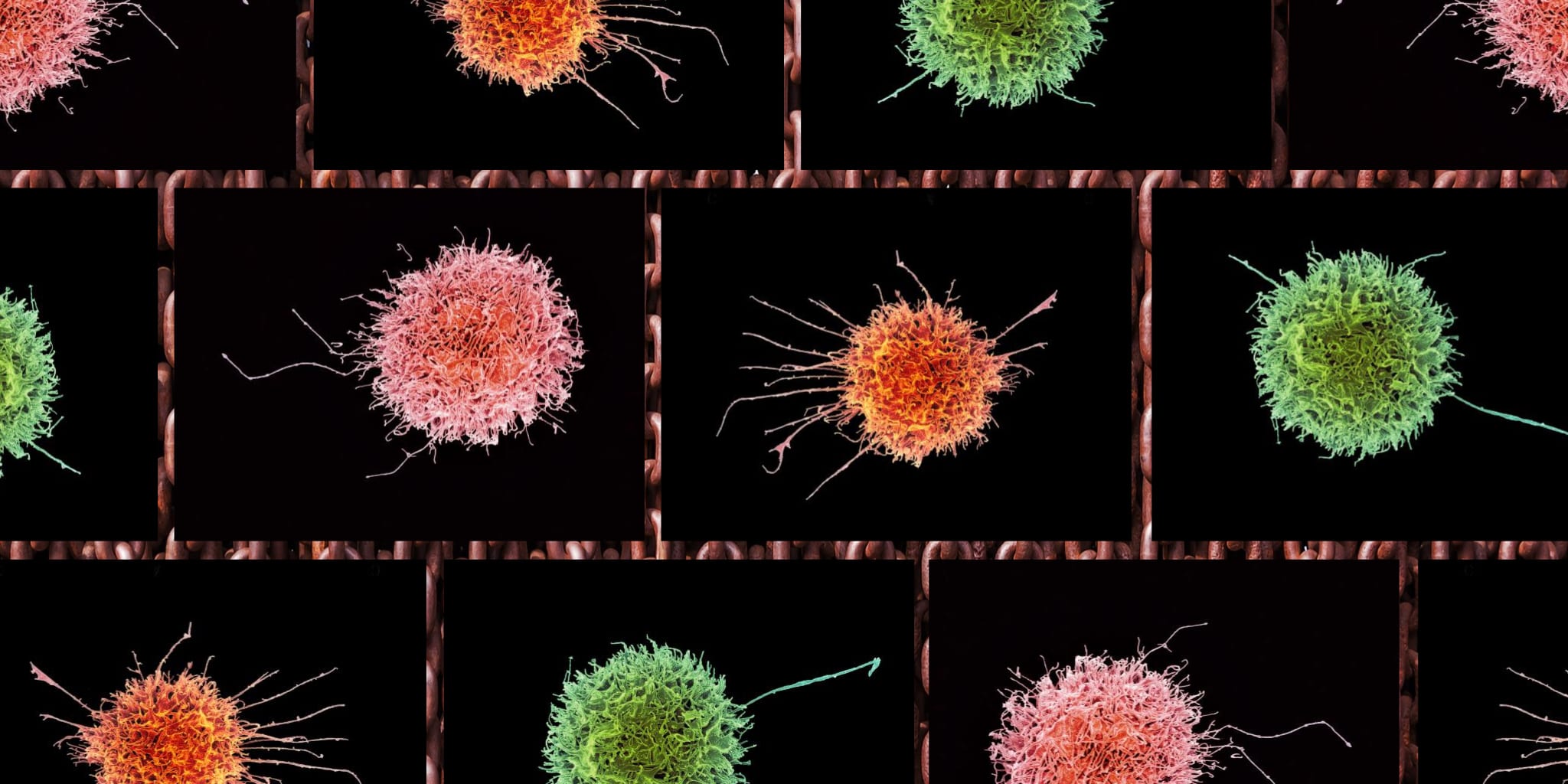 Colorized scanning electron micrographs of natural killer cells from a human donor (Images: NIH / Graphics: Shehla Shakoor, Endpoints News)
Kiadis aban­dons lead PhI­II pro­gram, shifts fo­cus to nat­ur­al killer cells
Kiadis Phar­ma an­nounced that it is shift­ing fo­cus to nat­ur­al killer cells — and is it­self killing off the long-run­ning but deeply trou­bled Phase III ATIR pro­gram that has large­ly de­fined the com­pa­ny. It will cut ap­prox­i­mate­ly half of its work­force.
Kiadis ac­quired Cy­toSen Ther­a­peu­tics and its nat­ur­al killer (NK) tech­nol­o­gy in April. The Nether­lands-based Kiadis had been de­vel­op­ing a T cell ther­a­py called ATIR101 that was then in Phase III for blood can­cer pa­tients, name­ly acute myeloid leukemia. At the time, it seemed that the Dutch biotech would pair its T cell ther­a­py with the US-based NKs in an in­ter­con­ti­nen­tal, mul­ti-cel­lu­lar ef­fort with im­pli­ca­tions for trans­plants and on­col­o­gy.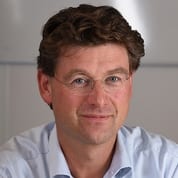 Arthur Lahr
"The ATIR T-cell and CS­DT002-NK-cell pro­grams each have the po­ten­tial to make trans­plants safer and more ef­fec­tive," Kiadis CEO Arthur Lahr said at the time. "In com­bi­na­tion, they have the po­ten­tial to rev­o­lu­tion­ize HSCT, mak­ing it suit­able for an even wider group of pa­tients."
The big red flag came at the end of Oc­to­ber, when Kiadis warned in­vestors it was ex­pect­ing a re­jec­tion from the EMA for ATIR101, which would set it back un­til at least the next in­ter­im analy­sis in 2021. To­day, Kiadis is end­ing that tri­al al­to­geth­er and re­tir­ing the com­pound. Lahr said the de­ci­sion was "tak­en in the best in­ter­est of pa­tients."
Jef­feries an­a­lyst Philip­pa Gard­ner was sur­prised and unim­pressed by the news.
"This now shifts the fo­cus to the ear­ly-stage NK-cell plat­form ac­quired April, to which we do not cur­rent­ly as­cribe any val­ue," she wrote. "An ex­pert event on Fri­day is now crit­i­cal for un­der­stand­ing its po­ten­tial. The re­struc­tur­ing should ex­tend the cash run­way, but a lack of cat­a­lysts and dent to man­age­ment cred­i­bil­i­ty re­main over­hangs."
Kiadis is now left with two main com­pounds it ac­quired from Cy­tosen. K-NK003 al­so tar­gets AML. It is head­ed in­to the clin­ic next year, based on ear­ly proof-of-con­cept da­ta from 25 pa­tients. Those pa­tients showed a 69% com­plete re­sponse rate, Kiadis said.
The oth­er drug is K-NK0002, a sup­ple­men­tal treat­ment to the stan­dard of care for cer­tain stem cell trans­plants: name­ly hap­loiden­ti­cal hematopoi­et­ic stem cell trans­plan­ta­tion (HSCT) with post-trans­plant cy­clophos­phamide. A Phase I/II tri­al on 63 pa­tients will be­gin next year based on proof-of-con­cept da­ta from 25 pa­tients. The drug re­duced long-term re­lapse rates from 45% to 8% in those pa­tients, Kiadis said.
The Cy­tosen-ac­quired plat­form is based on re­search from the Uni­ver­si­ty of Cen­tral Flori­da that showed how nanopar­ti­cles from anti­gen-pre­sent­ing cells could be used to stim­u­late NK cell pro­lif­er­a­tion.