King can­cer: The top 10 ther­a­peu­tic ar­eas in bio­phar­ma R&D
It's not go­ing to come as a sur­prise to any­one who's been pay­ing at­ten­tion to drug R&D trends that can­cer is the num­ber 1 dis­ease in terms of new drug de­vel­op­ment projects. But it is amaz­ing to see ex­act­ly how much on­col­o­gy dom­i­nates the in­dus­try as nev­er be­fore.
At a time the first CAR-T looks to be on the thresh­old of a pi­o­neer­ing ap­proval and the first wave of PD-(L)1 drugs are spurring hun­dreds of com­bi­na­tion stud­ies, can­cer ac­count­ed for 8,651 of the to­tal num­ber of pipeline projects count­ed by the Analy­sis Group, crunch­ing the num­bers in a new re­port com­mis­sioned by PhRMA. That's more than a third of the 24,389 pre­clin­i­cal through Phase III pro­grams tracked by Eval­u­atePhar­ma, which pro­vid­ed the data­base for this re­view.
That's al­so more than the next 5 dis­ease fields com­bined, start­ing with num­ber 2, neu­rol­o­gy — a field that in­cludes Parkin­son's and Alzheimer's. Psy­chi­a­try, once a ma­jor fo­cus for phar­ma R&D, didn't even make the top 10, with 468 projects.
Mov­ing down­stream, can­cer stud­ies are over­whelm­ing­ly in the lead. Sin­gling out Phase I projects, can­cer ac­count­ed for 1,757 out of a to­tal of 3,723 ini­tia­tives, close to half. In Phase II it's the fo­cus of 1,920 of 4,424 projects. On­ly in late-stage stud­ies does can­cer start to lose its over­whelm­ing dom­i­nance, falling to 329 of 1,257 projects.
PhRMA com­mis­sioned this re­port to un­der­score just how much the in­dus­try is com­mit­ted to R&D and sig­nif­i­cant new drug de­vel­op­ment, a sub­ject that rou­tine­ly comes in­to ques­tion as an­a­lysts eval­u­ate how much mon­ey is de­vot­ed to de­vel­op­ing new drugs in­stead of, say, mar­ket­ing or share buy­backs.
The re­port makes a few oth­er points to un­der­score the na­ture of the work these days.
— Three out of four projects in the clin­ic were an­gling for first-in-class sta­tus, spot­light­ing the em­pha­sis on ad­vanc­ing new med­i­cines that can make a dif­fer­ence for pa­tients. Me-too drugs are com­plete­ly out of fash­ion, un­like­ly to com­mand much weight with pay­ers.
— Of all the projects in clin­i­cal de­vel­op­ment, 822 were for or­phan drugs look­ing to serve a mar­ket of 200,000 or less. Or­phan drugs have per­formed well, able to com­mand high prices and ben­e­fit­ing from in­cen­tives un­der fed­er­al law.
— There were 731 cell and gene ther­a­py projects in the clin­ic, with bio­phar­ma look­ing at pi­o­neer­ing ap­provals in CAR-T, with No­var­tis and Kite, as well as the first US OK for a gene ther­a­py, with the first ap­pli­ca­tion ac­cept­ed this week for a pri­or­i­ty re­view of a new ther­a­py from Spark Ther­a­peu­tics.
---
Dis­tri­b­u­tion of prod­ucts and projects by ther­a­peu­tic area and phase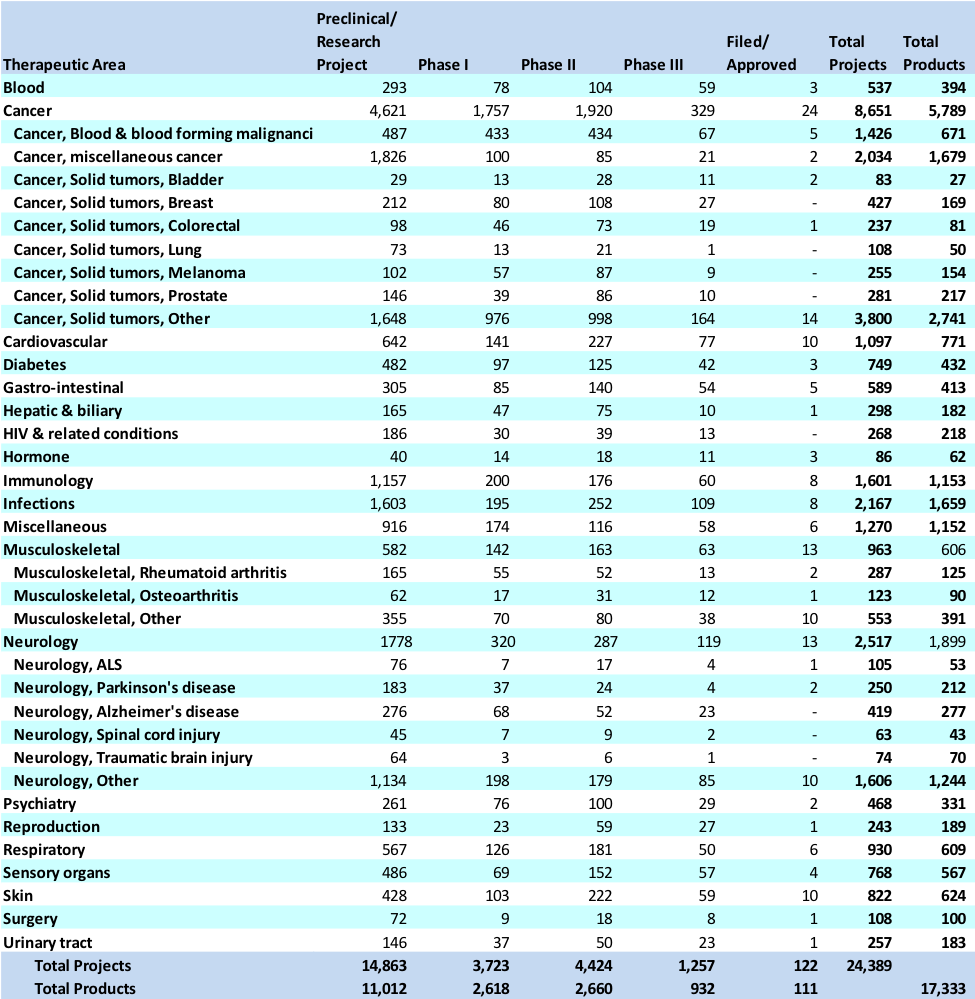 Source: Analy­sis Group, us­ing Eval­u­atePhar­ma da­ta
---
Unique NMEs in de­vel­op­ment by stage (Au­gust 2016)