Laser-ac­ti­vat­ed eye can­cer drug de­vel­op­er Au­ra Bio­sciences scores $40M in Medicxi-led round
Build­ing on the work of NCI sci­en­tist John Schiller — who il­lus­trat­ed virus-like par­ti­cles mod­eled on the hu­man pa­pil­lo­mavirus (HPV) tend to ig­nore nor­mal ep­ithe­li­um and make a bee­line for sol­id tu­mors and metas­tases — Au­ra Bio­sciences is work­ing on a treat­ment for a rare and ag­gres­sive type of eye can­cer. On Tues­day, the Cam­bridge, Mass­a­chu­setts-based firm com­plet­ed a $40 mil­lion Se­ries D round, led by Medicxi.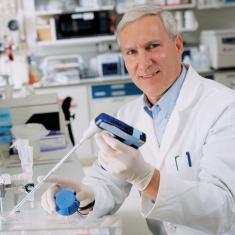 John Schiller
The com­pa­ny's sole drug, AU-011, con­sists of vi­ral nanopar­ti­cles mod­eled on HPV and is con­ju­gat­ed to in­frared-ac­ti­vat­ed small mol­e­cules. It is be­ing de­vel­oped for oc­u­lar melanoma (OM), the most com­mon pri­ma­ry can­cer of the eye. Oc­u­lar melanoma is of­ten de­tect­ed in the ear­ly stages, with a rou­tine oph­thal­mo­log­i­cal ex­am. But those di­ag­nosed are pre­sent­ed with a raft of treat­ment op­tions that can of­ten re­sult in se­vere vi­sion loss, eye re­moval, and in about half of all cas­es, metas­ta­sis to the liv­er, where the dis­ease is near­ly al­ways fa­tal.
Once ad­min­is­tered via in­trav­it­re­al in­jec­tion, the drug is en­gi­neered to bind se­lec­tive­ly to can­cer cells in the eye. It is then ac­ti­vat­ed us­ing an oph­thalmic laser, which fa­cil­i­tates the de­struc­tion of the can­cer cells, with­out dam­ag­ing the over­lay­ing reti­na.
AU-011 is cur­rent­ly in a Phase Ib study, and has been grant­ed or­phan drug and fast track sta­tus from the FDA. It is ex­pect­ed to be test­ed in a piv­otal tri­al in the first half of 2020.
In con­nec­tion with the cap­i­tal in­jec­tion, Lon­don-based VC Ar­ix Bio­science hiked its stake in Au­ra to 7.7%.
Oth­er par­tic­i­pants in the round in­clud­ed Lund­beck­fonden Ven­tures, Ad­vent Life Sci­ences, Chiesi Ven­tures, Ys­ios Cap­i­tal, Alexan­dria Ven­ture In­vest­ments, Colum­bus Ven­ture Part­ners, LI-COR Bio­sciences and sev­er­al in­di­vid­ual in­vestors, in­clud­ing the es­tate of late Gen­zyme CEO Hen­ri Ter­meer.