Leapfrog­ging ri­vals, Roche's Tecen­triq plus chemo nabs PFS end­point in front­line lung can­cer seg­ment
Roche has nabbed the first shot at a front­line in­di­ca­tion for a sig­nif­i­cant share of the all-im­por­tant lung can­cer mar­ket with to­day's news that their check­point Tecen­triq hit the pri­ma­ry end­point on pro­gres­sion-free sur­vival for squa­mous non-small cell lung can­cer. Some an­a­lysts say that in­di­ca­tion could be worth more than a bil­lion dol­lars a year in added rev­enue.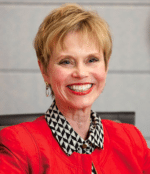 San­dra Horn­ing
Re­searchers com­bined Tecen­triq with Abrax­ane-based chemo and com­pared it to chemo in first line pa­tients with ad­vanced NSCLC. At an in­ter­im point the com­bi­na­tion beat out chemo on PFS with a sta­tis­ti­cal­ly sig­nif­i­cant out­come but had yet to show an over­all sur­vival ben­e­fit. In­ves­ti­ga­tors will now keep on track­ing re­sults to see how OS mea­sures out.
There were no da­ta points in Roche's state­ment. The pos­i­tive PFS re­sults, though, give Roche a chance to march ahead of a bevy of com­pe­ti­tion from Mer­ck, Bris­tol-My­ers Squibb and oth­ers in a key can­cer mar­ket where the com­pe­ti­tion has been in­tense. And they'll like­ly get a help­ing hand from the FDA, which has been ea­ger to stamp these check­points from the ma­jor play­ers with ac­cel­er­at­ed ap­provals.
Jef­feries rushed out a note ear­ly Tues­day high­light­ing some block­buster po­ten­tial for Roche, which has been scram­bling to catch up with the lead­ers in check­point in­hi­bi­tion and looked to gain a first-to-mar­ket ad­van­tage here. They note:
IM­pow­er131 is an im­por­tant study for Roche. Squa­mous cell NSCLC, which ac­counts for c.25%-30% of NSCLC, is a more com­pli­cat­ed dis­ease than non-squa­mous NSCLC and there are few­er treat­ment op­tions. Roche has pre­vi­ous­ly not­ed that it could be first to mar­ket in the 1L squa­mous NSCLC set­ting if IM­pow­er131 pro­duced a su­pe­ri­or re­sult. We cur­rent­ly mod­el $1.1bn of peak sales for Tecen­triq in this 1L squa­mous set­ting and have pre­vi­ous­ly high­light­ed that a pos­i­tive re­sult from the tri­al could see 1%-3% up­side to EPS and val­u­a­tion.
Mer­ck and Bris­tol-My­ers have tak­en the lead role in the over­all lung can­cer mar­ket, but none of the com­pe­ti­tion is ced­ing con­trol. IM­pow­er131 is one of five Phase III read­outs that Roche has for lung can­cer this year. And three more are in the clin­ic. Dur­ing their Q4 re­view last month, Roche phar­ma chief Daniel O'Day sound­ed bull­ish on Roche's chances of carv­ing out a big piece of the mar­ket for it­self.
Their on­go­ing stud­ies, he said, "will di­men­sion­al­ize the first-line lung can­cer space in 2018."
"I'm con­vinced there will be mul­ti­ple op­tions for dif­fer­ent pa­tient types in this set­ting which ac­counts for around 45% of the lung can­cer set­ting. I'm al­so con­vinced that we'll play a very im­por­tant role there."
That won't come easy, though. Roche's lat­est win in Phase III is its third in a mat­ter of months, but with 5 check­points on the mar­ket, every­one is promis­ing to play hard to beat the com­pe­ti­tion. And be­ing first may be an ad­van­tage, but it's no guar­an­tee of mar­ket suc­cess. Mer­ck is al­so ex­pect­ed to pro­vide a read out in the same can­cer seg­ment soon from KEYNOTE-407.
"Squa­mous non-small cell lung can­cer is dif­fi­cult to treat and there have been lim­it­ed new treat­ment op­tions over the last few decades," said San­dra Horn­ing, Roche's chief med­ical of­fi­cer and head of glob­al prod­uct de­vel­op­ment. "We will share the IM­pow­er131 re­sults with glob­al health au­thor­i­ties and we look for­ward to see­ing more ma­ture over­all sur­vival da­ta."