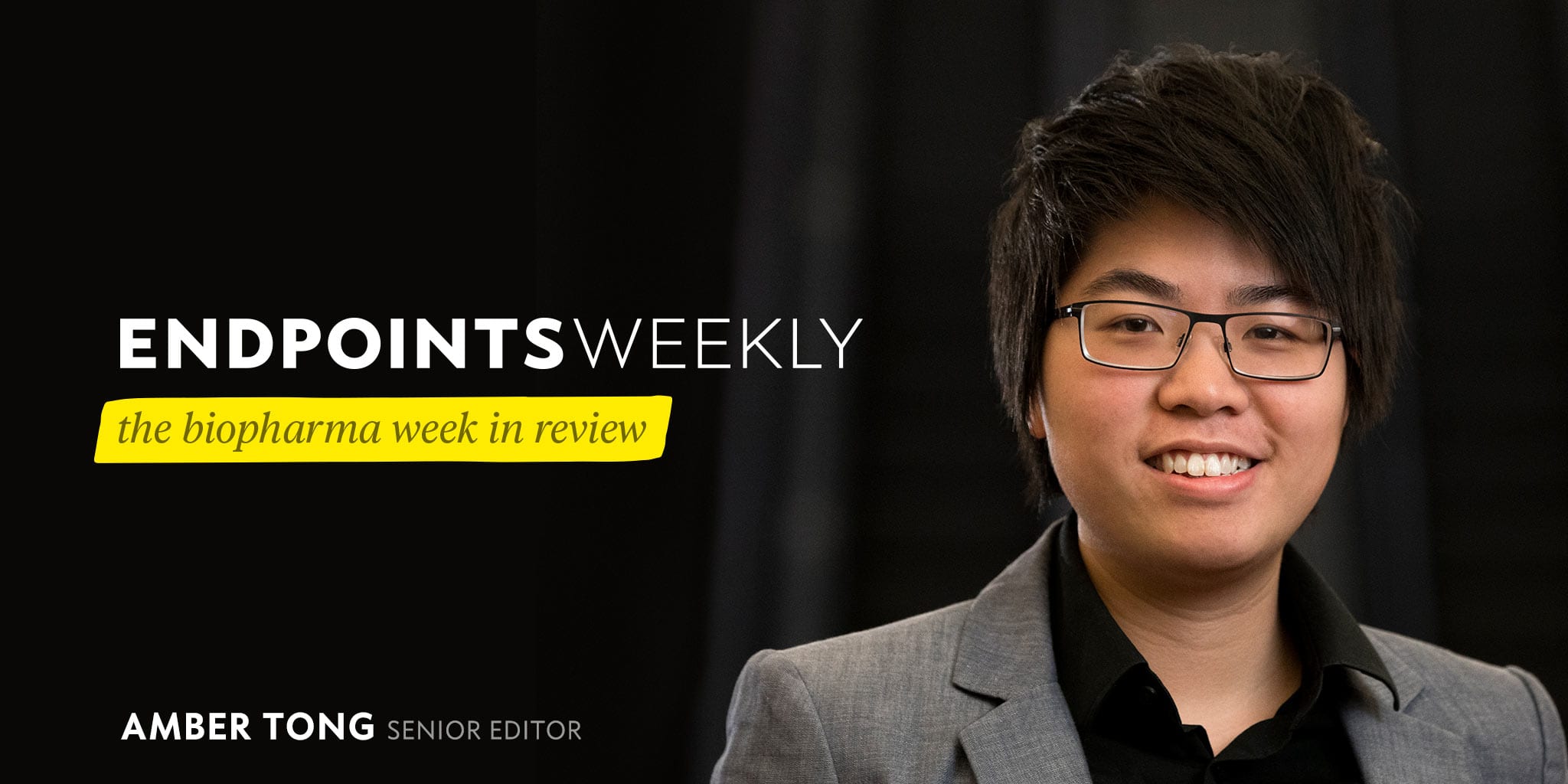 Leg­endary biotech leader pass­es away, re­newed ten­sion around ad­u­canum­ab, Mer­ck­'s rare de­feat, and more
Wel­come back to End­points Week­ly, your re­view of the week's top bio­phar­ma head­lines. Want this in your in­box every Sat­ur­day morn­ing? Cur­rent End­points read­ers can vis­it their read­er pro­file to add End­points Week­ly. New to End­points? Sign up here.
For many of our read­ers, we wish you are en­joy­ing your East­er break and not nec­es­sar­i­ly read­ing this is­sue over the week­end. But if you're keen to tune in­to every twist and turn in bio­phar­ma land, here's a re­minder that Zach Bren­nan is launch­ing the week­ly End­points FDA+ re­port in April. You can sign up at the same place here.
Leg­endary Gilead CEO dies
John C. Mar­tin, who led Gilead to great­ness in de­vel­op­ing a huge­ly prof­itable HIV drug fran­chise, has died at the age of 69. Mar­tin helmed the com­pa­ny for a 20-year stretch just six years af­ter join­ing as VP of R&D back in 1990, dur­ing which Gilead built a rep as a fear­some com­peti­tor in HIV, field­ing drug cock­tails that kept the dead­ly AIDS at bay for mil­lions — while al­so be­ing tar­get­ed by crit­ics for be­ing tone deaf on pric­ing con­tro­ver­sies. Daniel O'Day, who took over as Mar­tin and his close col­league and suc­ces­sor John Mil­li­gan both left a cou­ple of years ago, not­ed his lega­cy "will be felt for gen­er­a­tions to come."
Ad­u­canum­ab dra­ma es­ca­lates
The re­view of Bio­gen's Alzheimer's drug ad­u­canum­ab has been any­thing but typ­i­cal. And the ten­sion is grow­ing even more as three mem­bers of the FDA's ad­vi­so­ry com­mit­tee — who have al­ready of­fered their per­spec­tive in a meet­ing — laid out their case for why the agency should re­ject ad­u­canum­ab in an op-ed in JA­MA. The ed­i­to­r­i­al brings the com­mit­tee's con­cerns back to the fore two months be­fore the dead­line for reg­u­la­tors to make a de­ci­sion. "The FDA needs to get the sci­ence right," an au­thor told End­points News in an in­ter­view. "They usu­al­ly do and I be­lieve in this in­stance they will as well."
Rare snub for Mer­ck
Af­ter get­ting a unan­i­mous thumbs down from the ad­comm, Mer­ck has been hand­ed an un­sur­pris­ing CRL over its ap­pli­ca­tion to mar­ket Keytru­da for high-risk triple-neg­a­tive breast can­cer. The ex­pert pan­el had vot­ed no af­ter the FDA can­cer czar, Richard Paz­dur, per­son­al­ly took the stage to ad­mon­ish Mer­ck for rush­ing the fil­ing be­fore the da­ta were there to sup­port it — a rare and sting­ing re­buke for a phar­ma gi­ant used to cruis­ing its PD-1 to­ward new des­ti­na­tions with grace.
At long last, a BC­MA CAR-T
It took much longer than Bris­tol My­ers Squibb had hoped, but it's fi­nal­ly clinched an ap­proval for ide-cel, the BC­MA CAR-T ther­a­py for mul­ti­ple myelo­ma it got from Cel­gene. The drug, now dubbed Abec­ma, will sport a list price of $419,500. Once a close­ly-watched event be­cause of its weight in a $6 bil­lion CVR, the ap­proval in mul­ti­ple myelo­ma re­ceived a rel­a­tive­ly mut­ed wel­come as it was large­ly ex­pect­ed, even though cer­tain de­tails on the la­bel still sur­prised some an­a­lysts. While Bris­tol My­ers can now claim the hon­or as the first com­pa­ny to have two ap­proved CAR-Ts in its fold, ri­vals like J&J may be catch­ing up soon.
Bris­tol My­ers Squibb's tax trou­ble
Bris­tol My­ers Squibb could be on the hook for $1.4 bil­lion in back tax­es ac­cord­ing to an ac­ci­den­tal dis­clo­sure from the IRS, New York Times re­port­ed. The US gov­ern­ment has bat­tled Big Phar­ma for years over off­shore patent trans­fer schemes. At the cen­ter of this par­tic­u­lar case is Bris­tol My­ers' ef­fort in 2012 to es­tab­lish an Irish sub­sidiary as a ve­hi­cle to shut­tle US drug patent rights over to a coun­try with low­er cor­po­rate tax rates. For its part, the com­pa­ny says it's in com­pli­ance with ap­plic­a­ble reg­u­la­tions and is work­ing to re­solve the mat­ter.
Gene edit­ing run-in
On the sur­face, In­tel­lia was giv­ing a pret­ty rou­tine — if ex­cit­ing — pre­sen­ta­tion at a Cold Spring Har­bor Lab con­fer­ence about a new ap­proach to gene edit­ing. There was just one prob­lem: They didn't cred­it or ac­knowl­edge the sci­en­tists be­hind the ear­ly pa­pers de­tail­ing the first base edit­ing sys­tems, from which the CRISPR biotech said they have dif­fer­en­ti­at­ed. It seemed "there was a cal­cu­lat­ed in­tent to present these as new," said an at­tendee. Ja­son Mast spoke with David Liu and Alex­is Ko­mor, two key fig­ures in the pi­o­neer­ing work, to ex­plore why the pair feared that In­tel­lia was rewrit­ing his­to­ry in a way that could be detri­men­tal to young re­searchers.
Lil­ly sex­u­al ha­rass­ment
A month af­ter oust­ing CFO Josh Smi­ley for in­ap­pro­pri­ate con­duct, Eli Lil­ly is fac­ing new al­le­ga­tions that an ex­ec­u­tive and a se­nior man­ag­er at its Wash­ing­ton, DC of­fice sex­u­al­ly dis­crim­i­nat­ed against and ha­rassed mul­ti­ple women. Sonya Elling, a Lil­ly lob­by­ist of 16 years, ac­cused her su­per­vi­sor Leigh Ann Pusey of cre­at­ing a hos­tile en­vi­ron­ment and be­ing a "work­place bul­ly." Shawn O'Neail, an­oth­er su­per­vi­sor hired by Pusey, al­leged­ly made "sex­u­al­ly ag­gres­sive ges­tures" to­ward the em­ploy­ees.
---
PRE­MI­UM
Bet­ter-own­er hy­poth­e­sis
Bridge­Bio is wrap­ping a busy, buzzy month with a $2.4 bil­lion al­liance to roll out their next drug in the US — in­fi­gra­tinib — which looks to be in the la­bel-writ­ing stage at the FDA as reg­u­la­tors set up a chip shot on a near-term ap­proval. Team­ing up with a well-con­nect­ed and in­flu­en­tial Swiss com­pa­ny, Neil Ku­mar is giv­ing away some com­mer­cial­iza­tion rights in ex­change for Helsinn shoul­der­ing a chunk of glob­al de­vel­op­ment costs as they look to score a se­ries of down­stream ap­provals. "It's the bet­ter-own­er hy­poth­e­sis," he tells John Car­roll.
Chim­ing in
As the FDA out­lines plans to up­date the dis­ease pro­gres­sion mod­els and how they're used in drug de­vel­op­ment, No­var­tis, Genen­tech as well as BIO spelled out sug­ges­tions on what to fo­cus on and raised ques­tions on how the agency might use these mod­els to in­form the agency's de­ci­sion mak­ing.
---
DEALS
---
FDA+
As Pres­i­dent Joe Biden un­veiled his $2 tril­lion in­fra­struc­ture plan, the White House al­so de­tailed mea­sures to make it much hard­er for large multi­na­tion­als — bio­phar­ma in­clud­ed — to avoid or evade tax­es by us­ing tax havens abroad.
The Biden ad­min­is­tra­tion is in no rush to nom­i­nate a per­ma­nent com­mis­sion­er, per­fect­ly hap­py for Janet Wood­cock to run the show in the act­ing role, Zach Bren­nan re­ports. But for­mer FDA of­fi­cials and com­mis­sion­ers are push­ing the Biden ad­min­is­tra­tion to nom­i­nate some­one quick­ly for the role. Here's why.
For­mer FDA com­mis­sion­er Rob Califf called out the agency's "un­rec­og­nized abil­i­ty to bad­ger spon­sors" on mat­ters of clin­i­cal tri­al di­ver­si­ty as a pan­el of ex­perts agreed they could play a more promi­nent role, list­ing pos­si­ble fol­low-up ac­tions to en­sure stud­ies are rep­re­sen­ta­tive.
House De­moc­rats have kicked off a process to of­fi­cial­ly over­turn the Trump ad­min­is­tra­tion's last-minute at­tempt to tear down more than 95% of the FDA's reg­u­la­tions, call­ing it a "ma­li­cious rule" that would cause chaos. Mean­while, the lat­est se­mi-an­nu­al reg­u­la­to­ry agen­da for HHS is con­spic­u­ous­ly light on bio­phar­ma-re­lat­ed rules, ei­ther pro­posed or fi­nal, for the FDA.
In an ef­fort to ease the process around pe­di­atric can­cer drug de­vel­op­ment, the FDA and EMA are of­fer­ing a new tem­plate to pro­vide com­pa­nies with an eas­i­er way to seek sci­en­tif­ic ad­vice from both agen­cies, fea­tur­ing more close­ly aligned time­lines for sub­mis­sions.
The FDA is putting its foot down on Mak­e­na, the pre-term birth drug mar­ket­ed by AM­AG Phar­ma­ceu­ti­cals (re­cent­ly ac­quired by Co­vis Phar­ma). A re­cent­ly pub­lished meta-analy­sis is not chang­ing their de­ci­sion to pull the ac­cel­er­at­ed ap­proval, the agency said in a pub­lic re­buke, af­ter the con­fir­ma­to­ry study failed to show a ben­e­fit.
---
CORO­N­AVIRUS
---
FI­NANC­ING
On­col­o­gy dom­i­nat­ed the ven­ture rounds an­nounced this week, with a range of fla­vors on the menu: Genen­tech vets go­ing head-to-head with Mer­ck in I/O ($73 mil­lion); tar­get­ed ther­a­pies that don't give in eas­i­ly to tu­mor re­sis­tance ($106 mil­lion); a Flag­ship start­up un­leash­ing its epige­nom­ic con­trollers against c-myc ($126 mil­lion); Pfiz­er's ADC plat­form in the hands of an alum ($152 mil­lion), and so on. But neu­ro­mus­cu­lar play­er En­tra­da al­so squeezed in a $116 mil­lion crossover round, while Jen­nifer Doud­na's newest CRISPR start­up nabbed $100 mil­lion and a vo­cal in­vestor.
The Jen­ner In­sti­tute, the Ox­ford group be­hind As­traZeneca's Covid-19 vac­cine, just got fund­ing from CARB-X to pur­sue a dif­fer­ent kind of vac­cine for an in­fec­tion that's not quite as press­ing, but nev­er­the­less on the rise: gon­or­rhea.
---
PEO­PLE
We now know where Mike Nal­ly is head­ed af­ter leav­ing the chief mar­ket­ing post at Mer­ck. Re­port­ed­ly passed up for the top job at Mer­ck, Nal­ly will be­come Flag­ship Pi­o­neer­ing's lat­est CEO-part­ner and take the helm at ma­chine learn­ing-fo­cused Gen­er­ate Bio­med­i­cines.
Long­time Koch In­sti­tute di­rec­tor Tyler Jacks can fi­nal­ly wrap his 19-year tenure af­ter lock­ing in Matthew Van­der Hei­den, an MIT bi­ol­o­gy pro­fes­sor and can­cer cell me­tab­o­lism re­searcher, as his suc­ces­sor. Jacks' next move? Re­turn "full time to the ex­cite­ment of the lab" while Van­der Hei­den steers the cen­ter to­ward ma­chine learn­ing and AI.
Bri­an Kas­par is ready to leave the Zol­gens­ma da­ta ma­nip­u­la­tion scan­dal be­hind. The found­ing CSO of AveX­is is tak­ing a board role at End­sulin, a small gene ther­a­py play­er, with an old bud­dy from the pi­o­neer­ing biotech. The goal? To take a shot at cur­ing type 1 di­a­betes.
---
CELL/GENE TX
Since the FDA slapped a clin­i­cal hold on its lead gene ther­a­py in De­cem­ber, uniQure has been work­ing with ex­perts to sort out what led to the sin­gle liv­er can­cer case caus­ing con­cern. The biotech now says it's "high­ly un­like­ly" that its he­mo­phil­ia B drug was to blame — with "mul­ti­ple analy­ses" they will now take to reg­u­la­tors.
Over­flow­ing with ideas to shift the cell ther­a­py par­a­digm, Rick Klaus­ner's Lyell has spun out some of its pro­tein en­gi­neer­ing re­search in­to a new biotech called Out­pace Bio, with a goal to "make step change in how we can pro­gram cells to be more ef­fi­ca­cious," Max Gel­man re­ports.
---
R&D
Wave's close­ly-watched an­ti­sense oligonu­cleotide pro­gram be­came the lat­est ca­su­al­ty in the cru­sade against Hunt­ing­ton's dis­ease, forc­ing the biotech to scrap two drug can­di­dates and turn to a back-up ap­proach — a sec­ond time.
Dan­ish biotech Or­p­hazyme's lead drug ari­mo­clo­mol — a sup­pos­ed­ly "pipeline in a prod­uct" mol­e­cule — has whiffed in a sec­ond Phase III rare dis­ease tri­al. It couldn't pre­vent pro­gres­sion of in­clu­sion body myosi­tis in a 150-per­son study. An FDA de­ci­sion, though, still awaits for a dif­fer­ent in­di­ca­tion based on a sec­ondary end­point.
Io­n­is says one of the mid-stage, whol­ly-owned an­ti­sense drugs for rare, non-neu­ro­log­i­cal dis­eases that CEO Brett Mo­nia boast­ed about at JP Mor­gan ear­li­er this year has de­liv­ered a sol­id slate of pos­i­tive Phase II re­sults, po­ten­tial­ly set­ting it up for a block­buster show­down with Take­da.
---
PHAR­MA
---
MAN­U­FAC­TUR­ING
The US Of­fice of Spe­cial Coun­sel has un­veiled the de­tails of a whistle­blow­er com­plaint from a for­mer FDA in­spec­tor who al­leged nu­mer­ous vi­o­la­tions at a Mer­ck man­u­fac­tur­ing plant in North Car­oli­na that's now be­ing read­ied to make the J&J Covid-19 vac­cine. Among the al­le­ga­tions: the agency had learned of these is­sues as ear­ly as 2018 but failed to act on them.
When — not if — a flu pan­dem­ic comes around, Sanofi wants to be pre­pared for it. The French drug­mak­er, which pro­duces the world's best­selling flu vac­cine, is drop­ping more than $703 mil­lion to build a new man­u­fac­tur­ing fa­cil­i­ty and in­crease the sup­ply of Flu­zone.
With its own vac­cine ef­forts lag­ging be­hind, Glax­o­SmithK­line has signed an­oth­er deal with No­vavax pledg­ing fill-fin­ish ca­pac­i­ty for 60 mil­lion dos­es of the re­com­bi­nant nanopar­ti­cle shots des­ig­nat­ed for the UK.
---
DON'T MISS
The­o­ries abound on why vir­tu­al­ly all Alzheimer's drugs of the past two decades have failed. Stu­art Lip­ton, a lead­ing de­men­tia ex­pert who helped de­vel­op the last FDA-ap­proved Alzheimer's drug, has pro­posed an al­ter­na­tive ex­pla­na­tion: Per­haps the amy­loid-clear­ing an­ti­bod­ies were "para­dox­i­cal­ly in­duc­ing more in­flam­ma­tion in the brain." His lab is work­ing on a way to fix that.
With the bar­ri­ers of en­try to tra­di­tion­al biotech hubs like Boston and San Fran­cis­co get­ting ever high, is it time for com­pa­nies to take R&D homes else­where? A new re­port by JLL sug­gests so, with Seat­tle top­ping the list for growth in life sci­ences em­ploy­ment.
With plen­ty of gi­ants romp­ing and stomp­ing in the AI drug dis­cov­ery land­scape these days, star­tups must find a niche to break in. RA Cap­i­tal is seed­ing one such biotech, us­ing AI to learn physics and re­do­ing al­go­rithms in a way that founder Vir­ginia Burg­er says will open up the no­to­ri­ous class of in­trin­si­cal­ly dis­or­dered pro­teins.