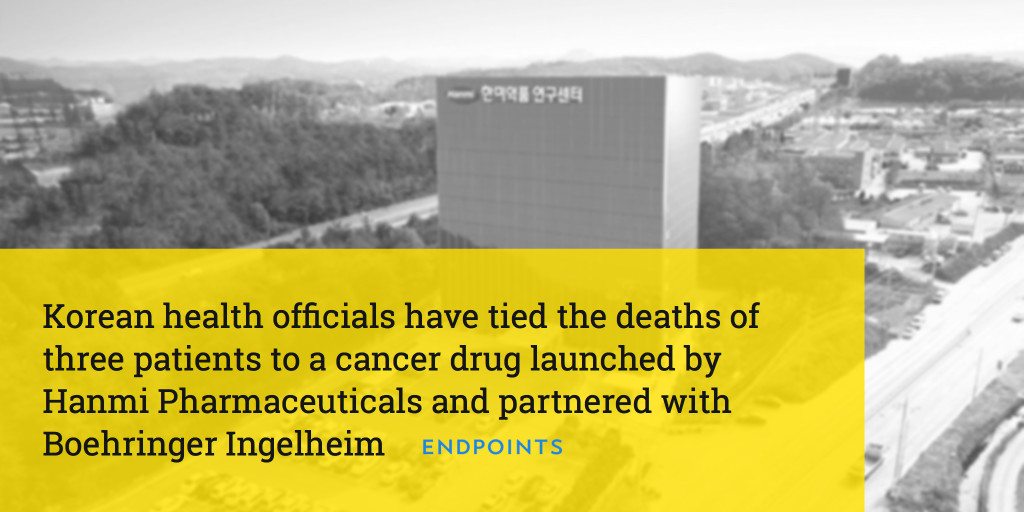 Lethal ex­per­i­men­tal can­cer drug from Han­mi, Boehringer killed three pa­tients — re­port
Ko­re­an health of­fi­cials have tied the deaths of three pa­tients to a can­cer drug launched by Han­mi Phar­ma­ceu­ti­cals and part­nered with Boehringer In­gel­heim, ac­cord­ing to a fol­lowup sto­ry in The Ko­rea Her­ald.
Cit­ing a re­port from the coun­try's Min­istry of Food and Drug Safe­ty, which was re­leased by Rep. Kwon Mi-hyuk to­day, the three were a 75-year-old pa­tient who died in late 2015, a 57-year-old who died in March and a 54-year-old who died in June.
Al­to­geth­er eight pa­tients died in the study, ac­cord­ing to the Her­ald's re­port­ing of the min­istry re­view, with 29 "se­ri­ous ad­verse events and ad­verse drug re­ac­tions," though health of­fi­cials have not con­firmed a link with the drug in every case.
Late Fri­day, Boehringer is­sued a tardy re­sponse to End­points News.
"Boehringer In­gel­heim in­formed reg­u­la­to­ry au­thor­i­ties, in­clud­ing the FDA, about rel­e­vant safe­ty da­ta re­lat­ed to ol­mu­tinib, in­clud­ing side ef­fects such as se­vere skin re­ac­tions men­tioned in the drug safe­ty let­ter," the com­pa­ny said in a state­ment. "At the same time Boehringer In­gel­heim in­formed all in­ves­ti­ga­tors. We al­so made sure pa­tients re­ceived time­ly com­mu­ni­ca­tions and up­dat­ed their con­sents re­gard­ing these find­ings. We are not aware of any ad­di­tion­al of­fi­cial re­port or com­mu­ni­ca­tion is­sued by the South Ko­re­an Au­thor­i­ty."
Boehringer In­gel­heim abrupt­ly washed its hand of the drug just days ago with­out ini­tial­ly rais­ing any is­sues with deaths or ad­verse events. Queried by End­points News, a spokesper­son for the com­pa­ny pro­vid­ed a state­ment say­ing that Ko­re­an of­fi­cials had is­sued a let­ter re­fer­ring to "two cas­es of tox­ic epi­der­mal necrol­y­sis, one of them fa­tal, and one case of Stevens-John­son-Syn­drome (non-fa­tal)."
The ap­pro­pri­ate reg­u­la­tors, the com­pa­ny added, had been in­formed of "rel­e­vant safe­ty da­ta re­lat­ed to ol­mu­tinib, in­clud­ing side ef­fects such as se­vere skin re­ac­tions." Boehringer not­ed that the two cas­es of tox­ic epi­der­mal necrol­y­sis oc­curred in two stud­ies: HM-EM­SI-101 and HM-EM­SI-202. The 101 study is list­ed on clin­i­cal­tri­als.gov as spon­sored by Han­mi with Boehringer cit­ed as a col­lab­o­ra­tor.
Not long ago, though, Boehringer — which has paid Han­mi $65 mil­lion of a $730 mil­lion deal — had been ea­ger to see if it could quick­ly put the drug through a mid-stage study and then seek a fast ap­proval.
Back in May, two months af­ter the sec­ond pa­tient death re­port­ed by Ko­re­an of­fi­cials, Boehringer put out a re­lease tout­ing the Ko­re­an ap­proval of the drug, stat­ing:
Ol­mu­tinib (BI 1482694 / HM61713) is a nov­el third-gen­er­a­tion, oral, EGFR mu­ta­tion-spe­cif­ic TKI. It is cur­rent­ly in ac­cel­er­at­ed de­vel­op­ment through the am­bi­tious ELUXA clin­i­cal tri­al pro­gramme with the aim to sub­mit da­ta and ev­i­dence to the US FDA and EU EMA in 2016. The piv­otal Phase II tri­al ELUXA 1 (HM-EM­SI-202 (NCT02485652) is on­go­ing, en­rolling EGFR T790M mu­ta­tion-pos­i­tive lung can­cer pa­tients who have be­come re­sis­tant to pre­vi­ous TKI treat­ment.
"This first ap­proval of ol­mu­tinib is an ex­cit­ing mile­stone for the com­pound and we are work­ing dili­gent­ly to make this nov­el treat­ment op­tion glob­al­ly avail­able to pa­tients and physi­cians as quick­ly as pos­si­ble," said Boehringer on­col­o­gy chief Jörg Barth, in a state­ment.
Han­mi, mean­while, is now un­der in­ves­ti­ga­tion to see if there was any in­sid­er trad­ing of com­pa­ny stock around the re­port on ad­verse events, which came out just hours af­ter the com­pa­ny com­plet­ed a tie-up with Genen­tech. In the mean­time, Ko­re­an of­fi­cials have re­port­ed­ly de­cid­ed to keep the drug on the mar­ket un­der the con­di­tion­al ap­proval that was hand­ed out ear­li­er in the year. Even though there was one re­port­ed pa­tient death at the time, they said, they had no di­rect link to the drug. Pa­tients would have to be in­formed of the risks, they said, be­fore they were giv­en the drug.
Look­ing to make a big move in­to brand­ed drugs, Han­mi has been rack­ing up a se­ries of part­ner­ships with mar­quee drug de­vel­op­ers. Just yes­ter­day Genen­tech signed on to part­ner on an ear­ly-stage can­cer drug. Last fall, Sanofi paid €400 mil­lion up­front to part­ner with Han­mi on a port­fo­lio of di­a­betes drugs. Be­fore that, there was a pact with Eli Lil­ly worth up to $690 mil­lion on an au­toim­mune drug for a va­ri­ety of dis­eases. And J&J has al­so part­nered with Han­mi, which has been beef­ing up its R&D arm in a con­cert­ed ef­fort to build a port­fo­lio of brand­ed ther­a­pies.