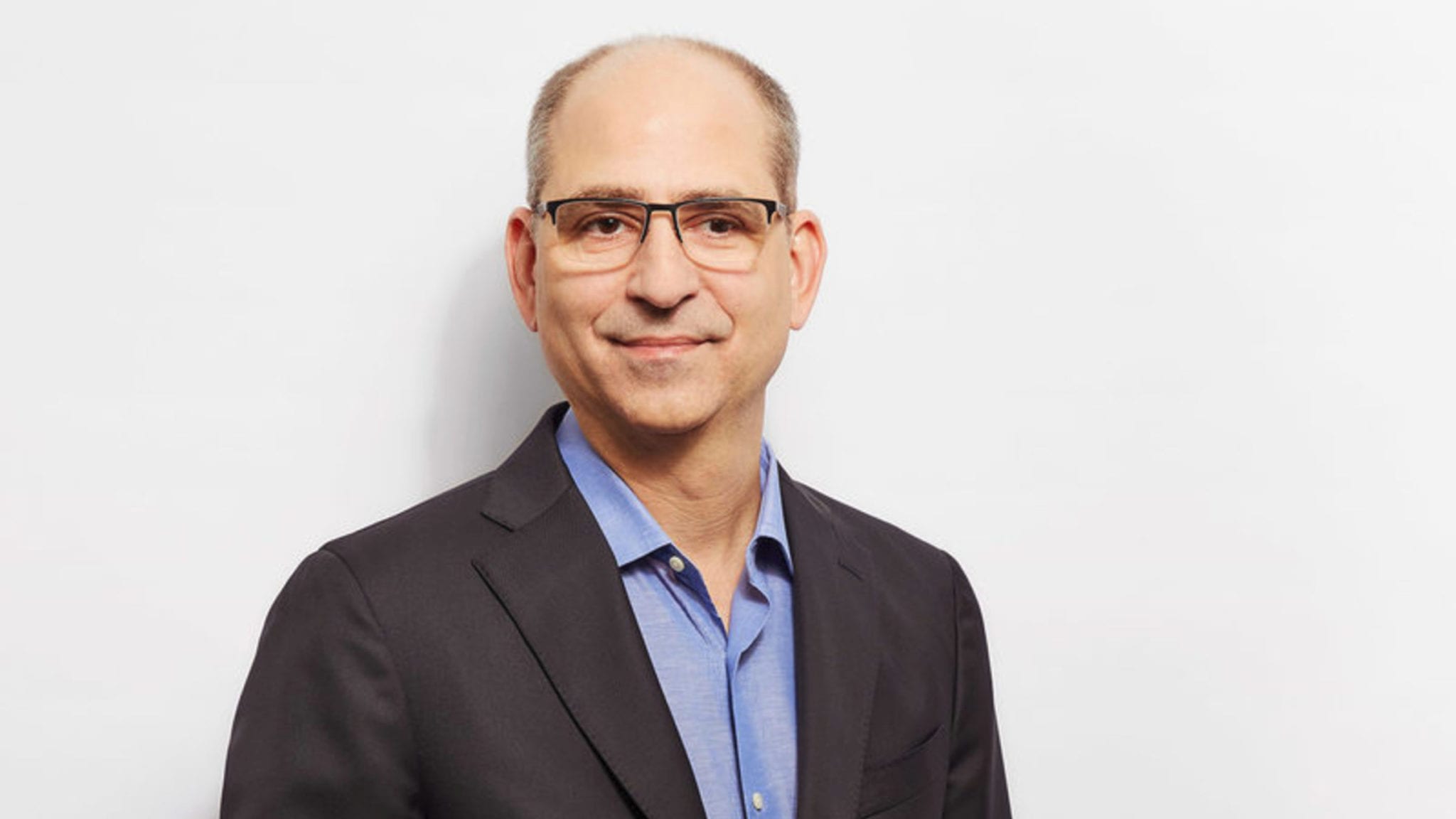 David Epstein, Evelo chairman (Flagship Pioneering)
Lit­tle Evelo sees big promise in its first cut of da­ta from a tiny study on atopic der­mati­tis
Any­one putting to­geth­er an ear­ly-stage tri­al in­volv­ing 24 pa­tients with a big-mar­ket dis­ease like atopic der­mati­tis wants to know one thing: Do they have a drug that's ac­tive, with re­al po­ten­tial as a ther­a­py?
Evelo $EV­LO just posed that ques­tion, and the an­swer in the da­ta, says chair­man David Ep­stein, is yes.
"The drug starts to work at 2 weeks," Ep­stein says as he looks at the da­ta. "That's re­al­ly fast."
In a mega-mar­ket field like se­vere eczema, the block­busters post piv­otal num­bers in­volv­ing big groups of pa­tients as they line up to take a shot at Dupix­ent. And it takes some awe­some re­sults to be com­pet­i­tive in a field of pow­er­ful bi­o­log­ics.
But lit­tle Evelo, with a mar­ket cap that's like­ly be­low what those Phase II­Is cost, is com­pet­ing for a whole dif­fer­ent seg­ment. And this da­ta on 24 pa­tients, they be­lieve, of­fer ac­tu­al hu­man ev­i­dence that their mi­cro­bio­me strat­e­gy has a re­al chance of mak­ing it among a much larg­er num­ber of pa­tients with mild to mod­er­ate forms of AD as well as oth­er in­flam­ma­to­ry con­di­tions that are all linked to the same trig­gers.
The bot­tom line on the da­ta was sta­tis­ti­cal sig­nif­i­cance on 2 key scores in a place­bo com­par­i­son:
EASI (62% dif­fer­ence, p=0.034) and the per­cent­age change in IGA*BSA (71% dif­fer­ence, p=0.019)…At day 56, 10/16 pa­tients in the ac­tive group showed im­prove­ments in EASI score, with 4/16pa­tients hav­ing achieved an EASI50 clin­i­cal re­sponse, 3 of which achieved at least an EASI75, com­pared to 0/7 of­pa­tients in the place­bo group.
It was al­so proven tol­er­a­ble with no se­ri­ous ad­verse events.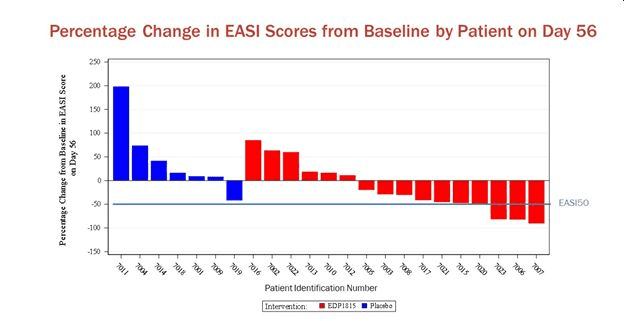 All of that is crit­i­cal as the team at Evelo pur­sues mid-stage work on a drug that takes a page from na­ture and de­vel­ops a book of da­ta on this lead an­ti-in­flam­ma­to­ry treat­ment.
As Ep­stein ex­plains it, the mu­cos­al lin­ing of the stom­ach con­tains a hid­den mu­cos­al mi­cro­bio­me, and cer­tain bac­te­r­i­al strains can di­rect­ly speak to the im­mune sys­tem.
"We se­lect­ed our strains that in­crease or de­crease cy­tokines," he says.
And in this in­stance you get an in­hibito­ry ef­fect on the TH2 in­flam­ma­to­ry re­sponse that dri­ves this dis­ease among cer­tain peo­ple.
So they de­vel­oped this drug that on­ly works in the gut, re­duc­ing the risk of any sys­temic safe­ty is­sues. The da­ta won't work in se­vere cas­es, he adds, but the mild to mod­er­ate group rep­re­sent the li­on's share of this mar­ket — and that's just where they're aimed.
This is sim­ply a pre­lim­i­nary in­di­ca­tion of ef­fi­ca­cy, a proof of con­cept study, of course. And the jour­ney ahead is long and high­ly risky. But the ev­i­dence that they could be on the right track was worth a 15% spike to the ad­mit­ted­ly beat­en-down val­ue of the shares.
So how do you pay to get a drug like this through a very ex­pen­sive piv­otal ef­fort?
Ep­stein, a Big Phar­ma vet with plen­ty of ex­pe­ri­ence on that side of the in­dus­try, says that "based up­on pre­vi­ous dis­cus­sions in the phar­ma in­dus­try, we're quite cer­tain that phar­ma com­pa­nies will want to talk to us."
The mi­cro­bio­me field over­all has had a mixed record on the in­vestor front, but Ep­stein al­so points out that Wall Street pays at­ten­tion when the da­ta are right, as Seres re­cent­ly demon­strat­ed.
Be­sides that, Evelo is a Flag­ship start­up, which rou­tine­ly en­joys rais­ing big sums for the plat­form com­pa­nies they back. And Ep­stein points to mul­ti­ple po­ten­tial read­outs in not just an­ti-in­flam­ma­to­ry ar­eas, but on­col­o­gy as well — where re­searchers are look­ing at how you can fight can­cer with their tech­nol­o­gy.
Evelo is pin­ning its hopes for big am­bi­tions on a small study. But at this im­por­tant mile­stone, Evelo be­lieves there's good rea­son to think big.