Lit­tle Leo Phar­ma en­ters the prize-fight ring with pos­i­tive PhI­II atopic der­mati­tis da­ta. Now they just have to beat Dupix­ent
A day af­ter new Sanofi CEO Paul Hud­son staked his rep­u­ta­tion and the fu­ture of the phar­ma gi­ant on mak­ing Dupix­ent a mega­suc­cess sto­ry, lit­tle Leo Phar­ma is throw­ing down the gaunt­let on atopic der­mati­tis.
Three years ago Leo paid As­traZeneca $115 mil­lion to buy up rights to use tralok­inum­ab against atopic der­mati­tis — with $1 bil­lion more on the ta­ble in mile­stones — the Dan­ish com­pa­ny says their drug has swept up pos­i­tive re­sults for all pri­ma­ry and sec­ondary end­points in three Phase III tri­als. Now they plan to start the fi­nal push for reg­u­la­to­ry ap­provals so they can chal­lenge the heavy­weight cham­pi­ons in this slugfest.
To put it mild­ly, it's not go­ing to be easy — un­der the best of cir­cum­stances.
At the time As­traZeneca did the deal with Leo, they were busy find­ing as­sets to auc­tion off as Pas­cal So­ri­ot looked to soft­en the ug­ly fi­nan­cial blows they were tak­ing as rev­enue slid steadi­ly down­ward. As­traZeneca — which over the last year has en­joyed a long-await­ed turn­around — kept their big late-stage ef­fort for tralok­inum­ab in asth­ma, con­vinced that the IL-13 drug could be a game-chang­er. In­stead, it failed in 3 straight late-stage tri­als and So­ri­ot end­ed up punt­ing it out of the pipeline.
Leo, though, nev­er veered away. To­day's state­ment on­ly her­alds the top line re­sults, with none of the da­ta de­tails that will be cru­cial if they in­tend to be com­pet­i­tive in an in­tense­ly com­pet­i­tive field.
Ever­core ISI's Umer Raf­fat finds the whole tralo saga in­trigu­ing, not­ing that Leo has ev­i­dent­ly been sit­ting on the re­sults for about a year. That's not a good sign. And it left him with sev­er­al big ques­tions:
Why would a com­pa­ny put out first press re­lease on Ph 3s over a year af­ter they were com­plet­ed? Not clear
Why didn't Leo put out ac­tu­al ef­fi­ca­cy da­ta in to­day's up­date? Not clear
My best guess: tralo da­ta are not com­pet­i­tive. But I can't know for sure.
In a fol­lowup to this sto­ry, Leo's com­mu­ni­ca­tions team got in touch to say that Raf­fat was wrong about the year-long de­lay, not­ing that the tri­als were sched­uled to wrap up in a se­ries, start­ing last Au­gust. I re­spond­ed by ask­ing when the first Phase III da­ta were ac­tu­al­ly de­liv­ered. This morn­ing, they replied — with­out an­swer­ing the ques­tion.
Be­fore is­su­ing any com­mu­ni­ca­tions on the de­vel­op­ment progress of tralok­inum­ab, it was nec­es­sary to eval­u­ate all pri­ma­ry and sec­ondary out­come mea­sures from all three piv­otal Phase 3 clin­i­cal tri­als, in ad­di­tion to ad­verse events. The full da­ta set for the blind­ed 52-week tri­als plus ad­di­tion­al weeks for safe­ty fol­low-up was not avail­able for analy­sis un­til No­vem­ber 2019.
Stan­dard op­er­at­ing pro­ce­dure in the in­dus­try is to re­port the da­ta out by tri­al as it is avail­able. The spokesper­son for the com­pa­ny, though, said Leo didn't re­lease any hard da­ta to avoid dam­ag­ing their chances of get­ting the da­ta pub­lished in a peer-re­viewed jour­nal.
Raf­fat al­so points out there's an­oth­er late-stage IL-13 in the AD mix: Der­mi­ra's $DERM le­brik­izum­ab, which Roche out-li­censed af­ter they had their own failed ef­fort in asth­ma, with one suc­cess­ful Phase III and one flop.
Then there are the JAK drugs like Xel­janz, which is ap­proved for atopic der­mati­tis with a black box safe­ty warn­ing. Eli Lil­ly has been bull­ish about Olu­mi­ant, amid skep­ti­cism. Safe­ty is a con­cern with all the JAKs, which is one rea­son why the Dupix­ent group is so bull­ish about their prospects. Ab­b­Vie has Rin­voq in late-stage stud­ies, And Gilead hopes to get their break with fil­go­tinib.
More are com­ing in.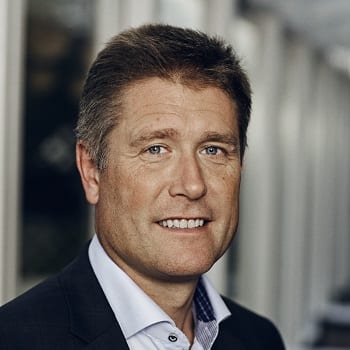 Kim Kjøller Leo
Atopic der­mati­tis is an aw­ful af­flic­tion, spurring le­sions that pro­voke a pow­er­ful urge to itch, while leav­ing a pub­lic stig­ma on ap­pear­ance. And it's been a block­buster tar­get for a va­ri­ety of play­ers, aside from Sanofi and Re­gen­eron. Just a few days ago J&J paid $750 mil­lion for a drug called bermekimab, with plans to run it through their own piv­otal for atopic der­mati­tis and more.
In their re­lease, Leo seems to be de­ter­mined to find open­ings in the mar­ket for those who aren't hap­py with the re­sults they're get­ting now.
"De­spite re­cent treat­ment ad­vances, we con­sis­tent­ly hear from health­care pro­fes­sion­als around the world that ad­di­tion­al treat­ment op­tions are need­ed to ad­dress the dif­fer­ent signs and symp­toms for each pa­tient," not­ed Kim Kjøller, the head of R&D at Leo.
Mar­ket­ing ap­pli­ca­tions are head­ed to the reg­u­la­tors ear­ly next year.
So­cial im­age: Leo Phar­ma