Lit­tle Stem­line grabs a big 'break­through' ti­tle for its piv­otal-stage can­cer drug
Back at the big AS­CO meet­ing in Chica­go last June, lit­tle New York-based Stem­line Ther­a­peu­tics $STML was large­ly left on the side­lines by a few big acts in on­col­o­gy R&D that hogged the spot­light. But its snap­shot of high­ly promis­ing Phase II da­ta for a lead drug didn't es­cape the at­ten­tion of the FDA, which has now blessed its work with a break­through drug des­ig­na­tion.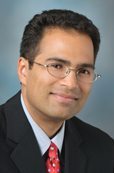 Naveen Pem­mara­ju, MD An­der­son Can­cer Cen­ter
The BTD was pro­vid­ed for SL-401, and the news trig­gered a 20% spike in the com­pa­ny's share price. Stem­line got its IPO out at the be­gin­ning of the biotech boom in 2013 and pros­pered on Nas­daq. But like a lot of biotechs, the com­pa­ny is now trad­ing for far less than half of its two-year high af­ter in­vestors re­cal­i­brat­ed their think­ing about risk and po­ten­tial re­wards in the last six months.
MD An­der­son's Naveen Pem­mara­ju jour­neyed to Chica­go to re­view the first round of promis­ing re­sults for a piv­otal mid-stage study for SL-401 on blas­tic plas­ma­cy­toid den­drit­ic cell neo­plasm (BPD­CN), a rare and dead­ly hema­to­log­ic ma­lig­nan­cy. He high­light­ed:
An 89% (17/19) over­all re­sponse rate (ORR) in BPD­CN, with a 100% (12/12) ORR in first-line pa­tients and a 71% (5/7) ORR in re­lapsed/re­frac­to­ry pa­tients, in­clud­ing one com­pas­sion­ate use pa­tient (see Table 1). In 12 evalu­able first-line pa­tients (all dos­es), there were 9 com­plete re­spons­es (CR) and 2 clin­i­cal com­plete re­spons­es (CRc). CRc is de­fined as a CR in non-skin af­fect­ed or­gans with marked gross clear­ance of skin le­sions and resid­ual mi­cro­scop­ic skin dis­ease. In the 10 evalu­able first-line pa­tients treat­ed at 12 ug/kg/day, the CR/CRc rate was 100% (8 CR and 2 CRc). In the 7 evalu­able re­lapsed/re­frac­to­ry BPD­CN pa­tients, in­clud­ing one treat­ed on a com­pas­sion­ate use ba­sis, the ORR rate was 71%, which in­clud­ed 1 CR and 1 CRc (29% CR/CRc rate) and 3 par­tial re­spons­es (PR).
Pem­mara­ju al­so high­light­ed signs of a pos­si­ble durable re­sponse. "75% (9/12) first-line BPD­CN pa­tients treat­ed at 12 ug/kg/day re­mained re­lapse-free (1+-13+ months)," the com­pa­ny re­port­ed. And more work is be­ing done on acute myeloid leukemia and myelo­pro­lif­er­a­tive neo­plasms.
The BTD has be­come a com­mon fea­ture on the R&D land­scape. In­tend­ed to speed the clin­i­cal jour­ney of new drugs with the po­ten­tial to al­ter the land­scape of med­ical treat­ment, it's be­come a ti­tle that is now of­ten hand­ed out to the same drug for mul­ti­ple in­di­ca­tions. Big Phar­mas love to boast about their string of BTDs. Stem­line, though, is a some­what more un­usu­al case; a small biotech with a $141 mil­lion mar­ket cap that can now boast of an open door at an FDA that has proved par­tic­u­lar­ly will­ing to ac­cel­er­ate ap­provals for new on­col­o­gy drugs.
That's some­thing that in­vestors liked to see, at least briefly.