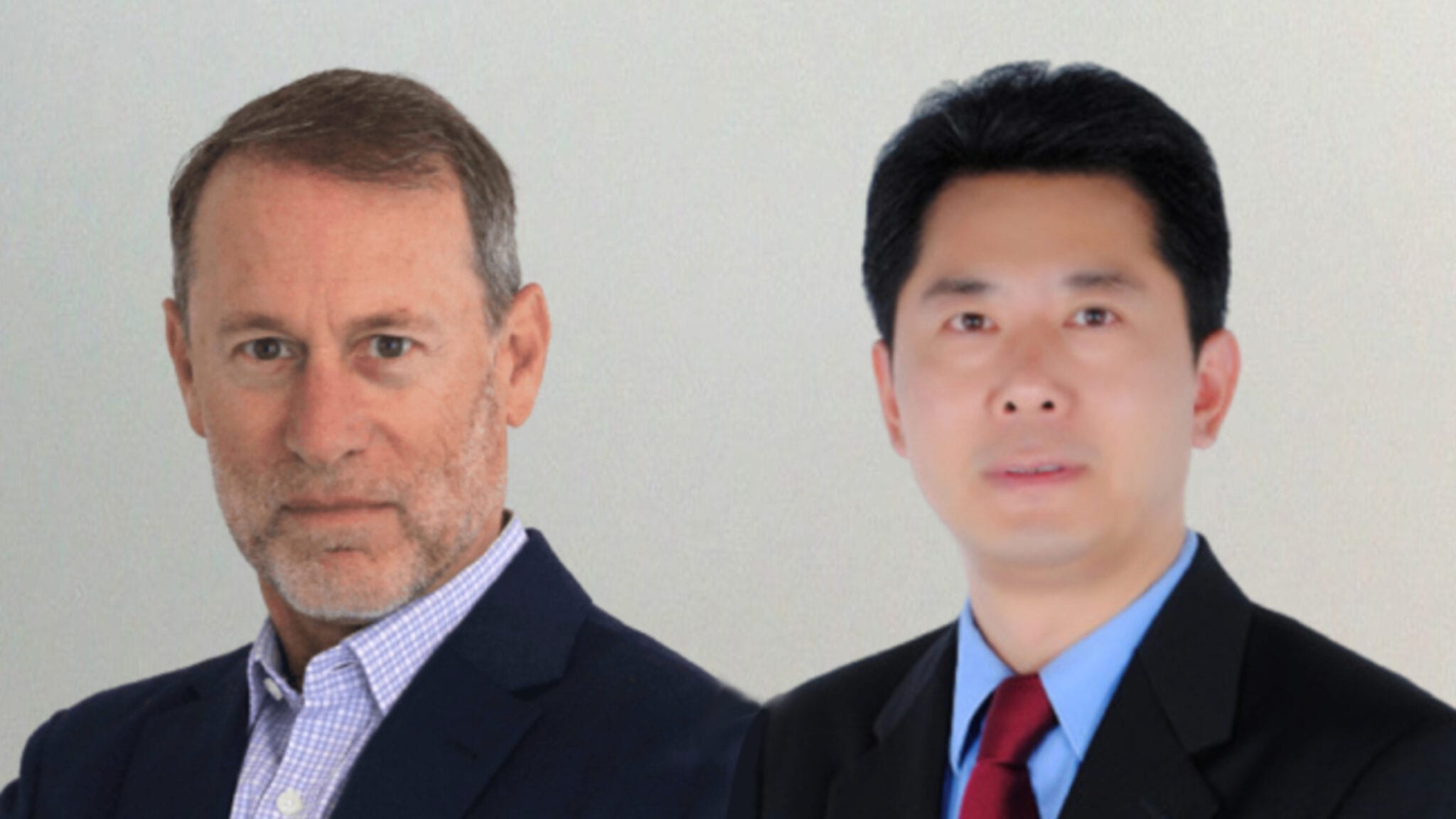 Lonnie Moulder (L) and Hua Mu
UP­DAT­ED: Lon­nie Moul­der woos a sea­soned de­vel­op­ment ex­pert from Hill­house­'s US/Chi­na play to helm his start­up
Back in 2010, when Tesaro was still a nascent biotech start­up, Lon­nie Moul­der re­mem­bers tak­ing due dili­gence trips to Chi­na to meet and un­der­stand com­pa­nies that could be po­ten­tial com­mer­cial­iza­tion part­ners for their im­muno-on­col­o­gy pro­grams. One of them was Hutchi­son Chi­na MediTech, or Chi-Med, which was then led by CEO Saman­tha Du and CMO Hua Mu.
A lot has changed since then.
Tesaro end­ed up strik­ing a pact with Zai Lab — Du's pi­o­neer­ing US/Chi­na biotech — be­fore get­ting snapped up by Glax­o­SmithK­line for $5 bil­lion. Chi-Med has just re­named it­self to HutchMed. Moul­der him­self set up his lat­est biotech start­up, dubbed Zenas, to have a go at a ver­sion 2.0 of the glob­al ap­proach he had ex­per­i­ment­ed with at Tesaro.
And Mu has just been re­cruit­ed as the pres­i­dent, CEO and act­ing chief med­ical of­fi­cer of Zenas, where he will be tasked with over­see­ing a de­vel­op­ment-stage pipeline in im­munol­o­gy. Joe Farmer, a for­mer col­league of Moul­der's at Tesaro, is al­so com­ing on board as chief busi­ness and ad­min­si­tra­tive of­fi­cer.
"As a cross bor­der com­pa­ny, it's im­por­tant to us that we have the right mix of ex­ec­u­tives that have deep ex­pe­ri­ence and knowl­edge in both West­ern mar­kets, specif­i­cal­ly the US, and al­so in Chi­na," Moul­der, who's mov­ing from in­ter­im CEO to the ex­ec­u­tive chair­man seat, told End­points News.
With 20 peo­ple split be­tween Shang­hai and state­side, Zenas is fo­cused on mov­ing the mol­e­cules it's li­censed in­to clin­i­cal tri­als through 2022. Some of them will be ex­e­cut­ed in Chi­na on­ly, while the rest will have glob­al plans an­chored by Chi­nese sites.
Just be­fore he jumped ship, Mu had helped Hill­house Cap­i­tal put to­geth­er an­oth­er cross bor­der com­pa­ny at Over­land Phar­ma, hail­ing a new kind of in-li­cens­ing mod­el that promised West­ern biotech en­tre­pre­neurs a way in­to Chi­na that was at once faster, more flex­i­ble and at a larg­er scale. The propo­si­tion was at­trac­tive enough that ADC Ther­a­peu­tics and Al­lo­gene both signed on for joint ven­ture deals.
"In the past, I think the fo­cus was more on the ex­e­cu­tion, op­er­a­tional fu­tures, right, be­cause those as­sets had al­ready mit­i­gat­ed risk be­fore," Mu said at the time, giv­ing the ex­am­ple of Ze­ju­la, which Zai Lab li­censed from Tesaro when it was in Phase III. "The key was how to ex­e­cute the pro­gram, de­vel­op­ment and reg­is­tra­tion in Chi­na."
These days, he added, "it's more so­phis­ti­cat­ed as we talk about one of our fo­cus is on those tru­ly in­no­v­a­tive, for ex­am­ple first in class drugs ei­ther just POC or near POC, rel­a­tive­ly ear­li­er. In this way, the two sides of the col­lab­o­ra­tion, they have to work more close­ly. In oth­er words, it re­quires greater in­te­gra­tion of the glob­al ex­per­tise ex­pe­ri­ence and the lo­cal ex­per­tise."
Be­fore tak­ing on the in­ter­im CEO/CMO role at Over­land, Mu has held a se­ries of top roles at Sim­cere, WuXi, Bio­gen and Genen­tech. His de­par­ture leaves co-founder Ed Zhang sole­ly in charge. Al­ready the COO and CBO, Zhang has al­so been ap­point­ed in­ter­im CEO while a new CMO should ar­rive in the com­ing weeks.
"We are grate­ful to Hua for all of his con­tri­bu­tions to help­ing get Over­land off the ground," he wrote in an email to End­points. "His de­par­ture from Over­land was re­cent and un­der a mu­tu­al agree­ment. We wish him all the best with his new role at Zenas."