Look­ing for an on­col­o­gy re­boot, Sanofi, Re­gen­eron shoot for a fast and flashy FDA OK of a promis­ing new PD-1
There's an­oth­er PD-1 drug head­ed to­ward the mar­ket. And this fast-mov­ing — and of­ten over­looked — pro­gram is due to ar­rive at the FDA for mar­ket­ing re­view in just a mat­ter of months.
In an out­line of Sanofi's R&D work for the Q2 call this week, re­search chief Elias Zer­houni was clear­ly ex­cit­ed by the "fast-to-mar­ket strat­e­gy in the PD-1 space" that has been set up with its big de­vel­op­ment part­ner Re­gen­eron $REGN.
Here's what Zer­houni had to say:
At AS­CO, we pre­sent­ed pos­i­tive clin­i­cal da­ta from a Phase I study, which showed that in pa­tients with ad­vanced CSCC (cu­ta­neous squa­mous cell car­ci­no­ma — the sec­ond dead­liest form of skin can­cer be­hind melanoma), our PD-1 was as­so­ci­at­ed with a 46% over­all re­sponse rate, a 69% dis­ease con­trol rate, and was gen­er­al­ly well tol­er­at­ed. So, we look for­ward to the re­sults of our reg­is­tra­tion study and are plan­ning to sub­mit to the FDA in metasta­t­ic cu­ta­neous squa­mous cell car­ci­no­ma in Q1 2018.

We al­so start­ed sev­er­al stud­ies of our PD-1 in oth­er in­di­ca­tions this past quar­ter, and these in­clude a Phase 3 in first line non-small cell lung can­cer and a Phase 2 in metasta­t­ic and lo­cal­ly ad­vanced basal cell car­ci­no­ma.
Is­rael Lowy
With 5 PD-(L)1 drugs on the mar­ket and hun­dreds of stud­ies un­der­way to ad­vance new ap­provals, the con­ver­sa­tion in can­cer cir­cles these days tends to fo­cus on whether these mul­ti­ply­ing check­point in­hibitors are be­com­ing swift­ly com­modi­tized.
That's not the way Sanofi and Re­gen­eron are ap­proach­ing this. At all.
As Re­gen­eron's top re­searcher on the pro­gram Is­rael Lowy told me at AS­CO last sum­mer, REGN2810 has con­vinced him PD-1 is a sig­nif­i­cant­ly bet­ter way to tack­le the check­point hur­dle than PD-L1. And the part­ners be­lieve they can quick­ly start by leapfrog­ging the PD-L1s from As­traZeneca, Roche and Pfiz­er/Mer­ck KGaA.
If he's right, the im­pli­ca­tions in this megablock­buster field are enor­mous.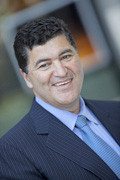 Elias Zer­houni
Zer­houni — who was diplo­mat­ic enough to thrive as head of the NIH — wasn't will­ing to go that far right now. But for some­one who's look­ing to this drug to help re­boot what has been a dis­ap­point­ing for­ay in­to on­col­o­gy for years, he may be work­ing up to it. Pressed on the point, he added:
Now, we, as I told you, be­lieve that PD-1 is the right se­lec­tion, the right tar­get based on many da­ta that we have gen­er­at­ed our­selves and our part­ner, Re­gen­eron. We do be­lieve that there is a po­ten­tial for PD-1 to be su­pe­ri­or. We do not know that at this point. I wouldn't ven­ture to say that this is proven at this point. There are hints that in­deed tell us that, and we've made a choice and this is the choice we're mak­ing here. We're go­ing af­ter PD-1. We do not have a PD-L1 in de­vel­op­ment.
A suc­cess here would set up Sanofi as a play­er in on­col­o­gy, with a com­bo ap­proach that could well help over­come the sting of past set­backs. Sanofi's in­ter­nal pipeline has been unin­spired at best for years, with Re­gen­eron lend­ing a big hand to pro­vide the kind of re­mark­able in­no­va­tion that is need­ed for a re­boot. That part­ner­ship has al­ready land­ed sev­er­al land­mark drug OKs, and now it's lin­ing up an­oth­er.
Look for the num­ber 6 PD-(L)1 to hit the reg­u­la­to­ry re­view path soon. It isn't an­gling for last place.