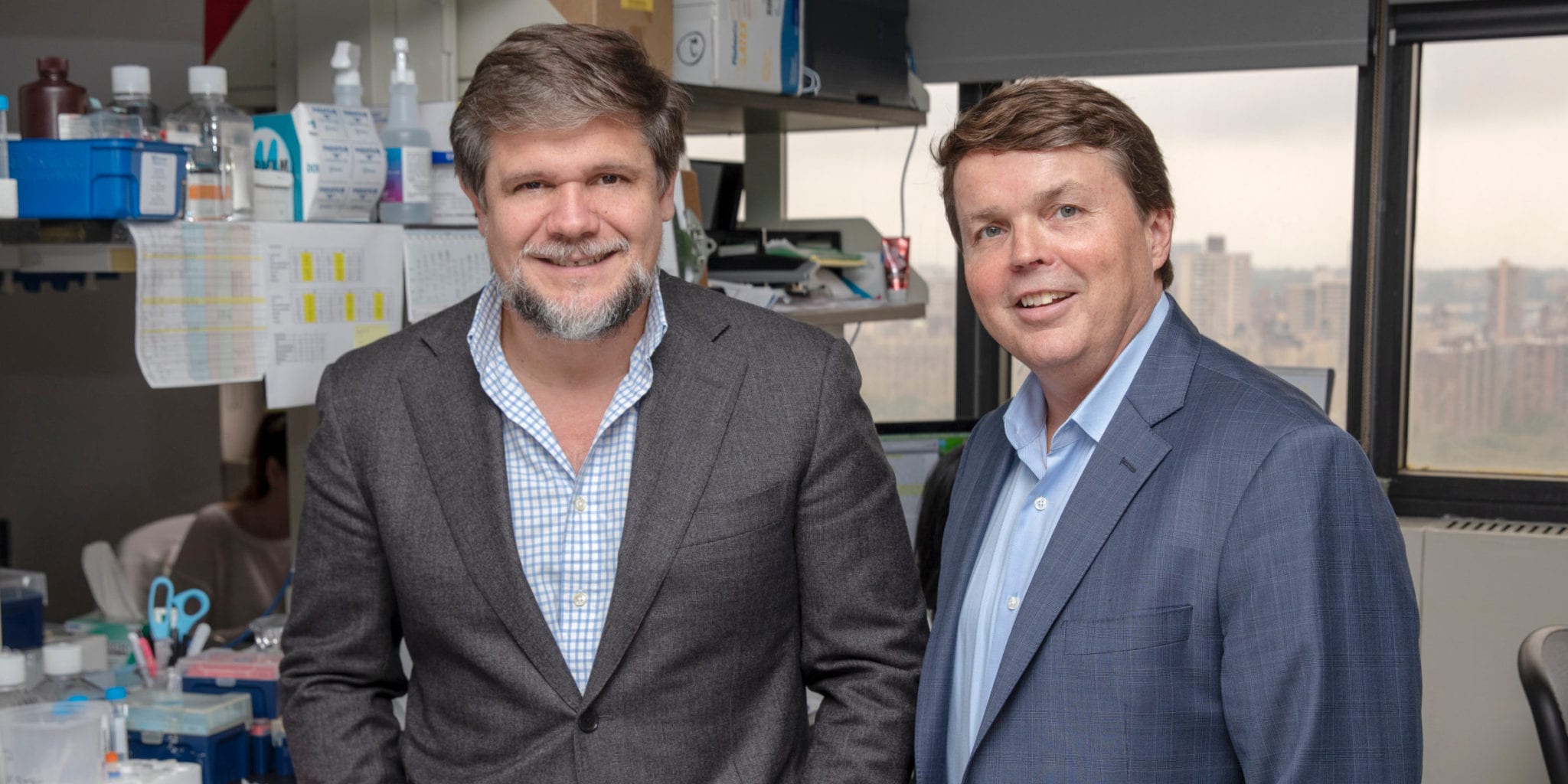 Julio Aguirre-Ghiso (L) and Alan Rigby (HiberCell)
Look­ing to re­shape the metasta­t­ic can­cer land­scape, Hi­ber­Cell fills the tank with a slate of mid-stage tests queued up
A lit­tle over two years since its last raise, New York-based biotech Hi­ber­Cell is re­turn­ing to the ven­ture well for some more cap­i­tal.
The com­pa­ny has pulled in a new $67.4 mil­lion Se­ries B, Hi­ber­Cell an­nounced Wednes­day morn­ing, as it con­tin­ues its trek to de­vel­op drugs pre­vent­ing can­cer re­lapse and metas­ta­sis. Wednes­day's funds will be used to ad­vance its pro­grams re­search­ing how stress bi­ol­o­gy and in­nate im­mu­ni­ty can play a role in can­cer re­cur­rence.
In ad­di­tion to the Se­ries B, Hi­ber­Cell con­cur­rent­ly se­cured a $30 mil­lion debt fa­cil­i­ty with Her­cules Cap­i­tal.
Hi­ber­Cell's foun­da­tion comes from the lab work of Julio Aguirre-Ghiso at Mount Sinai, cen­tered around the no­tion that "dor­mant" dis­sem­i­nat­ed tu­mor cells — or DTCs — can re­ac­ti­vate long af­ter drugs have flushed all ap­pear­ances of can­cer. The the­o­ry goes that this re­sponse can lead to a metasta­t­ic can­cer with a near-cer­tain fa­tal­i­ty rate.
Though this no­tion isn't par­tic­u­lar­ly new, Aguirre-Ghiso's lab made some im­por­tant break­throughs re­gard­ing the bi­ol­o­gy of dis­sem­i­na­tion, co-founder and CEO Alan Rig­by said in an in­ter­view af­ter Hi­ber­Cell's Se­ries A back in Feb­ru­ary 2019.
It may al­so ring a bell to some ob­servers in the field, as oth­er biotechs re­search­ing senes­cent cells have sim­i­lar ob­jec­tives, Rig­by told End­points News on Wednes­day. Dor­mant DTCs and senes­cent cells are es­sen­tial­ly the same thing, Rig­by said, and Hi­ber­Cell's ul­ti­mate goal is to con­nect the un­der­ly­ing bi­ol­o­gy of these cells with clin­i­cal out­comes for pa­tients.
"These are the cells that cre­ate and ex­tend the win­dow of clin­i­cal dor­man­cy," Rig­by told End­points. "It's how some pa­tients with breast can­cer have the abil­i­ty to be fine for 20 years and then it comes back … we be­lieve they're in­stru­men­tal in metasta­t­ic re­cur­rence."
Two years af­ter the Se­ries A, Hi­ber­Cell's pipeline now sits at three can­di­dates: one tu­mor mi­croen­vi­ron­ment mod­u­la­tor and two adap­tive stress mod­u­la­tors. The pro­gram far­thest along falls in that for­mer cat­e­go­ry, one that Hi­ber­Cell ac­quired last June. Known as Im­prime PGG, the can­di­date is be­ing stud­ied in com­bi­na­tion with Keytru­da for re­sectable melanoma and metasta­t­ic breast can­cer.
A Phase II study look­ing at treat­ment-naïve, re­sectable stage III melanoma is ex­pect­ed to launch right around when Q2 ends, Rig­by said. There's al­so a Phase II tri­al for metasta­t­ic breast can­cer fol­low­ing HR fail­ure planned for some­time in the third quar­ter, he added.
Even though this can­di­date has on­ly re­cent­ly joined the Hi­ber­Cell pipeline, Rig­by be­lieves it can be in­stru­men­tal in mov­ing its oth­er in­ter­nal pro­grams along thanks to its "1-2 punch" in im­prov­ing sur­vival ad­van­tages and pro­mot­ing im­muno­sup­pres­sion. Those two can­di­dates, adap­tive stress mod­u­la­tors, are still in the ear­ly stages.
First up is their PERK in­hibitor for re­nal cell car­ci­no­ma and gas­tric can­cer, which re­cent­ly launched a Phase Ia safe­ty study. Then there's an ISR mod­u­la­tor geared up for the gen­er­al "sol­id and liq­uid tu­mor" cat­e­go­ry, which is on track for a third quar­ter IND ap­pli­ca­tion.
As the whole field moves for­ward, there may be a time where non-metasta­t­ic can­cer pa­tients end up need­ing drugs like Hi­ber­Cell's as a main­te­nance ther­a­py to pre­vent re­cur­rence af­ter their first bout with the dis­ease ends up in re­mis­sion, Rig­by said. But right now it's still too ear­ly for any­one to say how long that might take.
"It's up to us and oth­ers to ul­ti­mate­ly con­nect this unique bi­ol­o­gy to can­cer es­cape," Rig­by said.
Wednes­day's round in­clud­ed new in­vestors Huizen­ga, Monashee, Tekla, Her­cules Cap­i­tal, Mount Sinai In­no­va­tion Part­ners and oth­er undis­closed in­vestors. Re­turn­ing in­vestors, in­clud­ing ARCH, Mag­net­ic Ven­tures, Bris­tol My­ers Squibb, Trini­tas Cap­i­tal and oth­ers from the Se­ries A syn­di­cate al­so par­tic­i­pat­ed.