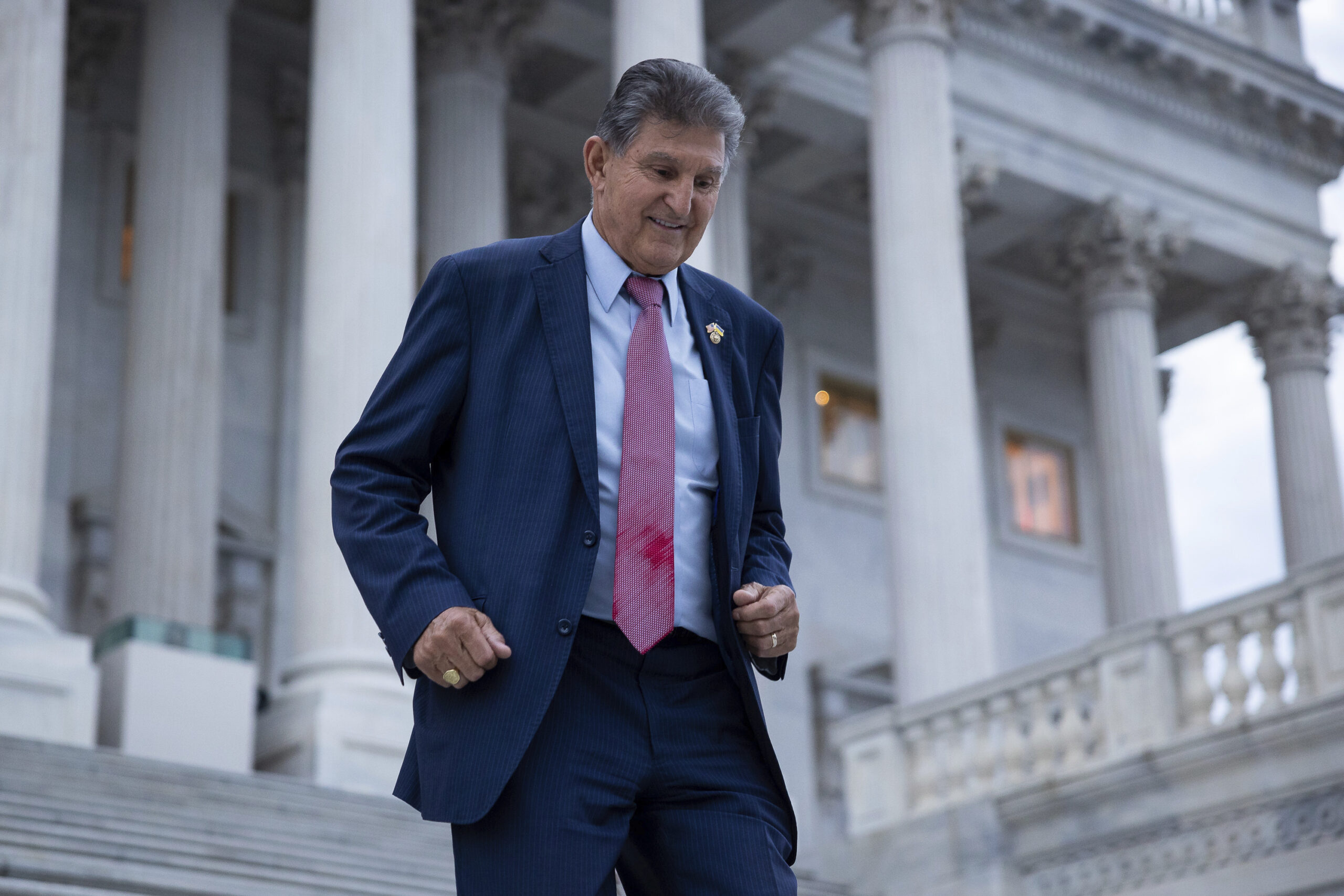 Sen. Joe Manchin (D-W.Va.) (Francis Chung/E&E News/POLITICO via AP Images)
Manchin plays spoil­er again, but drug pric­ing re­forms re­main on the ta­ble
West Vir­ginia De­mo­c­rat Sen. Joe Manchin has made loud and clear how much his sin­gle vote mat­ters for the Sen­ate Dems, and their even 50-50 split with Re­pub­li­cans, once again lay­ing guardrails around a rec­on­cil­i­a­tion pack­age that could pass with that sim­ple ma­jor­i­ty — thanks to VP Ka­mala Har­ris.
But for the for­mer My­lan CEO's fa­ther, Manchin's al­ready forged an agree­ment on drug pric­ing re­forms, which his daugh­ter's for­mer in­dus­try group of­fi­cial­ly op­pos­es. The CBO has since pro­ject­ed the new ne­go­ti­a­tions will save the fed­er­al gov­ern­ment $288 bil­lion through 2031, a far cry from Nan­cy Pelosi's HR 3, but could re­duce drug­mak­ers' po­ten­tial out­put of about 1,300 to­tal drug ap­provals over 30 years by about 10 drugs.
A Manchin spokesper­son told the New York Times that he hasn't walked away from the ne­go­ti­at­ing ta­ble but the Wash­ing­ton Post and the Times both re­port­ed last night that Manchin has de­cid­ed to cut out cli­mate and tax pro­vi­sions from the pack­age, which "dealt a crush­ing blow to Pres­i­dent Biden's do­mes­tic agen­da, ef­fec­tive­ly rul­ing out ac­tion on any­thing be­yond pre­scrip­tion drug pric­ing and health care sub­si­dies."
Sen­ate Dems last week un­veiled their new Medicare drug price ne­go­ti­a­tions bill, which be­gin­ning in 2026 would al­low for the ne­go­ti­a­tion of 10 el­i­gi­ble drug prices, and build up to 20 by 2029.
As news of the bill broke, com­pa­nies con­tin­ued with their typ­i­cal mid-year price in­creas­es, with dozens rais­ing 112 whole­sale ac­qui­si­tion cost, or WAC, prices. By com­par­i­son, in Ju­ly 2012, there were 397 WAC price in­creas­es, ac­cord­ing to new 46brook­lyn re­search da­ta.
More re­cent­ly, com­pa­nies have pledged to stay be­low the 10% in­crease thresh­old, and Pfiz­er on Ju­ly 1 no­tably raised three drugs more than any oth­ers so far this month, with 10% price in­creas­es for Ben­zylpeni­cillin, al­so known as peni­cillin G, blood pres­sure drug Cor­lopam, and its blood thin­ner Frag­min.
The gener­ic drug in­dus­try group, the As­so­ci­a­tion for Ac­ces­si­ble Med­i­cines and its Biosim­i­lars Coun­cil an­nounced its op­po­si­tion to the new Sen­ate pric­ing re­forms, say­ing they will in­crease risks for gener­ic and biosim­i­lar man­u­fac­tur­ers as the com­pa­nies will have "no way to know whether a brand-name drug will be se­lect­ed for ne­go­ti­a­tion or what the ne­go­ti­at­ed price may be" un­til well af­ter a copy­cat's de­vel­op­ment would need to al­ready be­gin.
If the Sen­ate price ne­go­ti­a­tion bill pass­es, com­pa­nies that don't com­ply with the new prices can be as­sessed penal­ties of up to $1 mil­lion per day, ac­cord­ing to the bill text. And any man­u­fac­tur­er that "know­ing­ly pro­vides" false in­for­ma­tion al­so can be sub­ject to fines of $100 mil­lion per in­frac­tion.
The Sen­ate pro­pos­al, which mir­rors the pre­vi­ous ef­forts in the Build Back Bet­ter Act, which Manchin pre­vi­ous­ly tor­pe­doed, would al­so cap se­niors' drug costs un­der Medicare at $2,000 an­nu­al­ly, but it no­tice­ably does not in­clude a $35 month­ly cap on in­sulin costs for those with in­sur­ance, which Sen. Chuck Schumer (D-NY) has twice pledged to vote on.
The CBO yes­ter­day re­vealed that the Sen­ate in­sulin cap would cost the fed­er­al gov­ern­ment $23 bil­lion over the next decade, which came to about dou­ble what the House ver­sion would cost, ex­plain­ing:
CBO es­ti­mat­ed that H.R. 6833 would have no net ef­fect on the fed­er­al deficit over 10 years and that the in­sulin-re­lat­ed pro­vi­sions of the bill would in­crease fed­er­al deficits by $11.4 bil­lion over that pe­ri­od. This es­ti­mate for the Sen­ate leg­is­la­tion re­flects the dif­fer­ences be­tween the two bills in­clud­ing an es­ti­mat­ed in­crease in the av­er­age net price of in­sulin re­sult­ing from the cer­ti­fi­ca­tion process, an es­ti­mat­ed in­crease in Med­ic­aid spend­ing re­sult­ing from a re­duc­tion in re­bates paid by in­sulin man­u­fac­tur­ers, and changes to lim­its on cost shar­ing. The Sen­ate leg­is­la­tion al­so does not in­clude the pro­vi­sions that would de­lay im­ple­men­ta­tion of the rule re­lat­ed to man­u­fac­tur­er re­bates.