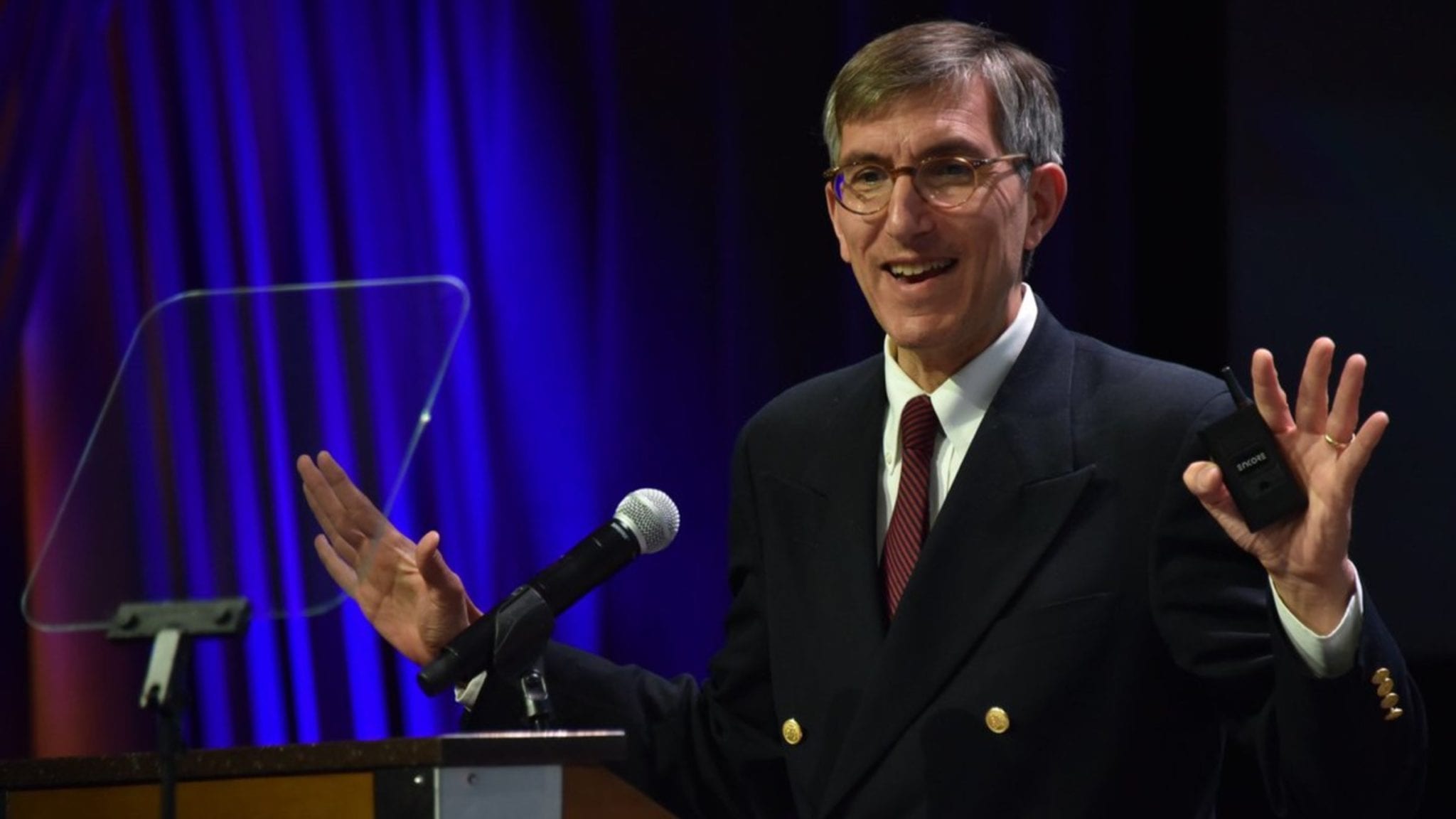 Peter Marks, CBER (MDA USA via Twitter)
Pe­ter Marks dish­es on Covid-19 vac­cine de­vel­op­ment at BIO
Pe­ter Marks, di­rec­tor of the FDA's Cen­ter for Bi­o­log­ics Eval­u­a­tion and Re­search (CBER) told a pan­el at BIO Dig­i­tal he thinks glob­al reg­u­la­tors will be aligned on the clin­i­cal end­points and de­sign fea­tures of Phase II and III clin­i­cal tri­als for vac­cines to pre­vent Covid-19.
Marks al­so em­pha­sized that FDA is work­ing close­ly with its col­leagues around the world to ex­pe­dite the de­vel­op­ment and avail­abil­i­ty of safe and ef­fec­tive vac­cines to ad­dress the pan­dem­ic.
"We're very com­mit­ted to work­ing with our Eu­ro­pean col­leagues and oth­er glob­al reg­u­la­tors to help make sure that as we see de­vel­op­ments in the Unit­ed States that they are able to ben­e­fit from the knowl­edge that we gain," Marks said, adding that, "This is re­al­ly a glob­al is­sue … and un­til this par­tic­u­lar virus is wiped out across the globe, we're all go­ing to have is­sues with it."
Marks' state­ments fol­lowed a pre-record­ed in­ter­view with An­tho­ny Fau­ci, di­rec­tor of the Na­tion­al In­sti­tute of Al­ler­gy and In­fec­tious Dis­ease, who called the virus his "worst night­mare" due to its rapid trans­mis­sion and lethal­i­ty.
"Glob­al reg­u­la­tors will need to col­lab­o­rate," Marks said, not­ing that dozens of reg­u­la­tors and health au­thor­i­ties from around the world have met un­der the aus­pices of the In­ter­na­tion­al Coali­tion of Med­i­cines Reg­u­la­to­ry Au­thor­i­ties (ICM­RA).
"There are a lot of dis­cus­sions about what suc­cess will look like, what will be nec­es­sary here, and dis­cus­sions of is­sues rang­ing from what will we need for demon­stra­tion of safe­ty and ef­fi­ca­cy, what will need to be done to make sus­tain­abil­i­ty of man­u­fac­ture of these vac­cines and how we'll deal with spe­cial pop­u­la­tions," Marks added.
Marks ex­pressed op­ti­mism that de­vel­op­ers could find suc­cess with mul­ti­ple vac­cines. "I tru­ly be­lieve there's prob­a­bly room for mul­ti­ple vac­cines here, and if we do things right, we'll ac­tu­al­ly fig­ure out that there may be pop­u­la­tions that ben­e­fit from one vac­cine more than an­oth­er," he said.
When asked if he thinks there will be any chal­lenges to reach­ing align­ment with oth­er reg­u­la­tors on the end­points and clin­i­cal de­sign fea­tures for Phase II and III tri­als for vac­cines, Marks said, "I ac­tu­al­ly don't, in part be­cause it's such a bad pan­dem­ic."
"For the first vac­cines that come down the line, we're go­ing to be look­ing at clin­i­cal end­points and I don't think we're go­ing to be ar­gu­ing with the [Eu­ro­pean Med­i­cines Agency] over [which as­say to look at]."
Marks said he doesn't think reg­u­la­tors will ar­gue over the size of the stud­ies need­ed, "be­cause I think we all kind of un­der­stand that if you're go­ing to be think­ing about treat­ing hun­dreds of mil­lions of peo­ple with a vac­cine, you're go­ing to want to have safe­ty datasets to start that are rea­son­ably sized, that you're fol­low­ing peo­ple close­ly, be­cause you may not get an­oth­er chance – even with re­al world ev­i­dence – to fol­low peo­ple quite that close­ly."
"That be­ing said, we are think­ing about how we'll use re­al world ev­i­dence to gath­er in­for­ma­tion on peo­ple over the longer term as they have these vac­cines," he added.
Marks al­so stressed that stan­dards should not be dropped, de­spite the ur­gent need for a vac­cine, so that peo­ple will be con­fi­dent in an even­tu­al vac­cine's safe­ty and ef­fi­ca­cy.
"If 30% or 40% of the pop­u­la­tion will not take this vac­cine, even if the vac­cine ef­fec­tive­ness is 70% or 80%, we will not be in a po­si­tion to have herd im­mu­ni­ty," he said.
Marks al­so ac­knowl­edged the pos­si­bil­i­ty of some coun­tries en­gag­ing in so-called "vac­cine na­tion­al­ism," but down­played the risks.
"Every coun­try — though we say we're work­ing to­geth­er — there's al­ways a lit­tle bit be­hind that we're go­ing to make sure that our own are tak­en care of first," Marks said be­fore adding he thinks it's "not ac­tu­al­ly all that big a prob­lem be­cause ul­ti­mate­ly … this is a glob­al prob­lem that we all have to ad­dress."
For a look at all End­points News coro­n­avirus sto­ries, check out our spe­cial news chan­nel.
---
RAPS: First pub­lished in Reg­u­la­to­ry Fo­cus™ by the Reg­u­la­to­ry Af­fairs Pro­fes­sion­als So­ci­ety, the largest glob­al or­ga­ni­za­tion of and for those in­volved with the reg­u­la­tion of health­care prod­ucts. Click here for more in­for­ma­tion.