Mass cloning for neu­ro re­search? Chi­nese sci­en­tists re­port birth of five gene-edit­ed mon­keys
Re­mem­ber when Chi­nese re­searchers an­nounced the birth of the first mon­keys cre­at­ed by so­mat­ic cell nu­clear trans­fer? Ex­act­ly a year lat­er, the same team is re­port­ing a sec­ond break­through — cloning five gene-edit­ed mon­keys in an ef­fort to over­come pre­vi­ous con­cerns about the costs and ef­fi­cien­cy in us­ing cloned mon­keys for med­ical re­search.
"It can be said that this re­search means the tech­nol­o­gy for cloning gene-edit­ed mon­keys has made the leap from the­o­ry to prac­tice," sci­en­tists from the Chi­nese Acad­e­my of Sci­ences In­sti­tute of Neu­ro­science in Shang­hai write in a blog­post for Chi­nese me­dia Sina.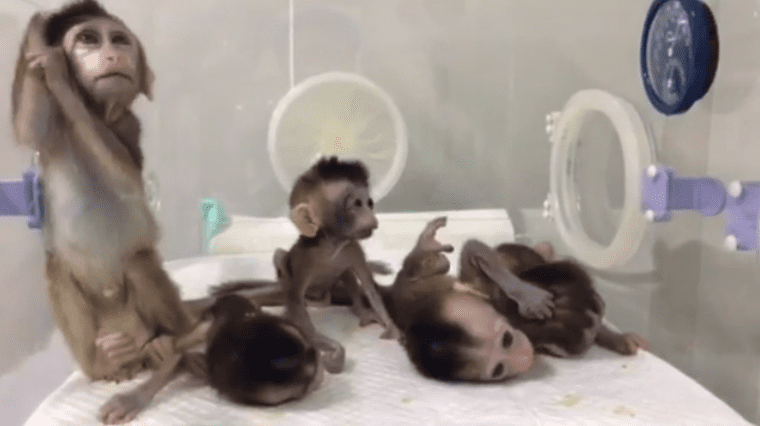 Car­ry­ing a ge­net­ic al­ter­ation that pre­dis­pos­es them to dys­reg­u­la­tion of the cir­ca­di­an rhythm, the five mon­keys are ex­pect­ed to shed light on dis­ease mech­a­nisms and of­fer ther­a­peu­tic test­ing ground for neu­rode­gen­er­a­tion. In dis­eases such as Alzheimer's and Parkin­son's, mice mod­els have proven woe­ful­ly in­ad­e­quate in terms of pre­dict­ing hu­man re­ac­tions to drugs, cre­at­ing a big hur­dle in pre­clin­i­cal ex­per­i­ments for new ther­a­pies.
Like Zhong Zhong and Hua Hua, the iden­ti­cal long-tailed macaques in the spot­light last Jan­u­ary, the new mon­keys — now three to six months old — were cloned in a process that in­volves tak­ing the nu­cle­us of a dif­fer­en­ti­at­ed cell from one an­i­mal and in­fus­ing it in­to an emp­ty egg cell from an­oth­er. An elec­tric cur­rent trig­gers the egg to de­vel­op in­to an ear­ly em­bryo and the re­sult­ing fe­tus, grown in a sur­ro­gate, would be a repli­ca of the an­i­mal that do­nat­ed the nu­cle­us.
In their case, the donor was an abort­ed mon­key fe­tus. While adult cells were al­so test­ed in a sep­a­rate co­hort of the tri­al, both ba­bies born in that group were short-lived and one had ab­nor­mal body de­vel­op­ment.
This time around, re­searchers think they have cracked the code for "batch pro­duc­ing" iden­ti­cal mon­keys that all pos­sess a de­sired trait, state-owned Xin­hua re­port­ed, cit­ing a pa­per from Chi­nese jour­nal Na­tion­al Sci­ence Re­view. Specif­i­cal­ly, they knocked out BMAL1, a "clock gene" re­spon­si­ble for pro­duc­ing a "clock pro­tein," in the donor mon­key.
No­tably, the suc­cess rate of cloning is still the same as in ear­li­er ex­per­i­ments at around 1% — a pos­i­tive sign, the sci­en­tists say, con­sid­er­ing the added com­plex­i­ties of us­ing adult cells and tweak­ing DNA.
Re­searchers have ob­served signs of sleep dis­or­ders, anx­i­ety and be­hav­iors in these mon­keys that are sug­ges­tive of schiz­o­phre­nia, they added in the blog­post.
They al­so told Xin­hua that the pro­gram "ad­hered to in­ter­na­tion­al ethics stan­dards and recog­ni­tion," with sup­port and su­per­vi­sion from the in­sti­tute's ethics pan­el.
---
Im­age: Five cloned mon­keys. SCI­ENCE CHI­NA PRESS