Remember when Chinese researchers announced the birth of the first monkeys created by somatic cell nuclear transfer? Exactly a year later, the same team is reporting a second breakthrough — cloning five gene-edited monkeys in an effort to overcome previous concerns about the costs and efficiency in using cloned monkeys for medical research.
"It can be said that this research means the technology for cloning gene-edited monkeys has made the leap from theory to practice," scientists from the Chinese Academy of Sciences Institute of Neuroscience in Shanghai write in a blogpost for Chinese media Sina.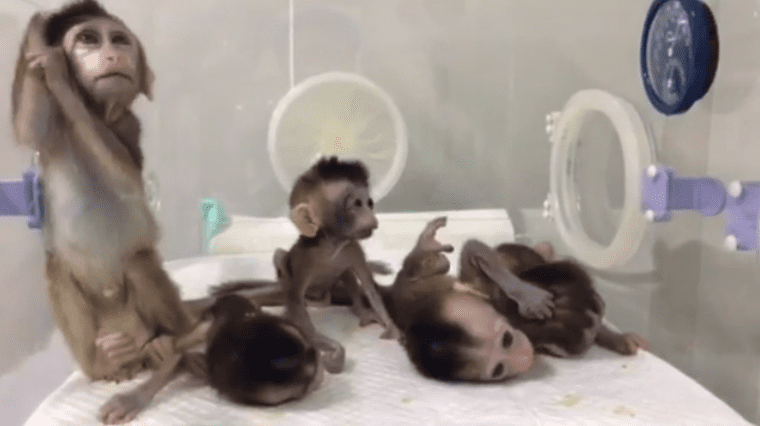 Carrying a genetic alteration that predisposes them to dysregulation of the circadian rhythm, the five monkeys are expected to shed light on disease mechanisms and offer therapeutic testing ground for neurodegeneration. In diseases such as Alzheimer's and Parkinson's, mice models have proven woefully inadequate in terms of predicting human reactions to drugs, creating a big hurdle in preclinical experiments for new therapies.
Like Zhong Zhong and Hua Hua, the identical long-tailed macaques in the spotlight last January, the new monkeys — now three to six months old — were cloned in a process that involves taking the nucleus of a differentiated cell from one animal and infusing it into an empty egg cell from another. An electric current triggers the egg to develop into an early embryo and the resulting fetus, grown in a surrogate, would be a replica of the animal that donated the nucleus.
In their case, the donor was an aborted monkey fetus. While adult cells were also tested in a separate cohort of the trial, both babies born in that group were short-lived and one had abnormal body development.
This time around, researchers think they have cracked the code for "batch producing" identical monkeys that all possess a desired trait, state-owned Xinhua reported, citing a paper from Chinese journal National Science Review. Specifically, they knocked out BMAL1, a "clock gene" responsible for producing a "clock protein," in the donor monkey.
Notably, the success rate of cloning is still the same as in earlier experiments at around 1% — a positive sign, the scientists say, considering the added complexities of using adult cells and tweaking DNA.
Researchers have observed signs of sleep disorders, anxiety and behaviors in these monkeys that are suggestive of schizophrenia, they added in the blogpost.
They also told Xinhua that the program "adhered to international ethics standards and recognition," with support and supervision from the institute's ethics panel.
---
Image: Five cloned monkeys. SCIENCE CHINA PRESS
---
The best place to read
Endpoints News

? In your inbox.

Comprehensive daily news report for those who discover, develop, and market drugs. Join 51,300+ biopharma pros who read Endpoints News by email every day.

Free Subscription
---
---
---