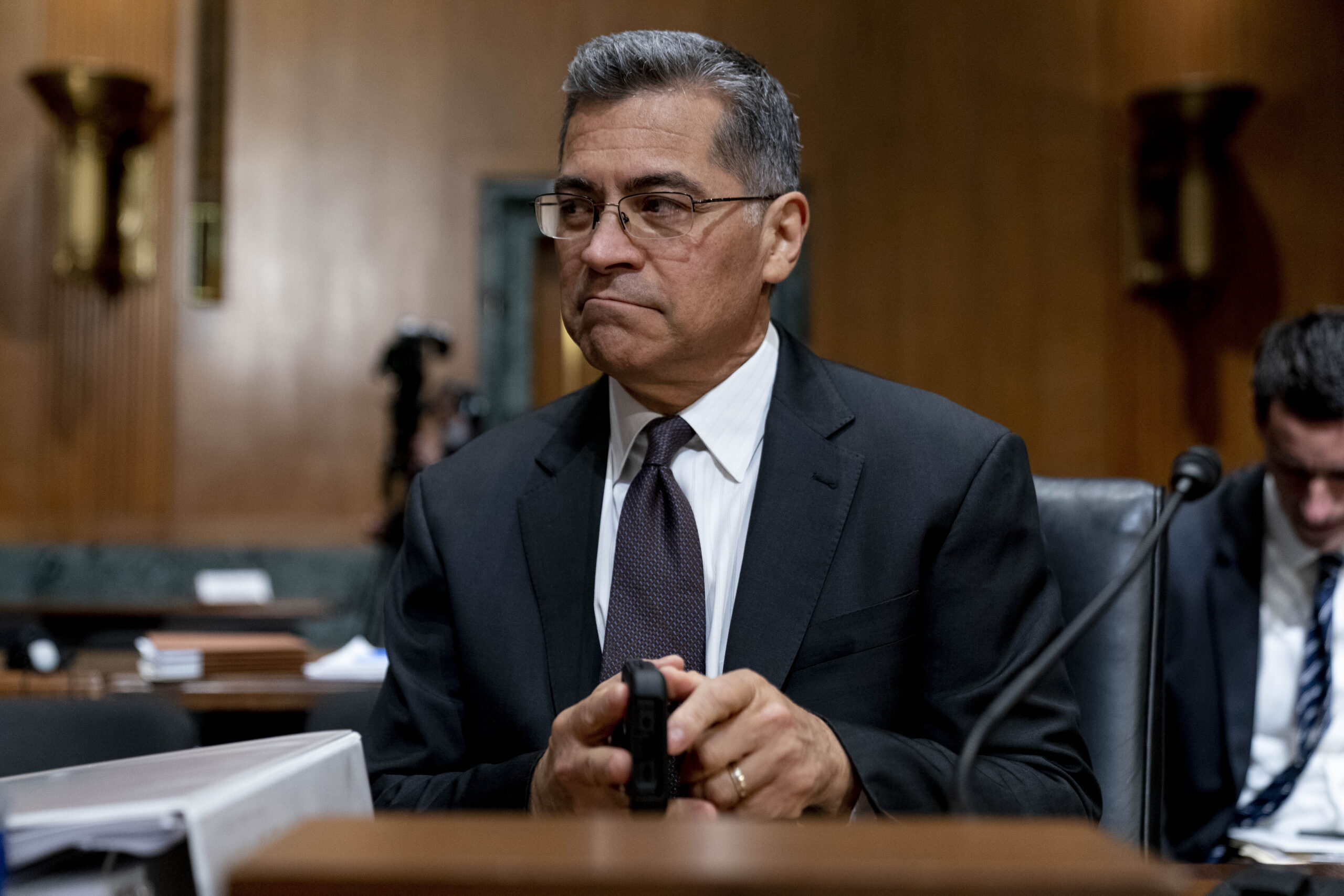 HHS Secretary Xavier Becerra (Andrew Harnik/AP Images)
Medicare does­n't re­duce its 2022 pre­mi­um hike even as use of Bio­gen's Alzheimer's drug is sharply cur­tailed
The prospect of the Cen­ters for Medicare & Med­ic­aid Ser­vices (CMS) pay­ing for Bio­gen's con­tro­ver­sial Alzheimer's drug Aduhelm opened up a mul­ti-bil­lion-dol­lar can of worms late last year that CMS now says it won't right un­til 2023, leav­ing the agency with lit­tle ex­pla­na­tion for ma­jor pre­mi­um and de­ductible in­creas­es for se­niors this year.
Back in No­vem­ber 2021, CMS ex­plained that Medicare Part B will have to in­crease its stan­dard month­ly pre­mi­um — from $148.50 in 2021 to $170.10 in 2022 — in part be­cause of the mas­sive spend­ing that could oc­cur should the agency sign off on a na­tion­al cov­er­age de­ci­sion for Aduhelm, and its $56,000 an­nu­al price tag next year.
Since then, Bio­gen slashed the price of Aduhelm in half, but saw CMS' re­stric­tive na­tion­al cov­er­age de­ci­sion for Aduhelm fi­nal­ized, mean­ing the amy­loid-tar­get­ed drug will on­ly be used in clin­i­cal tri­als and won't be cov­ered by com­mer­cial in­sur­ance providers. That os­ten­si­bly means that sales of Aduhelm won't amount to much for sev­er­al years, and like­ly will nev­er hit those ini­tial $10 bil­lion-plus per year es­ti­mates.
But HHS is stick­ing with those pre­vi­ous­ly an­nounced pre­mi­um hikes and kick­ing the sav­ings can down the road.
HHS Sec­re­tary Xavier Be­cer­ra said in a state­ment last Fri­day that while these Medicare Part B pre­mi­ums for 2022 "should be ad­just­ed down­ward to ac­count for an over­es­ti­mate in costs at­trib­ut­able to the in­clu­sion of new Alzheimer's drug Aduhelm," due "to the le­gal and op­er­a­tional hur­dles in ad­just­ing Medicare pre­mi­ums mid­stream in 2022, the re­duc­tion in pre­mi­um costs at­trib­ut­able to Aduhelm will be in­cor­po­rat­ed in­to Medicare pre­mi­ums for 2023 to low­er Part B pre­mi­ums paid by Medicare ben­e­fi­cia­ries."
Ac­cord­ing to a re­port from the CMS chief ac­tu­ary ear­li­er this month, the price change for Aduhelm and the fi­nal­ized na­tion­al cov­er­age de­ci­sion from CMS mean that "the lev­el and amount of un­cer­tain­ty re­gard­ing the po­ten­tial use of Aduhelm were great­ly re­duced."
If both of those is­sues had re­solved ear­li­er, the re­port says that the 2022 Part B pre­mi­um would've been about $10 less than the cur­rent lev­el, or $160.40.
"It is cer­tain, how­ev­er, that any ad­di­tion­al fund­ing caused by in­clud­ing the un­cer­tain­ty of po­ten­tial Aduhelm costs in the 2022 pre­mi­um will be used to re­duce the nec­es­sary fi­nanc­ing in 2023 and lat­er," CMS chief ac­tu­ary Paul Spi­tal­nic wrote in a memo.
Some who are fol­low­ing this lat­est move by HHS ques­tioned what CMS is do­ing dif­fer­ent­ly with its ad­di­tion­al in­fo on Aduhelm, while oth­ers won­der if chang­ing how much peo­ple paid this year could set a bad prece­dent.
Paul Gins­burg, a pro­fes­sor of health pol­i­cy at the Uni­ver­si­ty of South­ern Cal­i­for­nia, told the Wash­ing­ton Post, "I could see chaos hap­pen­ing down the road al­most every year where some­one starts a cam­paign to pres­sure the sec­re­tary to low­er the pre­mi­um be­cause some­thing went bet­ter than ex­pect­ed."
Sur­prised on how well the CMS/Aduhelm/Part B pre­mi­um de­ci­sion spin has worked. What they re­al­ly an­nounced is that they will do noth­ing oth­er than what they would have done any­way in com­put­ing the an­nu­al pre­mi­um amount for next year.

— Ian Spatz (@rock­creekpol­i­cy) May 28, 2022