At this stage in a hostile M&A game, the best defense lies in a great offense. And Medivation is out to be as offensive as possible. To be specific, Medivation's executive team doesn't think highly of Sanofi, its bid for the company, or its ability to evaluate and develop new cancer drugs.
In a letter to shareholders, shared widely with the business press, Medivation compared and contrasted Sanofi's position, ridiculing its 50% premium offer (that came after the Great Bear Market hit everyone).
Then there's the X Factor.
"The median two-year forward revenue multiple of high growth biotechnology and oncology transactions in the last five years is 10.4×1," says Medivation. "Even Sanofi's example of Pfizer's acquisition of Anacor reflects an implied two-year forward revenue multiple of 24.2x, significantly higher than the 6.3×2 multiple implied by Sanofi's proposal.
"Pharmacyclics – the most relevant high-growth oncology peer in our view – was acquired at a two-year forward revenue multiple of 11.5x."
All that is simple math and Medivation wants the best formula it can get. Where Medivation gets down and dirty is when the biotech compares its record on cancer drug development with Sanofi's.
Sanofi famously tried to make oncology a big part of the pipeline after ex-CEO Chris Viehbacher took over. But their big drug foundered in the clinic, forcing a reorganization and leaving behind some considerable embarrassment that Medivation is playing off of now. Sales in oncology dropped by almost half at the pharma giant over the last 4 years, says the biotech, while its blockbuster revenue has been growing.
Says Medivation: "Sanofi's lack of insight and success in oncology, in our view, explains its reluctance or inability to ascribe appropriate value to our pipeline."
The company is talking about talazoparib, Medivation's PARP inhibitor which is taking on some major league rivals, including J&J.
Talazoparib is a blockbuster opportunity, with some evidence to suggest it's the best PARP inhibitor out there (see below). If Sanofi gets ahold of it, Medivation says, they'll just screw it up.
Why?
"Sanofi has had long-standing interest in talazoparib's mechanism of action (PARP inhibition) but a poor understanding of it, touting a molecule it acquired from BiPar in 2009 as a PARP inhibitor and a program key to the revitalization of its cancer business. However, after two failed phase 3 trials, it was discovered that the BiPar PARP inhibitor (iniparib) did not inhibit PARP and the program was discontinued less than 18 months before FDA granted accelerated approval to olaparib (Lynparza), the first PARP inhibitor approved in the U.S."
Here's the back story:
Medivation acquired talazoparib from BioMarin last August for $410 million upfront and $160 million in milestones. Just a few months ago, J&J struck back by bagging the prostate cancer rights on Tesaro's niraparib, setting the stage for a new showdown between Medivation's Xtandi franchise and J&J's Zytiga.
AstraZeneca gained a pioneering approval for its PARP inhibitor, Lynparza, at the end of 2014. Clovis, meanwhile, has rucaparib, which earned the FDA's breakthrough drug designation. And Clovis has plenty to prove after watching its lead program implode amid some probing questions about how the company had presented, or possibly misrepresented, the data on it.
None of this, though, is really about Sanofi's R&D expertise. Sanofi and Regeneron are now advancing their famous collaboration into oncology. What it is about is the amount the company is offering for the buyout. If they ever can agree on the money, or someone else comes along with a better offer, Medivation and talazoparib will simply go to the highest bidder.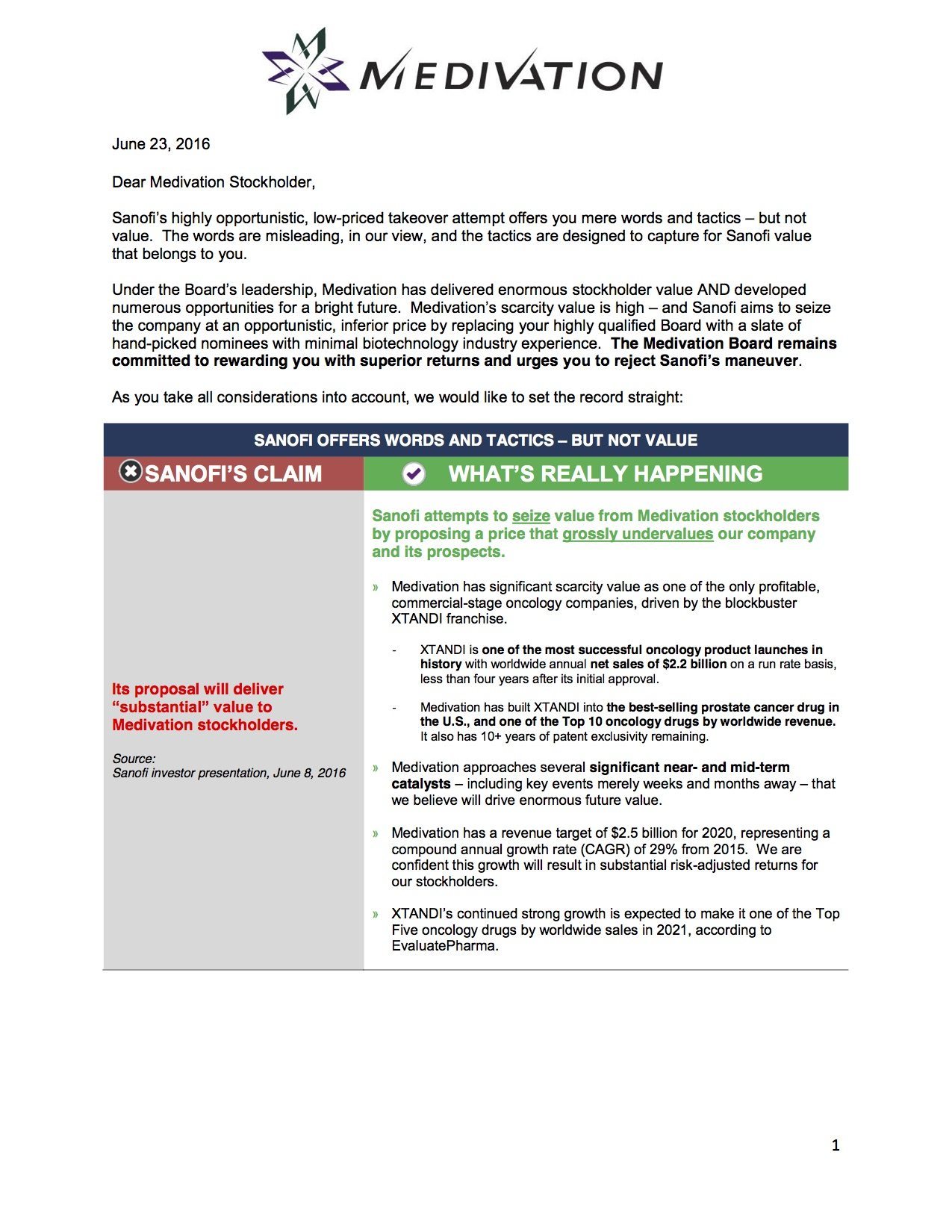 ---
The best place to read
Endpoints News

? In your inbox.

Comprehensive daily news report for those who discover, develop, and market drugs. Join 44,700+ biopharma pros who read Endpoints News by email every day.

Free Subscription
---
---
---