Megadeals keep in­vest­ments up in lifesci's Q1, but the tem­po con­tin­ues to slow for biotech
The mon­ey train in biotech­nol­o­gy has slowed down.
In an­oth­er clear sign that ven­ture in­vestors and crossovers are tap­ping the brakes, the new Mon­eyTree Re­port shows that Q1 in­vest­ing in biotech fell to $887,310,000, a sig­nif­i­cant drop from the $1.3 bil­lion the re­port reg­is­tered for the same pe­ri­od in 2016.
But with the help of a cou­ple of megadeals — in­clud­ing a $900 mil­lion wa­ger on a new di­ag­nos­tics play­er — once you step back and take a broad­er look at the life sci­ences busi­ness the over­all num­ber for the in­dus­try, in­clud­ing de­vices, swelled to $3.4 bil­lion, a sig­nif­i­cant gain over the first three months of 2016.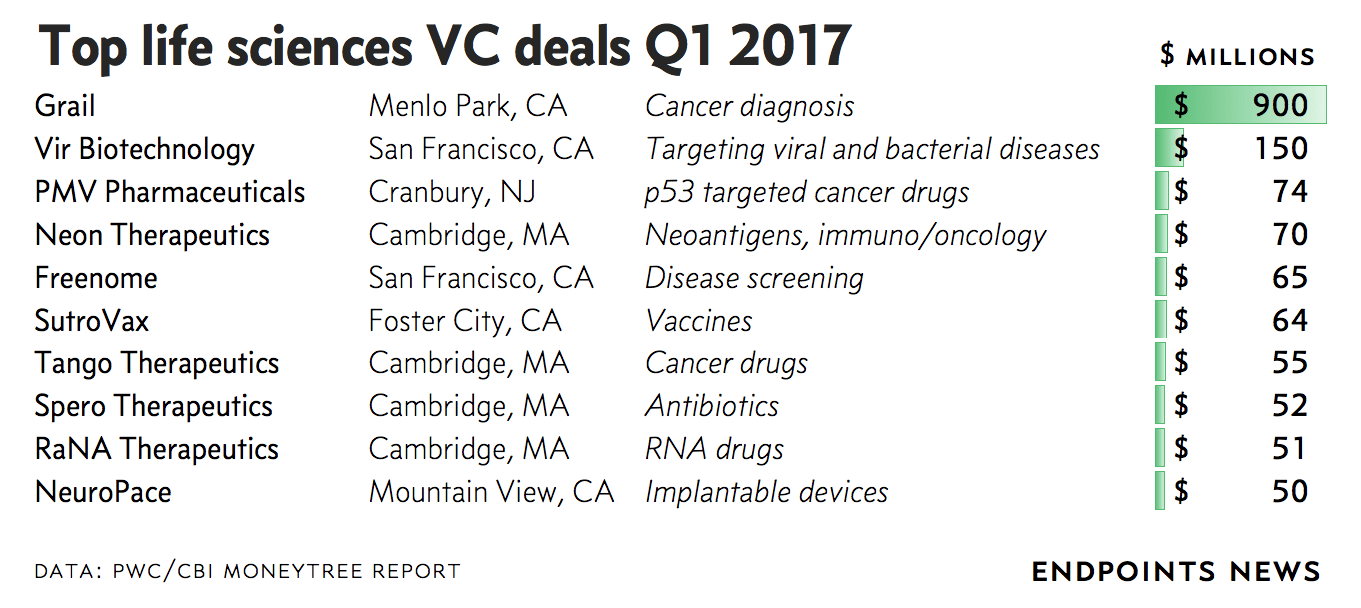 ---
The mon­ey flow­ing in­to biotech­nol­o­gy al­so out­paced the fourth quar­ter of last year, when the Mon­eyTree re­port al­so reg­is­tered a drop year-over-year, with $668 mil­lion flow­ing in­to drug de­vel­op­ment.
The Mon­eyTree Re­port by Price­wa­ter­house­C­oop­ers has un­der­gone some dis­tinct changes, though, as Thom­son Reuters' num­bers were switched out with da­ta col­lect­ed by CB In­sights. And the old and new da­ta do not align, un­der­scor­ing how var­ied these analy­ses can be.
Grail had a lot to do with the over­all in­crease. Di­ag­nos­tics is an ac­tive but def­i­nite­ly small­er niche play­er in the quar­ter-by-quar­ter num­ber analy­sis done by their re­searchers. And Grail is one of the biggest ex­am­ples of how some VCs like Arch en­joy swing­ing for the fences with big bets on new tech.
Arch was al­so be­hind George Scan­gos' new ven­ture, Vir Biotech­nol­o­gy, which at­tract­ed a $150 mil­lion megaround to tar­get vi­ral and bac­te­r­i­al dis­eases.
If you break out the top 10 lifesci in­vest­ments last quar­ter, you'll see an even split be­tween the Bay Area and Cam­bridge, MA, though more dol­lars flowed in­to a few over­sized plays on the West Coast.
Ven­ture in­vest­ing in biotech hit a peak in 2015 and ear­ly 2016 on top of an IPO boom and a myr­i­ad of prof­itable ex­its. The boom has fad­ed as IPOs slowed, and the slide has tak­en much of that crossover mon­ey with it.
Still, it's ear­ly days in biotech, and we've seen some new VC play­ers hit the field re­cent­ly while old­er funds con­tin­ue to at­tract some record sums.