Mer­ck and No­var­tis chiefs out­line what's on the M&A menu in 2017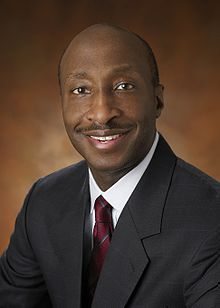 Ken Fra­zier, Mer­ck
Every quar­ter Big Phar­ma CEOs al­most in­evitably get to an­swer at least one ques­tion from a promi­nent an­a­lyst about their next ac­qui­si­tion. This year, the ques­tions have be­come more point­ed as more of the Big 10 play­ers talk a good game, but rarely seem to de­liv­er—un­less their name is Pfiz­er.
Here's the bot­tom line on what we found out on Tues­day: Bolt-ons are still all the rage in M&A.
Mer­ck, which has been a very cau­tious play­er since its Cu­bist buy­out, wants any­thing new on the deal ta­ble to be eas­i­ly clipped in­to the com­pa­ny's cur­rent struc­ture. Sound fa­mil­iar?
Basel-based No­var­tis, which spent part of the morn­ing re­view­ing a dozen po­ten­tial block­buster pro­grams, is in ex­act­ly the same spot.
And Mer­ck ex­ecs are not re­al­ly too con­cerned about be­ing dis­tract­ed from Keytru­da. Though that may be be­cause that with 360 clin­i­cal tri­als for the check­point un­der­way, in­clud­ing 200 com­bo stud­ies, Keytru­da is ab­sorb­ing mas­sive amounts of at­ten­tion that would make ne­glect all but im­pos­si­ble on that front.
Mer­ck's most re­cent deal to buy Af­fer­ent for $500 mil­lion down and $750 mil­lion in mile­stones pro­vides an ex­am­ple of what the phar­ma gi­ant is think­ing these days. It al­so likes to pick up new tech for its im­mune-on­col­o­gy group, as it proved ear­ly this year with the ac­qui­si­tion of the small UK com­pa­ny IOmet.
Here's Ken Fra­zier, an­swer­ing a ques­tion from Tim An­der­son:
So I said that it re­mains an im­por­tant pri­or­i­ty, and you should know we're ac­tive­ly en­gaged and look­ing for ways of aug­ment­ing our pipeline. And in so do­ing, it's im­por­tant to re­mem­ber that we are not lim­it­ed by size or by phase. We're go­ing to con­tin­ue to look for the best part­ner­ships and col­lab­o­ra­tions. But fun­da­men­tal­ly, we're look­ing for bolt-on op­por­tu­ni­ties as a com­pa­ny. Your ques­tion about whether or not Keytru­da changes our ap­proach to busi­ness de­vel­op­ment; not re­al­ly. We need to aug­ment our pipeline. We con­tin­ue to be ac­tive in that area. But I would not say that the Au­gust 5 news has changed our fun­da­men­tal ap­proach to busi­ness de­vel­op­ment.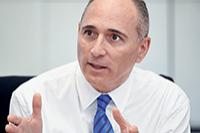 No­var­tis CEO Joe Jimenez
No­var­tis doesn't seem pre­oc­cu­pied with M&A right now. Here's CEO Joe Jimenez an­swer­ing the M&A ques­tion from An­drew Baum at Cit­i­group:
And then An­drew on your ques­tion on large-scale M&A. Look, we have been pret­ty clear that bolt-on strat­e­gy is re­al­ly where we are fo­cused at this point, that is…we won't do large-scale, but it would have to be very, very at­trac­tive for No­var­tis share­hold­ers, if we did. Right now, we're fo­cused on bolt-on and I think if you look at our pipeline, if you look at the un­der­ly­ing growth of this com­pa­ny, as soon as we get through 2017, which will be the fi­nal year of the Gleevec patent ex­pi­ra­tion in Eu­rope, the true growth rate of this com­pa­ny is go­ing to come through in 2017 – in 2018, 2019 and 2020. So to­wards the back end of 2017, 2018, 2019 and 2020 and with – that's with­out the 12 block­busters that you just saw up there on the list. So on top of that, I think, we're in a po­si­tion of not, you know, hav­ing to do large-scale M&A and there are some com­pa­nies in our sec­tor that will just pick from a pipeline stand­point. And so, we're go­ing to see how things play out, but re­al­ly fo­cus on bolt-ons at this point.
Did I say megamerg­ers are out? I prob­a­bly shouldn't have to at this stage. But count Mer­ck and No­var­tis out. Eli Lil­ly as well, though they didn't have much to say about M&A in their call. That might be a sign of the progress they've had with their pipeline.