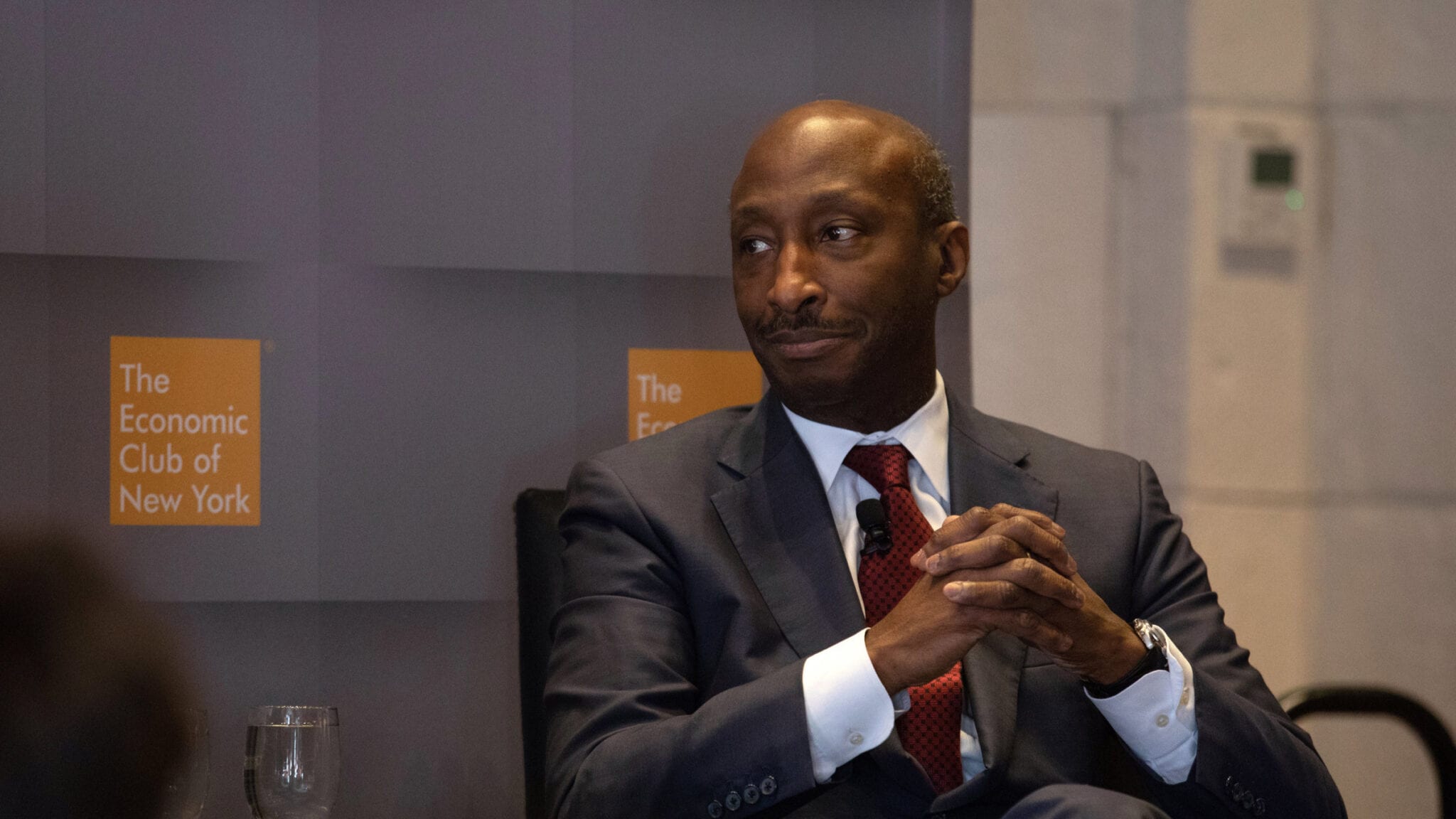 Ken Frazier, Merck CEO (Bess Adler/Bloomberg via Getty Images)
Mer­ck CEO Ken Fra­zier pre­pares to step down af­ter 29 years, hand­ing the keys to the Keytru­da race car to CFO Robert Davis
Mer­ck CEO Ken Fra­zier has seen a lot in his 29 years at the Ke­nil­worth, NJ-based drug­mak­er, but it was 2020 that gave him a true pub­lic face. Amid a spate of po­lice shoot­ings, Fra­zier emerged as a lead­ing voice in the ar­gu­ment for racial equal­i­ty in health­care and so­ci­ety writ large.
And now, just like that, he's step­ping away from the helm he has held for 10 years — and could be look­ing at a fu­ture as a high­ly sought-af­ter el­der states­man and truth-teller.
Fra­zier will leave his role as CEO on June 30, step­ping over in­to the ex­ec­u­tive chair­man role in fa­vor of CFO Robert Davis. Davis, a four-year vet­er­an at Mer­ck, comes with a dec­o­rat­ed ré­sumé, in­clud­ing time served as CFO at Bax­ter and 14 years in the ranks at Eli Lil­ly.
Davis will take con­trol as Mer­ck looks in­to a fu­ture with­out its two lodestars — Fra­zier and Roger Perl­mut­ter, the R&D ti­tan re­spon­si­ble in large part for the suc­cess of I/O block­buster Keytru­da. Perl­mut­ter has al­ready hand­ed the reins to Dean Li, the cur­rent dis­cov­ery lead at Mer­ck, sig­nal­ing the phar­ma gi­ant's in­tent to con­tin­ue the search for the next big Keytru­da fol­low-up. Perl­mut­ter plans to stay on in a non-ex­ec­u­tive di­rec­tor role through mid-2021.
"We have tremen­dous con­fi­dence in Rob's abil­i­ty to con­tin­ue to fos­ter in­no­va­tion and to team with Dean Li … to dri­ve sci­en­tif­ic ex­cel­lence in­to the fu­ture," Mer­ck's lead in­de­pen­dent di­rec­tor Les Brun said in a state­ment. "We are par­tic­u­lar­ly pleased that Ken will con­tin­ue as ex­ec­u­tive chair­man in or­der to work with Rob and Dean to en­sure a smooth tran­si­tion for the com­pa­ny."
Fra­zier be­gan work at Mer­ck in 1992 as VP, gen­er­al coun­sel and sec­re­tary of what was then the As­tra Mer­ck group. Fol­low­ing a se­ries of pro­mo­tions in the 1990s, Fra­zier jumped to the C-suite in No­vem­ber 2006, tak­ing on the role of ex­ec­u­tive VP and gen­er­al coun­sel. Af­ter a brief stint as VP and pres­i­dent of Mer­ck's glob­al hu­man health branch, Fra­zier snared the pres­i­dent role in 2010 and quick­ly as­cend­ed to CEO in ear­ly 2011, where he has stayed since.
Fra­zier's fi­nal years at Mer­ck were marked in large part by pol­i­tics — a role he was not un­fa­mil­iar with giv­en his time on the board of lob­by­ist PhRMA. In 2017, Fra­zier bailed on Pres­i­dent Don­ald Trump's man­u­fac­tur­ing coun­cil af­ter claim­ing the pres­i­dent hadn't done enough to con­demn white su­prema­cists who gath­ered at a Char­lottesville, VA ral­ly that claimed the life of a young white woman.
"Amer­i­ca's lead­ers must hon­or our fun­da­men­tal val­ues by clear­ly re­ject­ing ex­pres­sions of ha­tred, big­otry and group su­prema­cy, which run counter to the Amer­i­can ide­al that all peo­ple are cre­at­ed equal," Fra­zier said in a state­ment at the time. "As CEO of Mer­ck and as a mat­ter of per­son­al con­science, I feel a re­spon­si­bil­i­ty to take a stand against in­tol­er­ance and ex­trem­ism."
In 2020, Fra­zier's star as a pub­lic truth-teller on race — he is the on­ly Black man to lead one of the Big Phar­mas — rose even high­er af­ter the death of George Floyd at the hands of Min­neapo­lis po­lice in May. Fra­zier, in a poignant mo­ment, said that Floyd "could be me."
Jump­ing on a train of pledges for racial equal­i­ty at ma­jor cor­po­ra­tions, Fra­zier pledged to join a coali­tion, dubbed OneTen, to hire 1 mil­lion black work­ers with­in 10 years. He fre­quent­ly called out the un­der­rep­re­sen­ta­tion of black work­ers across health­care, even at his own com­pa­ny.
In tan­dem with his pub­lic work, Fra­zier al­so over­saw the mas­sive suc­cess of Keytru­da, which has tak­en the on­col­o­gy space by storm on the way to $14.4 bil­lion in sales in 2020 — rank­ing just be­hind Ab­b­Vie's im­munol­o­gy be­he­moth Hu­mi­ra. Un­like Hu­mi­ra, how­ev­er, Keytru­da's war chest is still grow­ing at a rapid clip — 30% on the year — un­der­scor­ing the I/O drug's vast suc­cess across a wide range of in­di­ca­tions.
Keytru­da, and par­tic­u­lar­ly Perl­mut­ter's role in dri­ving suc­cess across its pipeline, was a salve for Fra­zier's ear­ly years at the top of Mer­ck as prof­its stag­nat­ed in the ear­ly 2010s. Perl­mut­ter's ar­rival in 2013 and sub­se­quent Keytru­da suc­cess re­freshed Mer­ck's im­age, but in re­cent years an­a­lysts have wor­ried whether the com­pa­ny has tacked too much of its suc­cess to that one ther­a­py.
Li's as­sump­tion to R&D chief could help iden­ti­fy the next big tar­get, and he and Davis will be tasked with an­swer­ing con­cerns over Mer­ck's slim pipeline as well as how to keep Keytru­da on a growth clip as it looks to take over Hu­mi­ra's top spot.