Mer­ck, In­cyte map a Phase III pipeline of their own for a front­line com­bo of Keytru­da and epaca­do­stat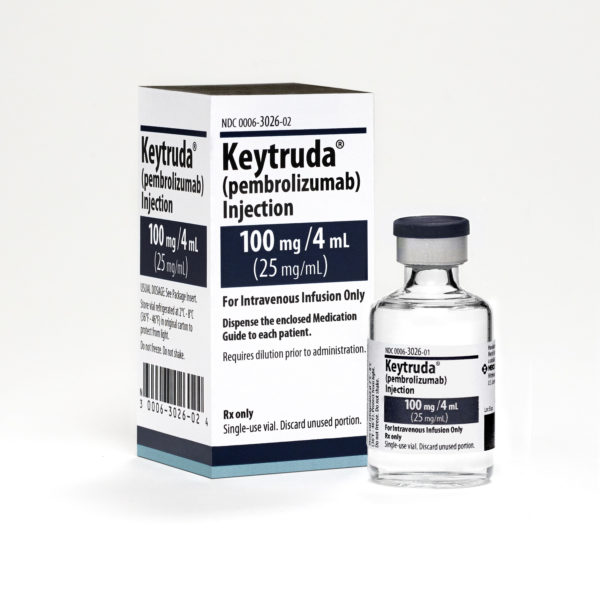 Keytru­da (pem­brolizum­ab)
Last fall In­cyte and Mer­ck whipped up con­sid­er­able en­thu­si­asm for a match-up of their IDO1 en­zyme in­hibitor and Keytru­da in an ear­ly-stage study of melanoma. They fol­lowed up with a com­mit­ment to ex­pand their part­ner­ship to go af­ter a range of can­cers. And this morn­ing the part­ners out­lined ag­gres­sive plans to take the com­bo through sev­en piv­otal tri­als.
Re­searchers for these two com­pa­nies got ex­cit­ed about the po­ten­tial for this com­bi­na­tion af­ter see­ing pro­gres­sion-free sur­vival rates of 74 per­cent and 57 per­cent at 6 months and 12 months among the ad­vanced melanoma pa­tients they treat­ed last year in a Phase I. Their melanoma part­ner­ship was ex­pand­ed to in­clude a Phase III melanoma tri­al. Now they are push­ing ahead in the clin­ic to see if In­cyte's epaca­do­stat and Keytru­da can make a sig­nif­i­cant dif­fer­ence in front­line use against non-small cell lung can­cer, blad­der can­cer, re­nal can­cer and squa­mous cell car­ci­no­ma of the head and neck (SC­CHN).
Al­ready in a Phase III melanoma study, in­ves­ti­ga­tors are adding:
• Two Phase III stud­ies in first-line NSCLC, in­clud­ing both PD-L1 high-ex­press­ing and PD-L1 un­s­e­lect­ed pop­u­la­tions.
• Two Phase III stud­ies in blad­der can­cer, in­clud­ing one in first-line blad­der can­cer and one in sec­ond-line blad­der can­cer.
• A Phase III study in first-line RCC.
• And a Phase III study in first-line SC­CHN.
Mer­ck is man­ag­ing the tri­al work while the two com­pa­nies share ex­pens­es.
When RBC's Simos Sime­oni­dis saw the first cut of the Phase I da­ta, he con­clud­ed that In­cyte and Mer­ck have an ex­cel­lent shot of beat­ing out Bris­tol-My­ers Squibb's piv­otal com­bi­na­tion study of Yer­voy and Op­di­vo for first-line use in non-small cell lung can­cer. And right now, Mer­ck's abil­i­ty to ma­neu­ver past Bris­tol-My­ers and seize the lead on NSCLC con­tin­ues to stag­ger an­a­lysts.
Mer­ck, of course, is spar­ing no ex­pense in push­ing dozens of piv­otal stud­ies of Keytru­da, in­tent on cap­i­tal­iz­ing on a ma­jor mar­ket op­por­tu­ni­ty and un­will­ing to let a grow­ing field of com­peti­tors ham­per its pur­suit of block­buster rev­enue.
Most re­cent­ly Pfiz­er and Mer­ck KGaA gained an ap­proval for the fourth check­point ther­a­py — com­ing in right be­hind Roche — which un­leash­es an im­mune sys­tem at­tack on can­cer cells. As­traZeneca, mean­while, re­jigged its de­vel­op­ment ef­fort to amp up its work on a com­bi­na­tion of dur­val­um­ab and treme­li­mum­ab.
Ri­vals in the field are pay­ing rapt at­ten­tion to every new move.