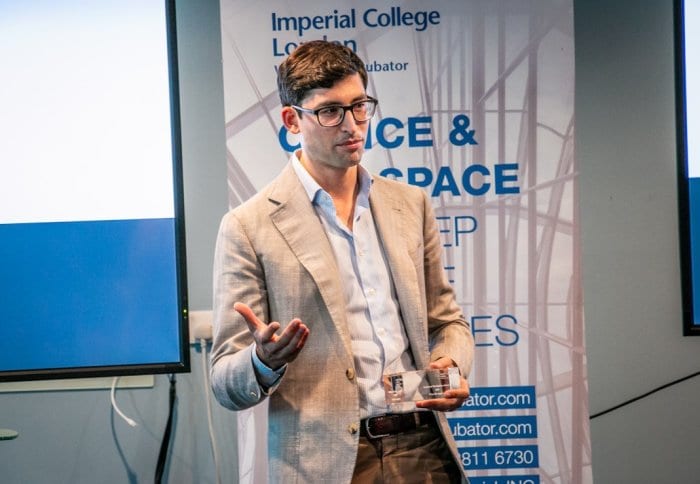 Robert Habib (Credit: Imperial College London)
Mi­NA Ther­a­peu­tics bags near­ly $30M Se­ries A to push ac­ti­vat­ing mR­NA tech through the clin­ic
Sev­en years af­ter leav­ing in­vest­ment bank­ing to take the helm at Mi­NA Ther­a­peu­tics, CEO Robert Habib is on a mis­sion to de­vel­op a "new class of med­i­cines" us­ing small ac­ti­vat­ing mR­NA tech­nol­o­gy. And on Thurs­day, the Lon­don-based biotech an­nounced it land­ed a mod­est £23 mil­lion (near­ly $30 mil­lion) Se­ries A to work with.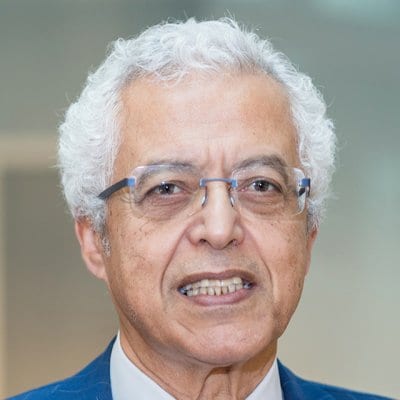 Nagy Habib
Habib's fa­ther, the promi­nent Im­pe­r­i­al Col­lege Lon­don pro­fes­sor Nagy Habib, co-found­ed Mi­NA in 2008. The com­pa­ny's lead mR­NA pro­gram is de­signed to "switch genes on," and po­ten­tial­ly help treat what the CEO called "the un­drug­gable": dif­fi­cult-to-treat dis­eases, start­ing with liv­er can­cer.
"It's sort of en­cour­ag­ing the cell's own ma­chin­ery to pay at­ten­tion and to start pro­duc­ing a bit more of the gene that we are in­ter­est­ed in. And that gene ob­vi­ous­ly will pro­duce more mes­sen­ger RNA. And that mes­sen­ger RNA will re­sult in more pro­tein. And if we're tar­get­ing the right pro­tein, we're go­ing to have a ther­a­peu­tic ben­e­fit," Habib said.
In 2017, So­sei put down about $45 mil­lion for 25.6% of Mi­NA's eq­ui­ty. Pe­ter Bains, So­sei CEO at the time, laid out a $534 mil­lion plan to ac­quire Mi­NA, which was putting its lead can­di­date in a Phase I/IIa tri­al for liv­er can­cer. Bains said the deal was an­oth­er step in ex­pand­ing So­sei's glob­al reach. About a year and a half lat­er, So­sei passed on that op­tion, but kept its stake.
Mi­NA's lead pro­gram goes af­ter CEB­PA in the hopes of re­duc­ing im­mune sup­pres­sion caused by im­ma­ture myeloid cells to im­prove the ef­fi­ca­cy of can­cer ther­a­pies. Its can­di­date, MTL-CEB­PA, is be­ing test­ed as a com­bi­na­tion ther­a­py with Bay­er's so­rafenib in ad­vanced liv­er can­cer pa­tients and Mer­ck's pem­brolizum­ab in pa­tients with ad­vanced sol­id tu­mors.
The drug doesn't di­rect­ly af­fect the can­cer — just the en­vi­ron­ment in which it is grow­ing.
"That strat­e­gy of re­duc­ing im­mune sup­pres­sion and clear­ing those im­ma­ture myeloid cells … is be­lieved to be an im­por­tant strat­e­gy in im­prov­ing the ef­fects of a range of can­cer ther­a­pies," Habib said.
The Se­ries A fund­ing will be used to con­duct a Phase II study of MTL-CEB­PA with so­rafenib for the liv­er can­cer in­di­ca­tion, and com­plete an on­go­ing Phase I/Ib study of the pem­brolizum­ab com­bi­na­tion. In the Phase II study, Mi­NA will fo­cus on dura­bil­i­ty. Habib ex­pects the study to be­gin ear­ly next year, with up to 70 pa­tients in the UK, US, and some Asian and Eu­ro­pean coun­tries.
When ad­min­is­tered on its own, so­rafenib typ­i­cal­ly has an ob­jec­tive re­sponse rate of be­tween 0 to 10%, ac­cord­ing to Habib. But when giv­en with MTL-CEB­PA, "we're see­ing ob­jec­tive re­spons­es above that ab­solute pro­por­tion, and we're see­ing com­plete re­spons­es of liv­er pa­tients which is an ab­solute­ly ex­tra­or­di­nary fea­ture," he added.
"Liv­er can­cer is one of the can­cers which has re­al­ly not im­proved by a huge amount over sev­er­al decades," Habib said. " … The con­cept of com­plete re­mis­sion is a con­cept which is very for­eign to pa­tients and to physi­cians in liv­er can­cer."
The com­pa­ny is ac­tive­ly look­ing to ex­pand its plat­form to oth­er in­di­ca­tions as well.
aMoon, an Is­rael-based healthtech and life sci­ences ven­ture fund, led the Se­ries A round and ex­ist­ing in­vestors pitched in. As part of the deal, aMoon man­ag­ing di­rec­tor Gur Rosh­walb is join­ing Mi­NA's board of di­rec­tors.