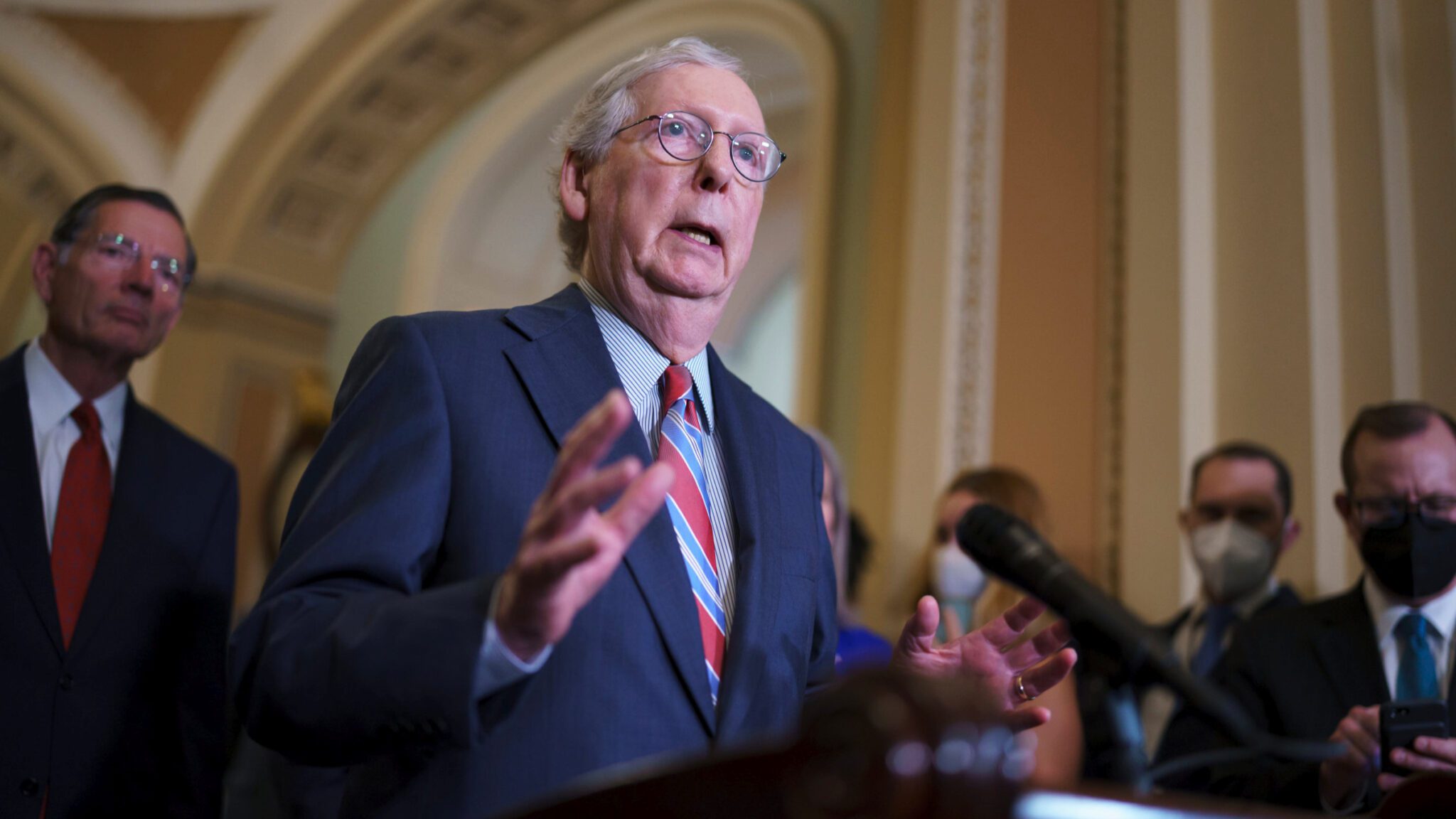 Sen. Mitch McConnell (R-KY) at the Capitol (J. Scott Applewhite/AP Images)
Mitch Mc­Connell, top Re­pub­li­cans ques­tion Biden on get­ting ahead of FDA on Covid-19 boost­ers
Sen­ate Mi­nor­i­ty Leader Mitch Mc­Connell, Sen­ate Health Com­mit­tee rank­ing mem­ber Richard Burr and oth­er top Re­pub­li­cans are ques­tion­ing the Biden ad­min­is­tra­tion's de­ci­sion to get out in front of the FDA and an­nounce that Covid-19 vac­cine boost­ers would be ready for ad­min­is­tra­tion by this week.
While Burr praised the FDA's EUA for the boost­ers Wednes­day evening, the Re­pub­li­cans ear­li­er in the day called on White House coro­n­avirus re­sponse co­or­di­na­tor Jef­frey Zients to re­lease an up­dat­ed strat­e­gy on lever­ag­ing vac­cines to end the pan­dem­ic and to clar­i­fy what ex­act­ly hap­pened with the pre­ma­ture an­nounce­ment on the boost­ers.
Last month, the Biden ad­min­is­tra­tion con­tro­ver­sial­ly planned for the boost­ers to be avail­able for all be­gin­ning this week, be­fore any of the fol­low-on shots had been au­tho­rized for use. Since then, his top Covid of­fi­cials have at­tempt­ed to down­play the cer­tain­ty of the plan. Two top FDA vac­cine of­fi­cials al­so al­leged­ly re­tired in part be­cause of con­cerns with this po­lit­i­cal pres­sure to meet Biden's time­line.
Sur­geon Gen­er­al Vivek Murthy said in a press brief­ing last Fri­day: "The an­nounce­ment in Au­gust, and cer­tain­ly in the time since then, we have al­ways said that this ini­tial plan would be con­tin­gent on the FDA and the CDC's in­de­pen­dent eval­u­a­tion." That eval­u­a­tion from the FDA led to a more re­strict­ed EUA than Pfiz­er ini­tial­ly sought.
The Re­pub­li­cans ques­tioned Zients on this point in a let­ter Wednes­day: "Why did the White House an­nounce vac­cine boost­ers would be avail­able to all Amer­i­cans pri­or to any sci­en­tif­ic or reg­u­la­to­ry work be­ing done to ap­prove or au­tho­rize such boost­ers?" They al­so asked which stud­ies are be­ing con­duct­ed and re­lied up­on to de­ter­mine that boost­ers are nec­es­sary for all Amer­i­cans.
And the Re­pub­li­can sen­a­tors ques­tioned HHS' new plan to con­trol dis­tri­b­u­tion to cer­tain states seek­ing ac­cess to mon­o­clon­al an­ti­body treat­ments for Covid-19.
Last week, HHS an­nounced it would tran­si­tion from a di­rect or­der­ing process to a state/ter­ri­to­ry-co­or­di­nat­ed dis­tri­b­u­tion sys­tem, sim­i­lar to what was used when mAbs were first dis­trib­uted from No­vem­ber 2020 through Feb­ru­ary 2021.
Un­der the new sys­tem, HHS will de­ter­mine the week­ly amount of mAbs each state and ter­ri­to­ry re­ceives based on Covid-19 case bur­den and mAb uti­liza­tion. State and ter­ri­to­r­i­al health de­part­ments will then se­lect sites to re­ceive prod­uct as well as the amount each site re­ceives. That places more of the bur­den on the fed­er­al gov­ern­ment to fig­ure out which states are in great­est need.
But the change comes amid a grow­ing de­mand and re­cent in­crease in the preva­lence of the Delta vari­ant, and as HHS an­nounced ear­li­er in the month that it was look­ing in­to mAb short­ages and or­ders.