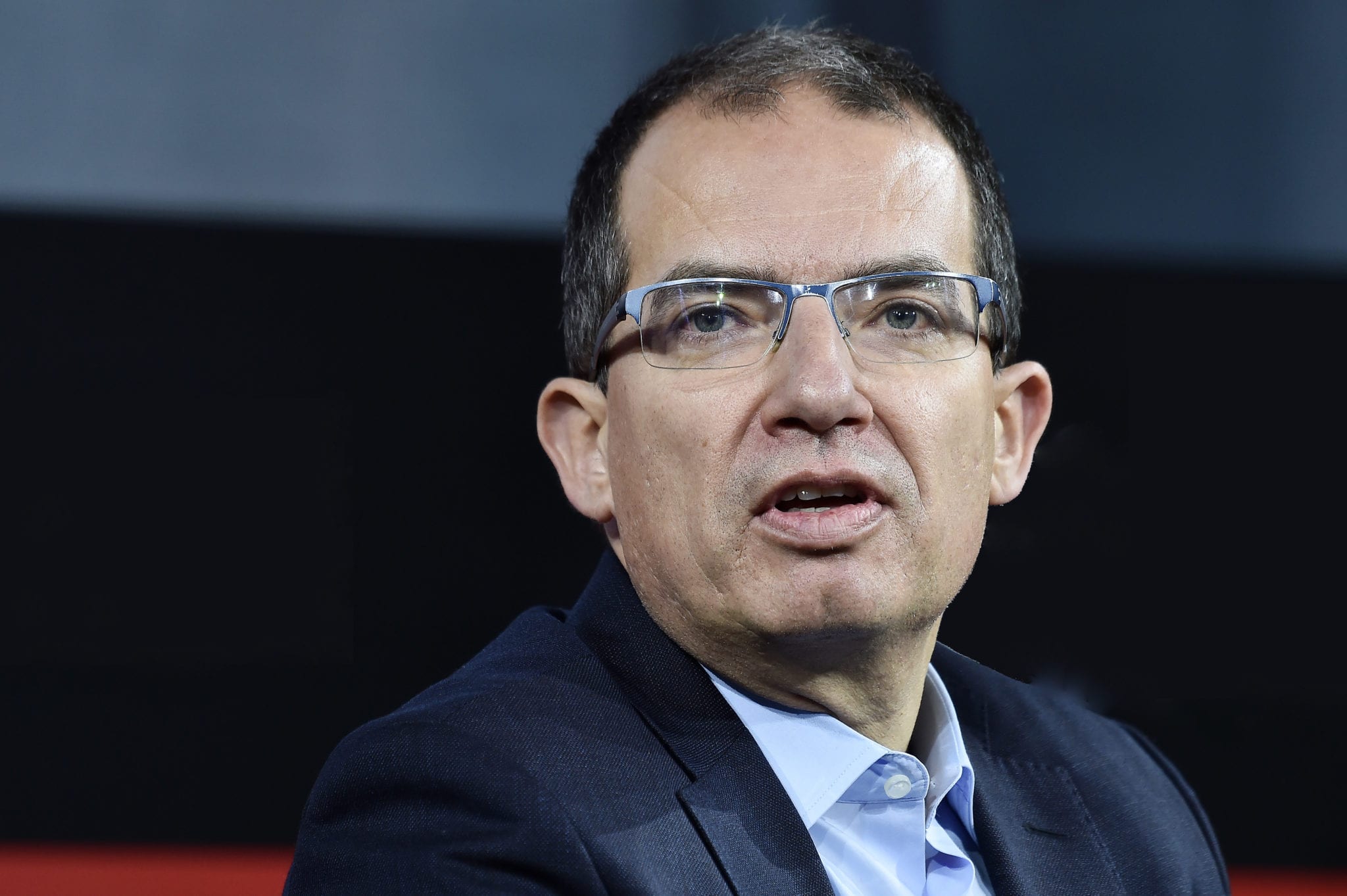 Stéphane Bancel, Moderna CEO (Steven Ferdman/Getty Images)
Mod­er­na chips in fur­ther on African vac­cine sup­ply — but ad­vo­cates are call­ing for even more
In a sign of its grow­ing com­mit­ment to the con­ti­nent, Mod­er­na will sup­ply up to 110 mil­lion dos­es of its Covid-19 vac­cine to the African Union, the com­pa­ny an­nounced Tues­day. And CEO Stéphane Ban­cel said it's just the first step.
"We be­lieve our vac­cine can play an im­por­tant role in ad­dress­ing the needs of low-in­come coun­tries giv­en its com­bi­na­tion of high Phase 3 ef­fi­ca­cy against COVID-19, strong dura­bil­i­ty in the re­al-world ev­i­dence, and su­pe­ri­or stor­age and han­dling con­di­tions. We rec­og­nize that ac­cess to COVID-19 vac­cines con­tin­ues to be a chal­lenge in many parts of the world and we re­main com­mit­ted to help­ing to pro­tect as many peo­ple as pos­si­ble around the globe," Ban­cel said in a state­ment.
The first 15 mil­lion dos­es will come in Q4 of 2021, with an­oth­er 35 mil­lion in Q1 2022 and up to 60 mil­lion in Q2 2022. All of those dos­es will be of­fered at the com­pa­ny's low­est tiered price. It is al­so work­ing on plans to al­low it­self to fill dos­es in Africa as ear­ly as 2023, in a mem­o­ran­dum of un­der­stand­ing that would add an ad­di­tion­al 500 mil­lion dos­es in ad­di­tion to pre­vi­ous deals with Co­v­ax through 2022.
The move comes as Mod­er­na is un­der im­mense pres­sure from the White House and pub­lic health ad­vo­cates. The com­pa­ny has large­ly ex­port­ed its shots to wealth­i­er coun­tries so far, at a time when few­er than 6% of Africa's en­tire pop­u­la­tion has been ful­ly vac­ci­nat­ed. Just 4% of the world's dos­es have been ad­min­is­tered in Africa.
"It's a drop in the ocean for what the needs are," Fa­ti­ma Has­san, the head of the Health Jus­tice Ini­tia­tive in South Africa, said of Mod­er­na's an­nounce­ment to the New York Times. "It's up to 110 mil­lion for a pop­u­la­tion and a con­ti­nent of 1.3 bil­lion."
In an in­ter­view with End­points News, Ban­cel said that the vi­sion for an African man­u­fac­tur­ing site stemmed from a de­sire to treat trop­i­cal dis­eases that arose dur­ing the time he lived in Asia. Now, as the CEO of a com­pa­ny that's dou­bled its work­force in the past year, Ban­cel says it seems dif­fi­cult to imag­ine the next 10 years of Mod­er­na with­out a pres­ence in Africa.
Ad­vo­ca­cy groups, such as Pub­lic Cit­i­zen, have called for the com­pa­ny to share its vac­cine's in­tel­lec­tu­al prop­er­ty. Mean­while, US Pres­i­dent Joe Biden's ad­min­is­tra­tion has ques­tioned why the num­ber of dos­es pledged to low­er- and mid­dle-in­come coun­tries are much low­er than oth­er com­pa­nies. The Times found 1 mil­lion of Mod­er­na's dos­es have gone to coun­tries clas­si­fied as low-in­come by the World Bank, com­pared with 8.4 mil­lion from Pfiz­er and 25 mil­lion from J&J.
But Ban­cel said that among oth­er rea­sons, sup­ply con­tracts and ex­port con­trols with the US and Eu­rope are to blame for the slow ex­ports, and the size of Mod­er­na's staff — 1,500 to­tal em­ploy­ees, com­pared with Pfiz­er's 29,400 in the US alone — has been a con­tribut­ing fac­tor.
The con­ti­nent now has two di­rect vac­cine sup­ply deals, as it al­so has agreed to 220 mil­lion dos­es of J&J's sin­gle-shot vac­cine, with an op­tion for 180 mil­lion more.
The com­pa­ny's boost­er dose was al­so giv­en ap­proval by Swissmedic Tues­day for in­di­vid­u­als 12 years and old­er in pa­tients with a weak­ened im­mune sys­tem. That is to be ad­min­is­tered at least 28 days af­ter the sec­ond dose.