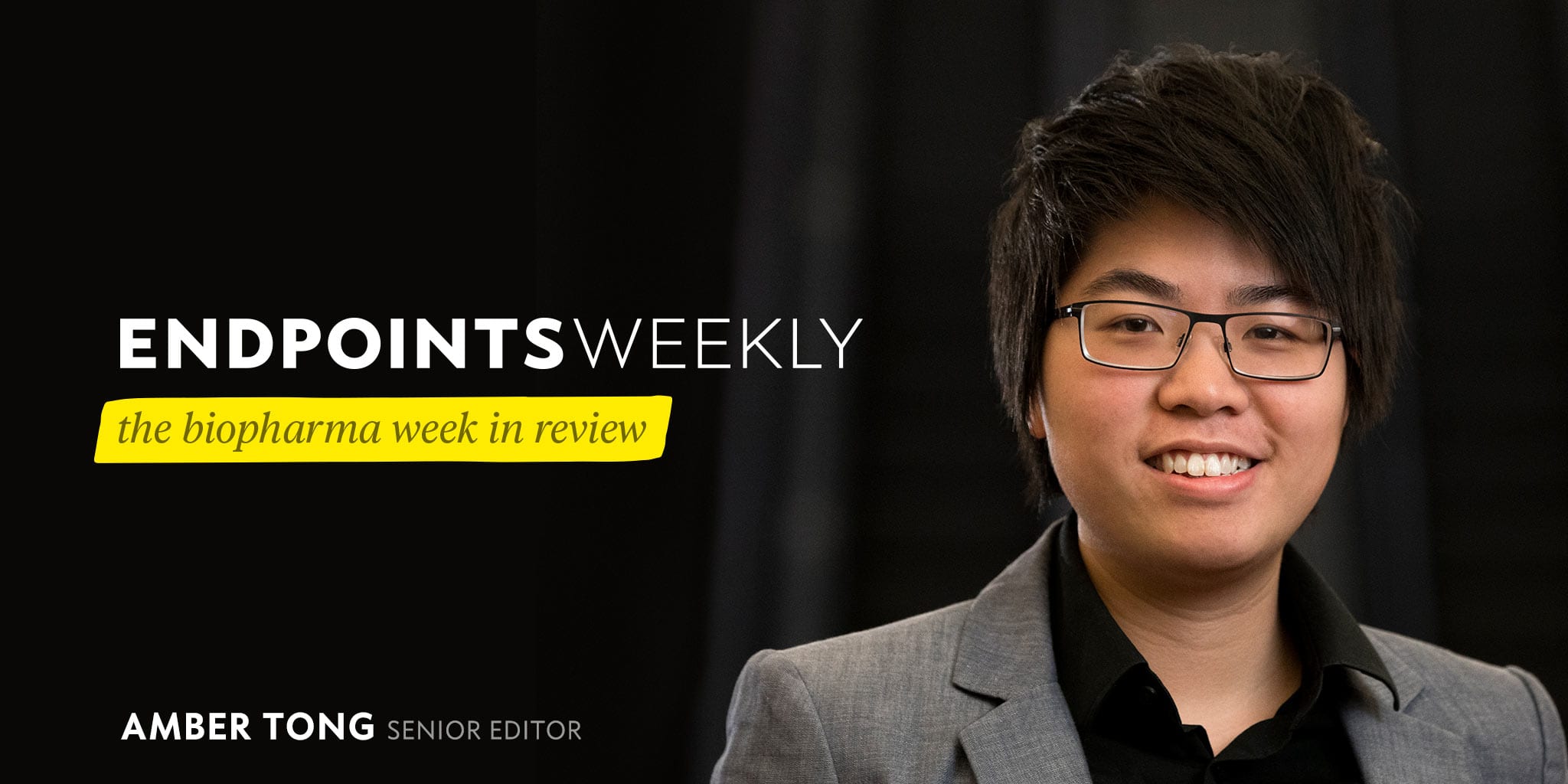 Mod­er­na goes on the patent of­fen­sive; Pablo Legor­re­ta dou­bles down; Is a biotech re­cov­ery on the way?; and more
Wel­come back to End­points Week­ly, your re­view of the week's top bio­phar­ma head­lines. Want this in your in­box every Sat­ur­day morn­ing? Cur­rent End­points read­ers can vis­it their read­er pro­file to add End­points Week­ly. New to End­points? Sign up here.
An­oth­er round of ma­jor med­ical con­fer­ences is up­on us, and Kyle LaHu­cik is in Barcelona, bring­ing us live cov­er­age from the Eu­ro­pean So­ci­ety of Car­di­ol­o­gy Con­gress. We'll be post­ing up­dates on our web­site through­out the week­end.
Mod­er­na goes on the patent of­fen­sive
Mod­er­na said in March it would be­gin en­forc­ing its Covid-19 vac­cine patents in wealthy coun­tries. In an ag­gres­sive move, it is su­ing Pfiz­er and BioN­Tech over their mR­NA shot, al­leg­ing that their ri­val Covid-19 vac­cine copied parts of Mod­er­na's vac­cine tech­nol­o­gy that it had patent­ed be­tween 2010 and 2016, when it was de­vel­op­ing an mR­NA vac­cine for MERS. Con­sid­er Pfiz­er "sur­prised" — while a le­gal schol­ar be­lieves that Mod­er­na's pre­vi­ous pledge about patent en­force­ment could be key here.
Roy­al­ty treat­ment
In­vestors have pulled back from the biotech in­dus­try in re­cent months. But not Pablo Legor­re­ta, who qui­et­ly pi­o­neered a drug de­vel­op­ment niche that's in de­mand. His com­pa­ny, Roy­al­ty Phar­ma, is dou­bling down on its spe­cial­ty in­vest­ment strat­e­gy with plans to de­ploy $10 bil­lion to $12 bil­lion in cap­i­tal in the next five years, up from a $7 bil­lion fore­cast two years ago. Legor­re­ta, who keeps a low pro­file and rarely grants in­ter­views, told End­points fea­tures ed­i­tor Jared Whit­lock that these beefed-up plans stem from the sec­tor's large cap­i­tal needs both in the im­me­di­ate and dis­tant fu­ture.
Is a biotech recov­ery on the way?
The Covid im­pact — es­ca­lat­ing the biotech in­dus­try's mis­sion to bring new treat­ments and vac­cines to the world in record time — led to a "sug­ar high," and the sub­se­quent crash has been weigh­ing on dozens of drug de­vel­op­ers. But signs of a re­cov­ery are on the way, Kyle LaHu­cik re­ports, thanks to a se­ries of pos­i­tive clin­i­cal tri­al read­outs, ac­qui­si­tions, drug ap­provals and the pop­u­lar da­ta-to-fi­nanc­ing train. In a some­what brave move, Third Har­mon­ic, the At­las-backed start­up led by Na­tal­ie Holles, is test­ing the IPO wa­ters.
The mon­key­pox pipeline
Two years af­ter biotech and phar­ma sprung to ac­tion to cre­ate vac­cines and ther­a­pies in record time for the rapid­ly cir­cu­lat­ing Covid-19 pan­dem­ic, a hand­ful of drug de­vel­op­ers and vac­cine mak­ers are con­sid­er­ing their role in pre­vent­ing and treat­ing fu­ture cas­es of the WHO's lat­est pub­lic health emer­gency: mon­key­pox. They in­clude Vir, Mod­er­na, Gilead — all play­ers in the Covid-19 race — and oth­ers like NightHawk Bio­sciences, Blue Wa­ter Vac­cines and Tonix Phar­ma­ceu­ti­cals. In the mean­time, reg­u­la­tors are work­ing with Bavar­i­an Nordic to as­sess whether some ex­pired dos­es of its Jyn­neos vac­cine can still be used.
Gene ther­a­pies and how to pay for them
As the Eu­ro­pean Com­mis­sion's ap­proval of Bio­Marin's he­mo­phil­ia A gene ther­a­py, Roc­ta­vian, marks the sec­ond OK for ex­pen­sive gene ther­a­pies for blood dis­or­ders in re­cent days (af­ter blue­bird's Zyn­te­glo), their price tags are shin­ing a spot­light on out­comes-based pric­ing deals as both com­pa­nies look to lever­age the strong ef­fi­ca­cy and dura­bil­i­ty of their ther­a­pies. But ex­perts point out that such deals are of­ten se­cre­tive. Roc­ta­vian will cost $1.5 mil­lion while Zyn­te­glo car­ries a $2.8 mil­lion stick­er.
---
PRE­MI­UM
Nav­i­gat­ing vac­ci­na­tion slumps
It's been a tough cou­ple of years for tra­di­tion­al vac­cine mak­ers. While the Covid-19 pan­dem­ic spurred a flur­ry of in­no­va­tion and turned a white-hot spot­light on the footrace for Covid vac­cine ap­provals, rou­tine vac­ci­na­tion rates plum­met­ed. Judy Stew­art, GSK's head of vac­cines in the US, has weath­ered vac­cine in­dus­try ups and downs long be­fore the Covid-19 pan­dem­ic. She re­cent­ly spoke with End­points Mar­ket­ingRx ed­i­tor Beth Sny­der Bu­lik about GSK's ef­forts be­fore and dur­ing Covid as well as phar­ma's lat­est dri­ve for da­ta and in­no­va­tions through part­ner­ships and ac­qui­si­tions to help keep vac­ci­na­tions at the top of the mind.
---
DEALS
---
CELL/GENE TX
CAR-T ther­a­pies tra­di­tion­al­ly have been made us­ing virus vec­tors. While CRISPR/Cas9 gene edit­ing promised to over­come some of its lim­i­ta­tions, com­bin­ing the two tech­nolo­gies proved chal­leng­ing. But in a new pa­per, re­searchers from UCSF de­scribe a way to im­prove the ef­fi­cien­cy of a less tox­ic non­vi­ral CAR-T man­u­fac­tur­ing method.
Jeff Blue­stone's Sono­ma Bio­ther­a­peu­tics is putting its cash re­serves to use and en­ter­ing a lease to de­vel­op an 83,000-square-foot man­u­fac­tur­ing and R&D cen­ter in Seat­tle. The com­pa­ny's gene mod­i­fied Treg ther­a­pies, born out of the R&D lab in South San Fran­cis­co, will be made at the site.
Armed with a $100 mil­lion grant, David Hal­lal's El­e­vate­Bio will part­ner with the Uni­ver­si­ty of Pitts­burgh to man­u­fac­ture cell and gene ther­a­pies in Pitts­burgh. The 30-year deal will have El­e­vate­Bio lo­cate its Base­Camp and GMP man­u­fac­tur­ing fa­cil­i­ties in the city, with the site even­tu­al­ly run­ning gene edit­ing, in­duced pluripo­tent stem cell (iP­SC) and cell, vec­tor and pro­tein en­gi­neer­ing ef­forts.
With its first base edit­ing clin­i­cal tri­al un­der­way for het­erozy­gous fa­mil­ial hy­per­c­ho­les­terolemia, Verve is ready to re­veal its sec­ond base edit­ing pro­gram: one go­ing af­ter ho­mozy­gous FH, a rar­er type of heart dis­ease in which pa­tients in­her­it two gene mu­ta­tions that im­pair their liv­er's abil­i­ty to re­move bad cho­les­terol. The ther­a­py would turn off the ANGPTL3 gene per­ma­nent­ly.
---
STAR­TUPS
---
FI­NANC­ING
---
PEO­PLE
---
PHAR­MA
---
R&D
---
LAW
---
CORO­N­AVIRUS
A House sub­com­mit­tee fo­cused on the pan­dem­ic re­leased an­oth­er scathing re­port de­tail­ing the ex­tent to which the White House in­ject­ed pol­i­tics in­to a time-sen­si­tive sit­u­a­tion. The 69-page re­port found that the Trump White House "ex­ert­ed ex­treme and in­ap­pro­pri­ate pres­sure" on FDA and for­mer FDA com­mis­sion­er Stephen Hahn to not on­ly reau­tho­rize hy­drox­y­chloro­quine's EUA, but de­liv­er mis­lead­ing­ly pos­i­tive news about con­va­les­cent plas­ma.
Us­age of Pfiz­er's Covid-19 treat­ment Paxlovid has spiked across the US in re­cent months, with more than 2 mil­lion cours­es ad­min­is­tered dur­ing this lat­est Omi­cron wave since June. But a new ob­ser­va­tion­al study pub­lished in NE­JM found that Paxlovid on­ly worked to avoid hos­pi­tal­iza­tion among pa­tients 65 years of age or old­er, with no ev­i­dence of ben­e­fit found in younger adults.
Three months af­ter bring­ing on a new CEO, In­ovio reached a set­tle­ment with in­vestors over ac­cu­sa­tions that it ex­ag­ger­at­ed progress on its Covid-19 vac­cine can­di­date. The biotech, once claim­ing to be at the heart of Op­er­a­tion Warp Speed, agreed to shell out $44 mil­lion in a mix of cash and stock to end a class ac­tion law­suit.
---
MARK­ERT­IN­GRX
---
FDA+
---
MAN­U­FAC­TUR­ING
---
DON'T MISS
Quick­ly con­firm­ing re­ports, the US' Pub­lic Com­pa­ny Ac­count­ing Over­sight Board re­vealed it's struck an agree­ment with Chi­nese reg­u­la­to­ry au­thor­i­ties that would al­low the in­spec­tion of au­dit re­ports for US-list­ed Chi­nese com­pa­nies, which would save them from delist­ing. Now, ac­cord­ing to SEC chair Gary Gensler, "The proof will be in the pud­ding."
A few months af­ter a lead­er­ship shake­up, the White House's Of­fice of Sci­ence and Tech­nol­o­gy Pol­i­cy is launch­ing one of its most am­bi­tious pol­i­cy changes to date by mak­ing all tax­pay­er-fund­ed re­search more ac­ces­si­ble to the pub­lic. Agen­cies will have un­til the end of 2025 to make pub­li­ca­tions and re­search paid for with tax­pay­er dol­lars pub­licly ac­ces­si­ble, for free, with­out any re­stric­tion.