Mod­er­na's Covid-19 vac­cine sales to trail Pfiz­er's to­tal sig­nif­i­cant­ly in 2021 and 2022
Pfiz­er's and Mod­er­na's mR­NA vac­cines to pre­vent Covid-19 are of­ten con­sid­ered equals in many re­spects. Both have shown strong pro­tec­tion from the virus, with lim­it­ed side ef­fects or safe­ty con­cerns among the hun­dreds of mil­lions who have now re­ceived them.
But in its sec­ond quar­ter earn­ings call Thurs­day, Mod­er­na re­vealed how the two are di­verg­ing when it comes to vac­cine sales, as Mod­er­na's ex­pec­ta­tions for 2021 to­tal about $20 bil­lion, based on the ex­pect­ed man­u­fac­ture of be­tween 800 mil­lion and 1 bil­lion dos­es. Pfiz­er said last week it ex­pects about $33 bil­lion in 2021 Covid vac­cine sales on 2.1 bil­lion dos­es, al­though that amount may in­crease to about 3 bil­lion dos­es.
The quick start for Pfiz­er may even out a lit­tle more, but not by much: In 2022, Mod­er­na says it al­ready has signed con­tracts for about $12 bil­lion in vac­cine sales, with op­tions for $8 bil­lion more, and the man­u­fac­tur­ing ca­pac­i­ty to make be­tween 2 and 3 bil­lion dos­es next year. By con­trast, Pfiz­er CEO Al­bert Bourla said the com­pa­ny is ready to make about 4 bil­lion dos­es in 2022, al­though the Big Phar­ma has yet to project any 2022 sales fig­ures, a spokesper­son con­firmed.
In terms of vac­cine dose pric­ing, both com­pa­nies have seen in­creas­es in the US, and the EU, even as they both of­fer less ex­pen­sive ver­sions of their vac­cines for low- and mid­dle-in­come coun­tries.
Pfiz­er's vac­cine price rose from $19.50 per dose to about $24 per dose in this lat­est US gov­ern­ment pur­chase of 200 mil­lion dos­es.
Mod­er­na said Thurs­day its US gov­ern­ment price has risen slight­ly from about $15 per dose (for the first 100 mil­lion dos­es) to $16.50 each (for the next 400 mil­lion dos­es), which takes in­to con­sid­er­a­tion the gov­ern­ment funds via BAR­DA to un­der­write the firm's Phase III tri­al for the vac­cine. High­er in­come ex-US coun­tries start with a price range of $32 to $37 per dose, Mod­er­na added. But some­times there are dis­counts based on vol­ume, or for low­er- and mid­dle-in­come coun­tries, in­clud­ing sales to CO­V­AX, which Mod­er­na said are priced sig­nif­i­cant­ly cheap­er than dos­es for the US gov­ern­ment.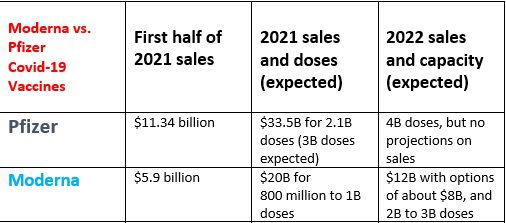 Both Pfiz­er and Mod­er­na are al­so de­vel­op­ing their Covid-19 vac­cine boost­er strate­gies, even as the CDC and FDA have said such boost­ers are not nec­es­sary yet, and as the WHO calls on de­vel­oped coun­tries to not pro­vide boost­ers un­til at least the end of Sep­tem­ber.
Mod­er­na pres­i­dent Stephen Hoge said on the earn­ings call the com­pa­ny be­lieves boost­ers will be need­ed be­fore win­ter, par­tic­u­lar­ly due to the Delta vari­ant. Clin­i­cal da­ta ap­pear to sup­port a 50 μg of the Mod­er­na vac­cine boost­er, the com­pa­ny said, al­though it will wait for 100 μg da­ta com­ing in the next sev­er­al weeks to con­firm the se­lec­tion of 50 μg as a boost­er dose be­fore fil­ing for EUA.
Pfiz­er said it ex­pects a boost­er shot EUA fil­ing as ear­ly as this month: "Pend­ing reg­u­la­to­ry ap­proval, we al­so plan to start an im­muno­genic­i­ty and safe­ty study in Au­gust to eval­u­ate an up­dat­ed ver­sion of our vac­cine specif­i­cal­ly de­signed to tar­get the Delta vari­ant," Pfiz­er CSO Mikael Dol­sten said last week on its earn­ings call.
Mod­er­na al­so said in its Q&A at the end of its earn­ings call it may jump fur­ther in­to the space of gene edit­ing. As an in­no­va­tor in the worlds of lipid nanopar­ti­cles and mR­NA, Hoge said that "it's the right time for us to ex­pand in that di­rec­tion," point­ing to gene edit­ing.
"On the gene edit­ing ques­tion, we do have, as you know, pro­grams that tar­get the liv­er. But as we've pre­sent­ed at pre­vi­ous sci­ence days and even to­day, we have a plat­form tech­nol­o­gy that al­so we think al­lows us to get in broad­ly in­to the im­mune sys­tem and par­tic­u­lar­ly hematopoi­et­ic stem cells. And so what you'll — where we imag­ine our strong suit to be is in de­liv­er­ing nu­cle­ic acid tech­nolo­gies to those ar­eas. Of course, as we look to ex­pand­ing in gene edit­ing, You'll see us look to those tech­nolo­gies that we've got the most ex­pe­ri­ence with first and then bring­ing a range of dif­fer­ent pay­loads to — in­to our ca­pa­bil­i­ties," Hoge said.