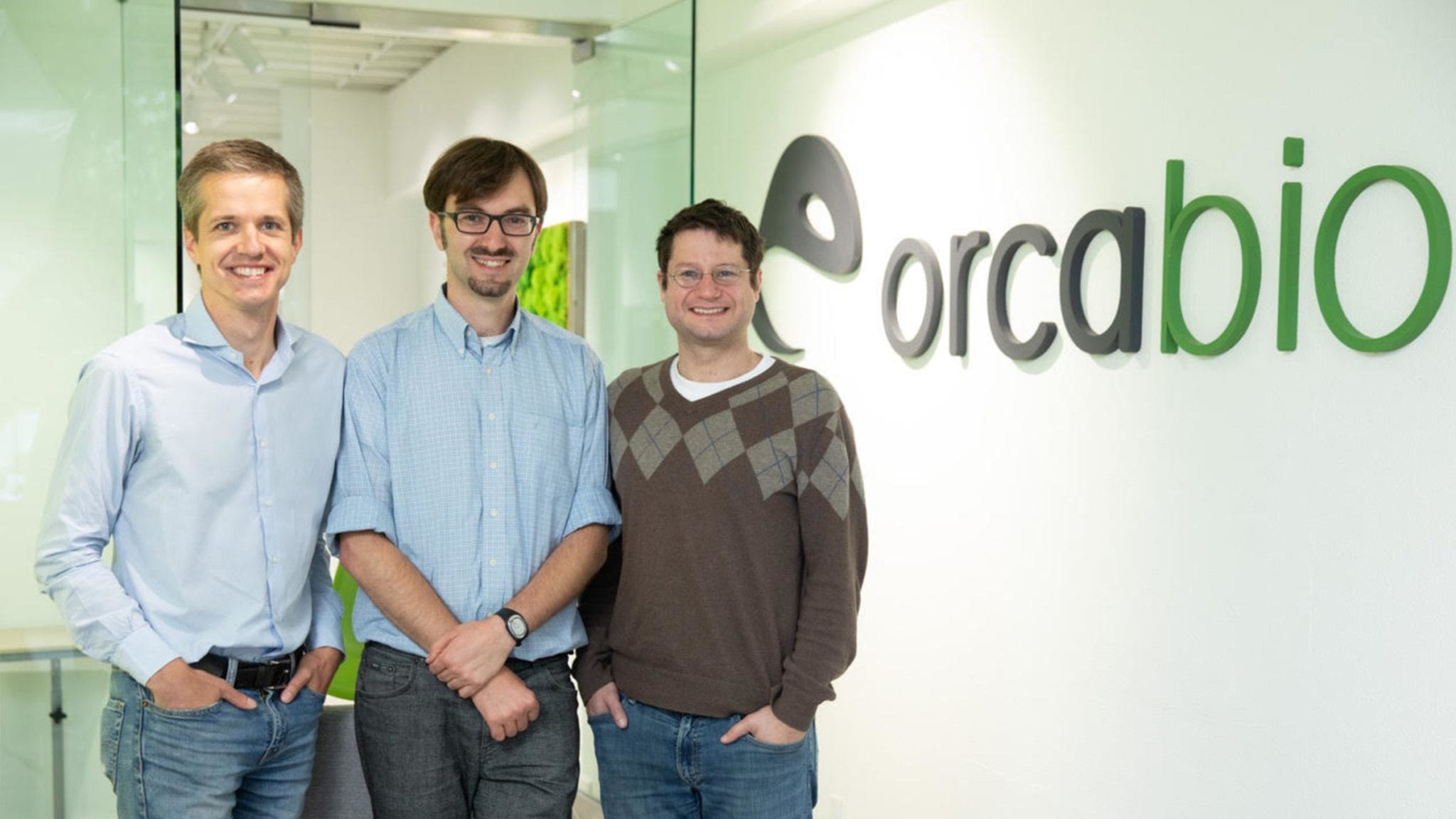 L to R: Jeroen Bekaert, Ivan Dimov and Nate Fernhoff, Orca Bio (Orca)
Months af­ter achiev­ing uni­corn sta­tus, Or­ca steers in­to the fast lane with an RMAT des­ig­na­tion for cell ther­a­py can­di­date
A few months af­ter its last big catch — a $192 mil­lion Se­ries D and rare uni­corn sta­tus — Or­ca Bio has reeled in the FDA's re­gen­er­a­tive med­i­cine ad­vanced ther­a­py (RMAT) des­ig­na­tion for its ex­per­i­men­tal cell ther­a­py to treat blood stem cell trans­plant pa­tients.
Or­ca, one of this year's End­points 11 star­tups, was found­ed by three en­tre­pre­neurs who were in­trigued by Irv Weiss­man's cell pu­rifi­ca­tion work while study­ing at Stan­ford. No­var­tis — then San­doz — had pur­chased Weiss­man's spin­out SyS­temix in the '90s, then scrapped it due to prac­ti­cal chal­lenges. But Jeroen Bekaert, Ivan Di­mov and Nate Fern­hoff saw po­ten­tial there.
Now, the biotech has RMAT and or­phan drug des­ig­na­tion to steer its cell ther­a­py can­di­date Or­ca-T through the clin­ic. RMAT des­ig­na­tion comes with the ben­e­fits of both fast track and break­through ther­a­py des­ig­na­tions. Or­ca-T en­tered a Phase I/II tri­al in pa­tients un­der­go­ing stem cell trans­plants for var­i­ous blood can­cers last No­vem­ber, ac­cord­ing to an NIH fil­ing. The biotech ex­pects to read out da­ta from that tri­al this De­cem­ber at the an­nu­al Amer­i­can So­ci­ety of Hema­tol­ogy meet­ing.
"The RMAT and ODD for Or­ca-T is up­lift­ing news for pa­tients with var­i­ous blood can­cers in­clud­ing acute myeloid leukemia, acute lym­phoid leukemia, myelodys­plas­tic syn­drome and myelofi­bro­sis," Di­mov said in a state­ment.
While a hematopoi­et­ic stem cell trans­plant is the best op­tion for some pa­tients with blood can­cer, the pro­ce­dure can lead to dan­ger­ous com­pli­ca­tions, such as graft-ver­sus-host dis­ease, in which im­mune cells from the donor at­tack the pa­tient's healthy cells. Or­ca-T is de­signed to re­pro­gram the dis­eased blood sys­tem, by match­ing "a spe­cif­ic com­po­si­tion of stem and im­mune cells to the im­muno­log­i­cal needs of a pa­tient."
Or­ca's re­cent Se­ries D brought its to­tal raise to about $300 mil­lion, and came in as the com­pa­ny's val­u­a­tion sur­passed $1 bil­lion. Plus, the biotech touts Weiss­man, for­mer No­var­tis CEO Joe Jimenez, and Lyell head and for­mer NCI chief Rick Klaus­ner as its ad­vi­sors.
Di­mov spoke with End­points News last month about the in­spi­ra­tion be­hind the biotech's 2016 launch:
It al­most seems un­eth­i­cal from a hu­man per­spec­tive be­cause some of the ini­tial re­sults sug­gest high­ly cu­ra­tive ef­fects and the whole thing was shut down for over a decade be­cause of some of these chal­lenges of prac­ti­cal­ly im­ple­ment­ing these things and de­ploy­ing them. So that was sort of the key dri­ver for us to get start­ed. And we al­ways knew we want­ed to ful­fill that dream all the way through and not re­al­ly stop at a cer­tain stage and leave it for some­one else.