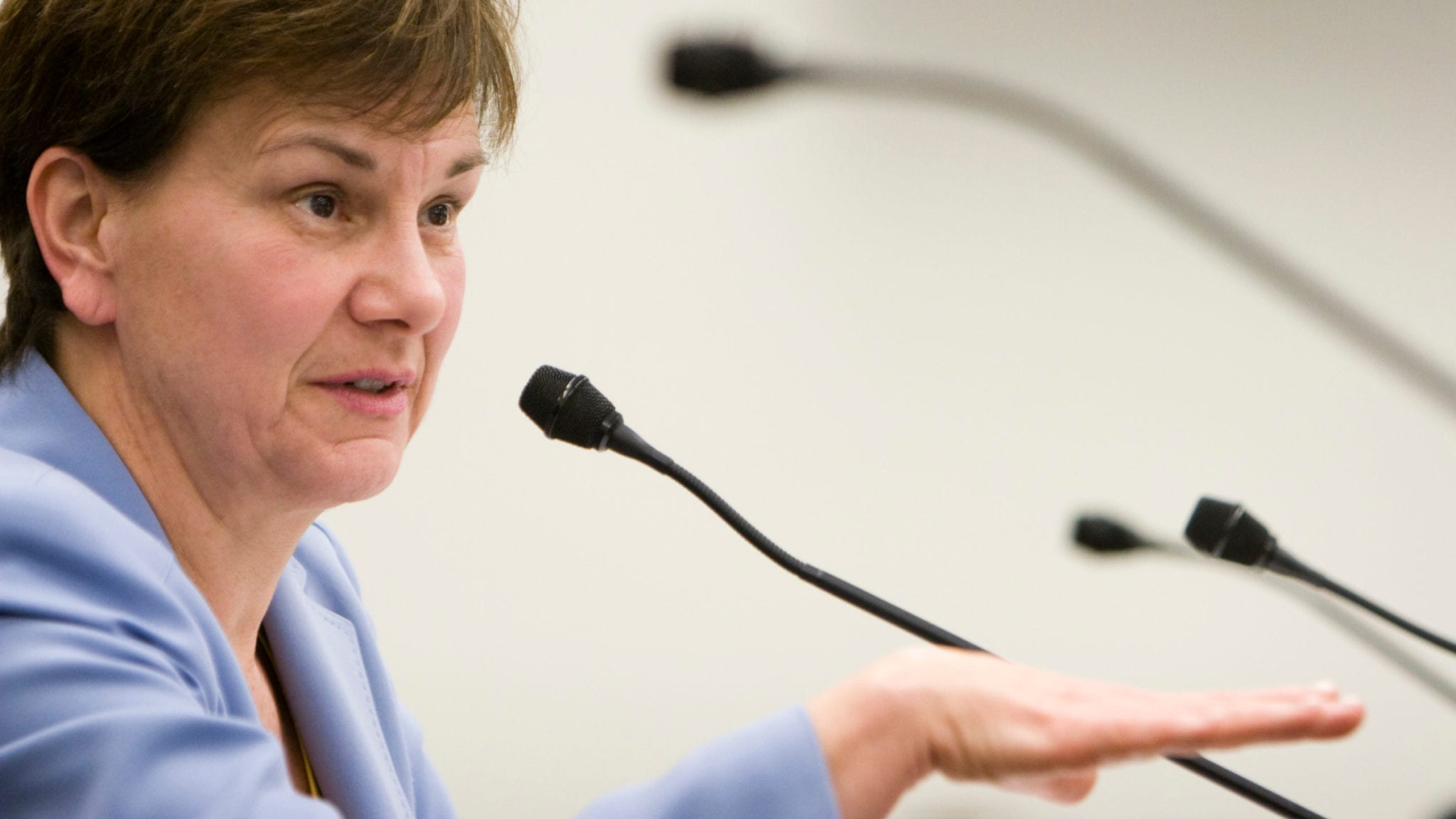 Janet Woodcock, CDER chief (AP Images)
More Warp Speed con­tracts com­ing, vac­cine pro­duc­tion to be­gin in 4-6 weeks — of­fi­cials
Op­er­a­tion Warp Speed has al­ready hand­ed out 4 of what they once said would be 3-5 ma­jor con­tracts to de­vel­op Covid-19 vac­cines, but ad­min­is­tra­tion of­fi­cials in­di­cat­ed Mon­day that more would be on their way.
"The slate is not closed," a se­nior HHS of­fi­cial said on a call with re­porters. "We've in­vest­ed in four … but the slate is not closed."
At the same time, the of­fi­cial in­di­cat­ed that Warp Speed would con­tin­ue to fo­cus on three tech­nolo­gies: mR­NA, vi­ral vec­tors and pro­tein sub­units. That leaves the door open for a wide range of plat­forms, no­tably in­clud­ing both of Mer­ck's vac­cine can­di­dates — one of which has al­ready re­ceived BAR­DA fund­ing — and one of Sanofi's can­di­dates. It ap­pears to pre­clude, though, the po­ten­tial for In­ovio and Vaxart, among cer­tain oth­er small de­vel­op­ers that have hyped their ties to the Trump ad­min­is­tra­tion, to be in­clud­ed.
The se­lect­ed vac­cines will move in­to large-scale man­u­fac­tur­ing with­in 4-6 weeks, the of­fi­cial said. Right now, HHS and drug­mak­ers are prepar­ing for scale-up — set­ting up fa­cil­i­ties, ac­quir­ing raw ma­te­ri­als and spe­cial­i­ty equip­ment and set­ting up project teams to vis­it every man­u­fac­tur­ing site. The ad­min­is­tra­tion's goal is to have 300 mil­lion dos­es by ear­ly 2021, with the first batch­es com­ing in the fall.
So far, Mod­er­na, As­traZeneca, J&J and most re­cent­ly No­vavax have been se­lect­ed for Warp Speed. Large-scale tri­als to prove whether the vac­cines work are ex­pect­ed to be­gin with­in weeks for Mod­er­na and As­traZeneca, with J&J and No­vavax launch­ing soon af­ter. With case counts ris­ing through­out the US, in­ves­ti­ga­tors could have an an­swer faster than if the virus was un­der con­trol.
"We need to con­duct a clin­i­cal tri­al in ar­eas where there are out­breaks," the of­fi­cial said. "So some­what para­dox­i­cal­ly, the cur­rent out­breaks might ac­tu­al­ly help us get a vac­cine to pro­tect peo­ple faster than if we had no out­breaks."
On the same call, the of­fi­cial and long­time CDER chief Janet Wood­cock gave the fullest pic­ture yet on how the White House plans to ac­cel­er­ate ther­a­peu­tics. Wood­cock re­cused her­self from CDER in May to lead the ther­a­peu­tic ini­tia­tive, but un­til last week, when the ad­min­is­tra­tion an­nounced a $450 mil­lion con­tract for Re­gen­eron's mon­clon­al an­ti­bod­ies, de­tails on the ini­tia­tive were scant.
Wood­cock said the key cri­te­ria for in­clu­sion in the pro­gram was whether a com­pa­ny could de­liv­er a drug be­fore the end of the year, a dif­fi­cult hur­dle. "This means re­pur­posed drugs or drugs that have un­der­gone rapid clin­i­cal de­vel­op­ment," Wood­cock told re­porters.
The first goal was drugs that re­duced vi­ral load. That meant an­tivi­rals such as remde­sivir and pas­sive im­mu­ni­ty — a broad term that en­com­pass­es both mon­o­clon­al an­ti­bod­ies that have been rushed through labs at Re­gen­eron, Eli Lil­ly, Vir and oth­er com­pa­nies and con­va­les­cent sera, where some­one who sur­vives the virus do­nates their an­ti­body-en­riched plas­ma.
So far, Wood­cock said, about 40,000 peo­ple have re­ceived sera through BAR­DA and the Mayo Clin­ic. There are no ran­dom­ized con­trolled da­ta yet, but Wood­cock said there's a "strong pos­si­bil­i­ty" it helps. More than 50 dif­fer­ent mon­o­clon­al an­ti­body pro­grams are now in de­vel­op­ment, she said, but the ad­min­is­tra­tion will fo­cus on those that can reach mar­ket be­fore 2021. Eli Lil­ly has said they could have 100,000 an­ti­bod­ies by the fall, and the BAR­DA-Re­gen­eron deal cov­ers the de­liv­ery of be­tween 70,000 and 300,000 dos­es around the same time.
Both com­pa­nies have start­ed their own tri­als for their drugs, but Wood­cock said this sum­mer the NIH will start tri­als that fol­low a mas­ter pro­to­col to quick­ly test an­ti­bod­ies and an­tivi­rals. She did not in­di­cate which an­tivi­rals, but J&J re­ceived a $152 mil­lion BAR­DA con­tract in Feb­ru­ary to screen for new small mol­e­cules. And Mer­ck's EI­DD-2801, now in Phase II tri­als for Covid-19, has re­ceived gov­ern­ment fund­ing in the past. Ac­cord­ing to whistle­blow­er tes­ti­mo­ny from oust­ed BAR­DA chief Rick Bright, it is al­so a fa­vorite among some of­fi­cials with­in HHS.
The goal is to know by the fall which drugs can both treat and pre­vent Covid-19. But un­like with vac­cines, where the FDA has set a 50% bench­mark for au­tho­riza­tion, Wood­cock said there would be no pre-set bar for suc­cess. Be­tween pre­ven­tion, ear­ly-stage and late-stage treat­ment, she said, it would be im­pos­si­ble to set one.
"Un­like a vac­cine, we're talk­ing about maybe a dozen dif­fer­ent sce­nar­ios. We have small mol­e­cules an­tivi­rals, we have mon­o­clon­al an­ti­bod­ies and pro­phy­lax­is and ear­ly pa­tient and out­pa­tient and in­pa­tient and so forth," Wood­cock said. "It's pret­ty com­pli­cat­ed."
For a look at all End­points News coro­n­avirus sto­ries, check out our spe­cial news chan­nel.