Andy Scharenberg, Michael Jensen
MPM, DCVC Bio back $53M round for a bold con­cept: Let pa­tients make their own CAR-T in vi­vo
The oner­ous process of mak­ing a per­son­al­ized CAR-T — one that in­volves ex­tract­ing cells from pa­tients, en­gi­neer­ing and then in­ject­ing them back — is one of the defin­ing fea­tures of the first gen­er­a­tion of en­gi­neered cell ther­a­pies. It's part­ly why the treat­ments are so ex­pen­sive; it's al­so an in­spi­ra­tion for new al­lo­gene­ic ap­proach­es that promise to be faster and cheap­er.
But a biotech start­up in Seat­tle wants to go fur­ther.
Umo­ja Bio­phar­ma is start­ing out with $53 mil­lion in Se­ries A cash to test whether a lentivi­ral vec­tor de­liv­ered di­rect­ly in vi­vo can gen­er­ate a pop­u­la­tion of T cells that ex­pand and fight can­cer just as well as the ex­ter­nal­ly man­u­fac­tured ones do.
"So we don't ac­tu­al­ly have to man­u­fac­ture the cells," co-founder and CEO Andy Scharen­berg told End­points News. "We're gonna be ef­fec­tive­ly mak­ing a com­plex bi­o­log­ic."
Scharen­berg, who's ex­plored mul­ti­ple ways to do gene trans­fer through the years at places like Cel­lec­tis and Gen­er­a­tion Bio, high­light­ed the "in­cred­i­ble safe­ty record" of lentivi­ral vec­tors and their abil­i­ty to not just trans­duce but al­so in­te­grate the ge­nom­ic pay­load in­to daugh­ter cells. Be­cause the re­sult­ing CAR-T would ex­pand in a way that repli­cates a nat­ur­al im­mune re­sponse, he al­so fore­sees few of the side ef­fects, such as cy­tokine re­lease syn­drome, that pa­tients ex­pe­ri­ence with Kym­ri­ah and Yescar­ta.
A sec­ond tech­nol­o­gy uti­lizes small mol­e­cules to con­trol and tune these self-gen­er­at­ed CAR-T cells fol­low­ing a sin­gle ad­min­is­tra­tion. And Umo­ja has lined up an ad­di­tion­al tech plat­form to push it in­to sol­id tu­mors by tag­ging can­cer cells for recog­ni­tion by T cells.
Bring­ing all three ap­proach­es and the re­spec­tive ex­perts un­der the same roof is a key idea be­hind Umo­ja — a Swahili word for "uni­ty."
"In many ways the sci­en­tif­ic con­cept un­der­ly­ing the com­pa­ny is a lit­tle bit sum­ma­rized in that word," Scharen­berg said. "In or­der to have a re­al­ly im­pact­ful ap­proach to ad­vanc­ing im­munother­a­pies, you need to in­te­grate mul­ti­ple tech­nol­o­gy plat­forms."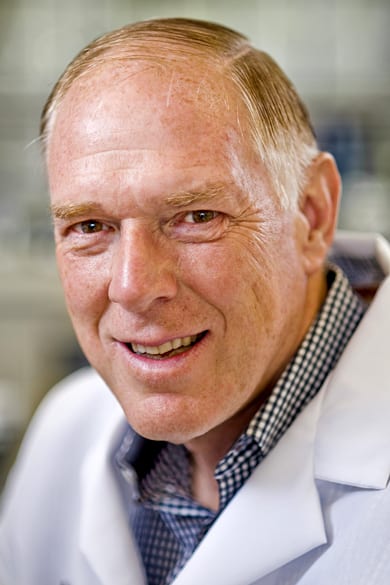 Philip Low
With Michael Jensen of Seat­tle Chil­dren's and Philip Low of Pur­due Uni­ver­si­ty on board as co-founders, Umo­ja plans to pur­sue par­al­lel de­vel­op­ment paths for the in vi­vo gene de­liv­ery and tu­mor tag tech­nolo­gies, which the CEO de­scribes as two sides of the same coin. Jensen will lead a col­lab­o­ra­tion to eval­u­ate the tu­mor tag ap­proach among chil­dren with os­teosar­co­ma in the com­ing year. Mean­while, Umo­ja will get ready to put its ini­tial CAR-T hit­ting a fa­mil­iar tar­get — CD19 — in the clin­ic.
If "things go re­al­ly well," Scharen­berg sees the com­pa­ny stack­ing the two ap­proach­es for a more po­tent ef­fect in the 2023, 2024 time frame.
MPM Cap­i­tal and DCVC Bio seed­ed the com­pa­ny, with Qim­ing Ven­ture Part­ners USA join­ing to co-lead the Se­ries A.
As cel­lu­lar im­munother­a­pies grad­u­al­ly move from their cur­rent ap­pli­ca­tions to­ward the front­line — some­thing Scharen­berg en­vi­sions — he sees the scale and ac­ces­si­bil­i­ty be­ing his com­pa­ny's key mantra.
"When we think about what Umo­ja as­pires to be as an or­ga­ni­za­tion, it's not on­ly to ad­vance and make im­munother­a­pies that are more ef­fec­tive against all tu­mors," he said, "but al­so to make them ac­ces­si­ble and to al­le­vi­ate some of the eco­nom­ic tox­i­c­i­ties that are as­so­ci­at­ed with the cost of some of the cur­rent ther­a­pies as well."