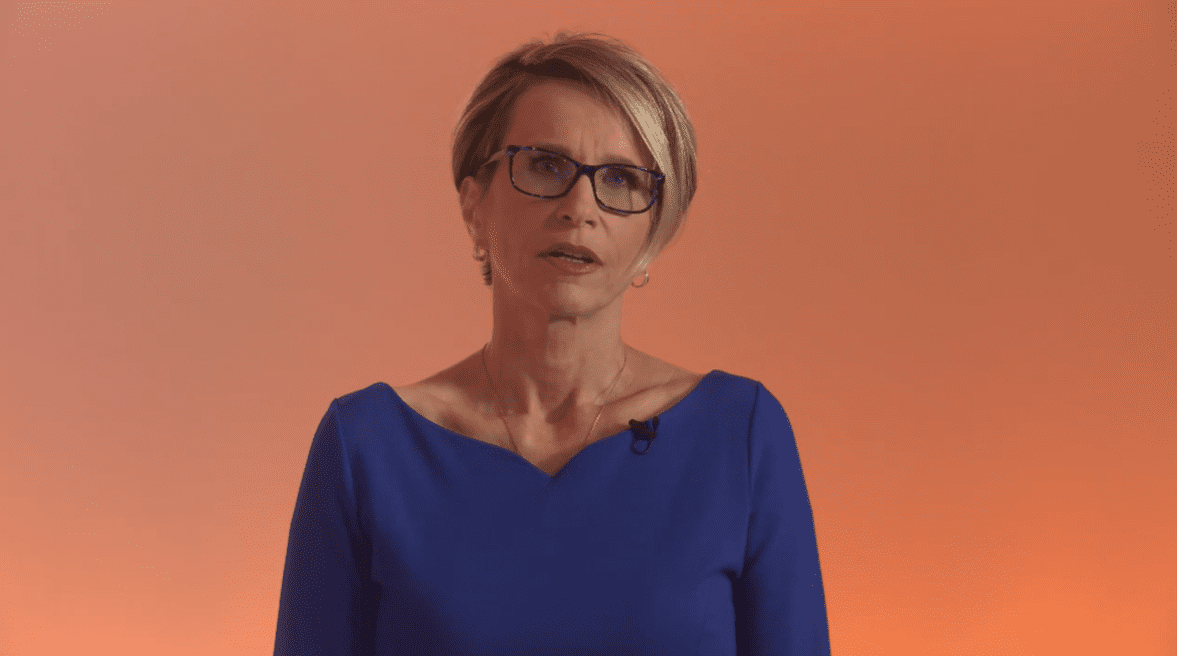 Emma Walmsley (GSK via investor day livestream)
Mul­ti­va­lent mR­NA vac­cines, I/O 3.0, long-act­ing HIV drugs: The $46B game is on for the new Glax­o­SmithK­line
To un­der­stand the new Glax­o­SmithK­line that Em­ma Walm­s­ley is promis­ing to ush­er in, one must see through the old GSK.
"We know this has been a com­pa­ny that has peren­ni­al­ly dis­ap­point­ed when you look at the first half of the last decade," the CEO said in one of her fi­nal re­marks at the long-an­tic­i­pat­ed in­vestor day.
But af­ter four years of strate­gic trans­for­ma­tion and in­vest­ment, her top team is ready to take the wraps off a shiny new ver­sion of the Big Phar­ma that, among oth­er things, will strive to de­liv­er £33 bil­lion ($46 bil­lion) in an­nu­al sales by 2031. It will start with a planned de­merg­er of the con­sumer health busi­ness in­to a sep­a­rate com­pa­ny in the mid­dle of next year, while the new GSK re­tains a 20% stake as a "short-term fi­nan­cial in­vest­ment."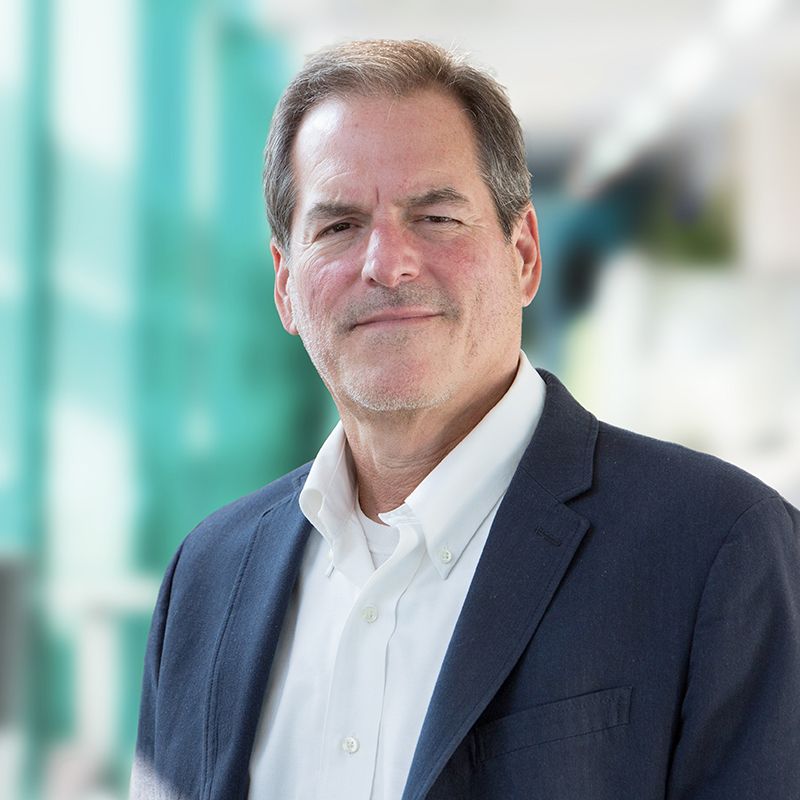 Hal Bar­ron
The ma­jor­i­ty of the rev­enue should come from cur­rent late-stage projects, hand­picked by R&D chief Hal Bar­ron in con­sul­ta­tion with chief com­mer­cial of­fi­cer Luke Miels.
The end goal? A "step change" in per­for­mance to re­vi­tal­ize the busi­ness around new vac­cines and spe­cial­ty med­i­cines — two ar­eas that are now in­ter­twined as pre­ven­tion and treat­ment con­verge.
For any­one who's been fol­low­ing the R&D roadmap that Bar­ron laid out in 2018 af­ter tak­ing over, it can sound like more of the same. Sure, the sep­a­ra­tion of the con­sumer health busi­ness might be the most sig­nif­i­cant change for GSK in two decades; yet the com­pa­ny is stub­born­ly con­sis­tent about what it will take to thrive in the fu­ture. It's still about the sci­ence of the im­mune sys­tem, the un­der­stand­ing of func­tion­al ge­nomics, some ma­chine learn­ing or ar­ti­fi­cial in­tel­li­gence, as well as a healthy di­et of bolt-on and li­cens­ing deals to en­hance all those ar­eas.
The dif­fer­ence could be that the clock is tick­ing. Amid threats of an ac­tivist at­tack and calls for greater re­form, Walm­s­ley, Bar­ron and oth­ers are un­der se­ri­ous pres­sure to de­liv­er, and every blun­der or set­back could be mag­ni­fied.
But if they suc­ceed, the new GSK will make a mark and cre­ate last­ing fran­chis­es across in­fec­tious dis­ease, HIV, on­col­o­gy and im­munol­o­gy. And they've brought in fresh blood to ex­e­cute: Ac­cord­ing to Walm­s­ley, "85% of our top 125 lead­ers are new in roles since 2017, in­clud­ing 30% re­cruit­ed ex­ter­nal­ly."
Now that they are wrap­ping up a dras­tic re­struc­tur­ing that led to mas­sive lay­offs, she added, there are no near-term plans for an­oth­er round. It's show­time.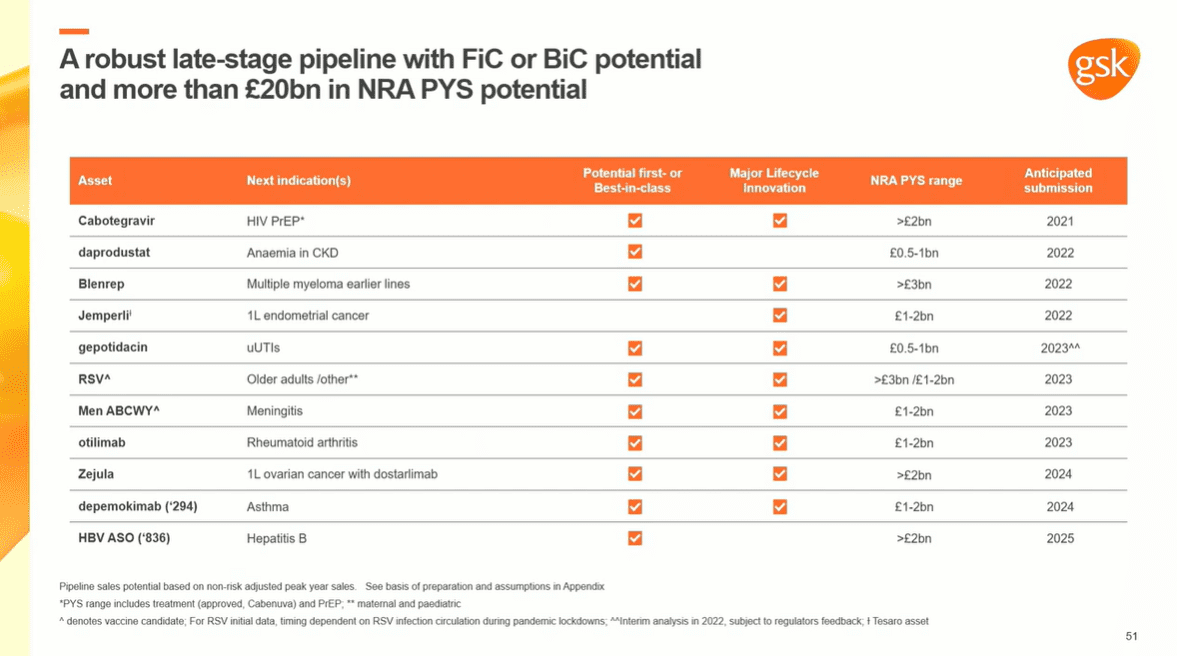 Be­yond Covid-19 vac­cines
GSK may have fall­en be­hind on the glob­al hunt for a Covid-19 vac­cine, but it's very much look­ing to get in the next-gen game.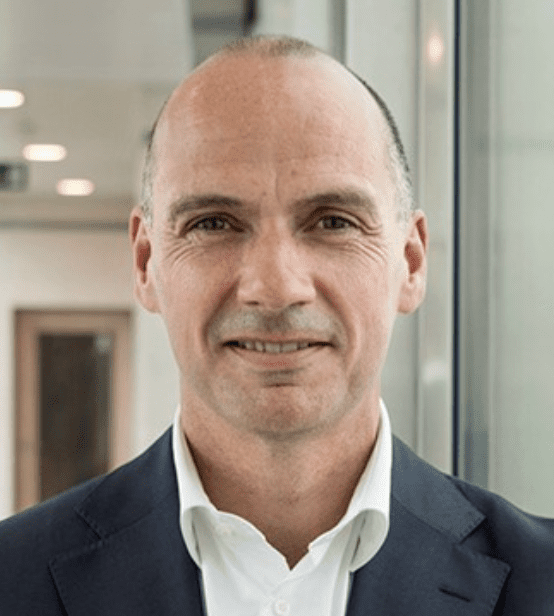 Roger Con­nor
Like ri­vals at Pfiz­er (and cur­rent part­ners at Sanofi), GSK wants to be at the fore­front of mR­NA, ac­cord­ing to Roger Con­nor, pres­i­dent of glob­al vac­cines — which is why they've re­cruit­ed more than 200 sci­en­tists to fo­cus on this area and teamed up with Ger­many's Cure­Vac to cre­ate mul­ti­va­lent vac­cines not just for Covid-19 but al­so for in­fluen­za.
De­spite the dis­ap­point­ing re­sults around a Covid-19 vac­cine made from the first gen­er­a­tion of tech­nol­o­gy, the phar­ma clear­ly sees a fu­ture in the sec­ond-gen­er­a­tion ver­sion of the tech.
Said Bar­ron:
I think the key thing to re­mem­ber at least our view is that the fu­ture for mR­NA vac­cines are go­ing to be mul­ti­va­lent. Mul­ti­va­len­cy re­quires a low­er dose be­cause you can't give a cer­tain amount of mR­NA with­out cre­at­ing re­ac­to­genic­i­ty. So if you're go­ing to use mul­ti­va­lent vac­cines, you got­ta get the num­ber of mi­cro­grams per va­lence down. What Cure­Vac's sec­ond-gen­er­a­tion, I think, is telling us is that when you op­ti­mize the un­trans­lat­ed re­gions on each side, the 5', 3', you get more ef­fi­cient trans­la­tion, more pro­tein pro­duced.
While Shin­grix cur­rent­ly head­lines the port­fo­lio, GSK is al­so hop­ing its vac­cine for RSV — cre­at­ed from the same plat­form — would do just as well, with broad reach to both old­er adults and preg­nant women (to pre­vent in­fec­tions for their new­borns). As with menin­gi­tis, Con­nor sug­gest­ed that these are ex­am­ples of pathogens where old­er tech­nolo­gies may still have a role to play over mR­NA.
HIV, can­cer, and some wild cards
One thing that the new GSK will like­ly do is to keep drop­ping hints about its in­ter­ests through deals.
Vi­iV Health­care, the HIV-fo­cused sub­sidiary, made its goal clear as it inked a deal with Halozyme ear­li­er this week: to cre­ate ul­tra long-act­ing reg­i­mens that will com­plete­ly change how peo­ple live with the virus.
The first drug to do that is cabote­gravir, the in­te­grase in­hibitor that Vi­iV hopes will be a back­bone for an­ti­retro­vi­ral ther­a­py for the next 10 years the same way that do­lute­gravir — which is los­ing patent pro­tec­tion around 2028 — has.
In can­cer, the most re­cent ex­am­ple came in a pact with iTeos, where GSK paid $625 mil­lion up­front to grab a TIG­IT drug. Even though they've en­tered the race lat­er than oth­ers, Bar­ron reck­ons their own ge­nomics da­ta and an­a­lyt­ics point them to things oth­ers can't see. If TIG­IT plus PD-1 is I/O 2.0, they might be able to add a third ther­a­py tar­get­ing the CD226 ax­is to reach I/O 3.0.
"There's first to ap­proval, but there's al­so first in dis­ease," he said. "We have a re­al­ly ro­bust set of stud­ies that we're an­tic­i­pat­ing do­ing where we think while we may not be first to mar­ket in lung, where Roche and Mer­ck are prob­a­bly both ahead, we have some par­tic­u­lar­ly in­ter­est­ing in­sights about oth­er dis­eases that we might want to pur­sue, and we can use some da­ta from ex­ter­nal sources to un­gate those tri­als."
Then there are the in­ter­nal projects you may have to squint hard­er to find, such as Ze­ju­la — which Bar­ron touts as a best-in-class PARP in­hibitor — or the mul­ti­ple myelo­ma drug Blenrep or otil­imab for rheuma­toid arthri­tis or a new an­tibi­ot­ic dubbed gepoti­dacin or dapro­du­s­tat for ane­mia as­so­ci­at­ed with chron­ic kid­ney dis­ease.
As for the lega­cy meds that don't fit in­to the four new fo­cus ar­eas, mov­ing for­ward GSK will lump them in­to a gen­er­al med­i­cines group that will hap­pi­ly di­vest or part­ner out non-pri­or­i­ty drugs to in­vest in the vac­cines and spe­cial­ty can­di­dates.
"(H)aving the op­por­tu­ni­ty to al­lo­cate cap­i­tal across both phar­ma and vac­cines al­lows us to put mon­ey to where the great projects are," Bar­ron not­ed.